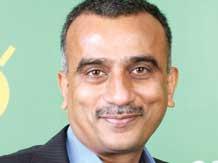 Sudhanshu Vats, 46, has spent the better part of his 20 working years at Unilever.

Last year, he became part of the growing tribe of fast-moving consumer goods managers to join media and entertainment.

As group CEO, his job is to steer the television (Colors, Nick, Sonic, MTV, etc) and film businesses of Viacom18 Media. Vats spoke to Business Standard on the future of Viacom18 and the Indian media industry.

Excerpts:

On the shift from FMCGs to media

As a business FMCGs got sorted out in the '80s and '90s.

The requirement for capex (capital expenditure) is little.

There is hardly any do-it-yourself manufacturing happening, the model is outsourced.

Unilever is a very good company.

But my next assignment would have been Singapore or London and the timing was bad from a personal perspective, since my daughters are studying here.

Media, on the other hand, is a relatively new industry, the business models are not established.

But there is huge amount of energy and passion.

Overall, it is a young industry.

The democratisation of opportunity has begun through television.

You can see that in the talent coming out. This (Viacom18) gives me the opportunity to head a mid-sized company and take it to the next level.

On the Viacom18 gameplan

We have put together a five-year plan.

At the end of this period, our top line should have grown by three times to about a billion dollars.

Our vision is to make Viacom18 the most admired media and entertainment company.

We hope to do this through four things.

By segmenting the market better, by building up a revenue ecosystem around each of our genres, by embracing digital and driving synergies.

For example, if you look at kids, a category that I am very bullish on, there are only three serious players -- Disney, Turner and Viacom18.

We have already launched Nick Junior for pre-schoolers. It is a hybrid channel that becomes Teen Nick after 7 pm.

There is Nick for 4-14 year olds and Sonic for 10-17 year olds. To build the eco-system, we will be more active in the entire consumer product licensing, live entertainment space.

This could be with parks, theatres or light short performances.

And, we will keep segmenting in each of the genres we operate in, youth (MTV), family (Colors) or English Entertainment (Comedy Central).

We should monetise MTV in consumer products, and through live concerts, thanks to our relationships with international artistes and DJs.

The average cable TV payout is Rs 200 a month or Rs 40 per person per month. We pay Rs 200 or more for a multiplex ticket, Rs 500 for a theatre ticket and Rs 5,000 or so for a good concert ticket. So, if we get the business model right . . .

Also, we need to embrace digitisation as a platform across businesses.

For the first five years, each of these businesses (Colors, MTV, etc) were operating independently, like four different companies.

We have to get these to work together to make one plus one equal eleven, not two. On the Eenadu buyout and integration

Network18 has already acquired 50 per cent of ETV.

Viacom18 is doing the due diligence on the remaining 50 per cent and could acquire it.

Of ETV's 12 channels, the two Telugu channels will remain with Ramoji Rao (the founder of Ushodaya, the company that owns Eenadu).

Of the remaining 10, five are news channels which go to Network18 (which handles CNBC18 et al). The remaining five (ETV Bangla, Marathi et al) will be part of Viacom18.

On pricing and packaging of channels after digitisation

The "digital" in DAS (digital addressable system) has happened because the (set-top) boxes are there. But the 'addressable' part hasn't happened.

None of the big MSOs (multi-system operators) have data.

When Phase-I happened, most MSOs thought that it will be delayed.

So, after buying boxes, they did not invest in subscriber management systems and processes.

Now, they say we are not getting money, so we can't pay broadcasters.

Most of the deals still being done on a minimum guarantee basis, not on a per subscriber number.

To my mind, Phase-II will be slower to implement.
Image: Sudhanshu Vats | Photograph, courtesy, Business Standard