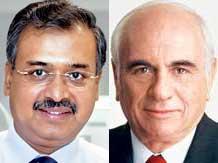 Sun Pharmaceutical Industries will take a call on whether to shut Ranbaxy's troubled factories or make changes in the top management of the latter only after its $4-billion acquisition deal is complete.

The acquiror's Managing Director Dilip Shanghvi and Chairman Israel Makov spoke to Business Standard on Sun's plans for integration, resolving issues with the US drug regulator and the future of the merged company.

Edited excerpts:

Ranbaxy's reputation has taken a beating in the US because of the Food and Drug Administration's import bans and notices. Now that Sun has acquired the company, how will you handle the image problem?

Shanghvi: Sun will work with the internal team and external consultants to bring the facility back to compliance as soon as possible.

We will also intensively work with customers to reassure them of our ongoing commitment towards product quality.

What measures will Sun take to get the ban lifted on Ranbaxy's factories?

Makov: We intend to work closely with all the regulators to ensure compliance.

Will Sun shut any of Ranbaxy's US plants under scrutiny?

Makov: Our current priority is to close the deal. Once this is done, we will evaluate, though there is nothing concrete at the moment.

Like Teva's $7.5-billion buyout of Ivax, could Sun go for a large outbound deal?

Makov: Within our strategic vision and our management ability, we are open to looking at opportunities that help us deliver value to our shareholders.

Sun had hired Kal Sundaram, former GlaxoSmithKline India managing director, a few years ago. What additional roles will he be given in the merged company?

Shanghvi: Kal, in addition to his role as chief executive of Taro, also heads Sun's North American business.

Will Sun induct more experienced people to lead the merged company? What are your hiring plans?

Shanghvi: Currently, there is no such plan.

How do you plan to integrate the sales teams of Sun and Ranbaxy? Will you lay off some of Ranbaxy's sales people?

Makov: We believe the success of pharmaceutical companies depends on people and we are working to ensure a smooth transition, with the interests of all employees in mind.

We intend to leverage the human capital that has supported both companies, to drive future growth.

What changes are you planning in the Ranbaxy management? Will the same team be retained?

Makov: It's a bit premature to consider any such matters right now. The immediate priority is to expedite the deal's closure.

What do you think of the regulatory hurdles, such as scrutiny by the fair trade watchdog, over the deal?

Makov: We are unwavering in our commitment to these standards. We are intently focused on upholding our rigorous approach to regulatory compliance through the combination with Ranbaxy.

There are minimum overlaps in the product portfolios of Sun and Ranbaxy.

How do you respond to the allegations of insider trading?

Makov: At Sun, we hold ourselves to the highest standards of corporate governance and business ethics.

The charge is related to purchase of shares of Ranbaxy by Silverstreet Developers and it does not violate insider trading rules.

Sudhir Valia is not and was not a partner of Silverstreet Developers when the purchase was affected by the latter.

Silverstreet Developers has two partners. Both are 100 per cent subsidiaries of Sun. Hence, all the benefits flowing from the investment in Ranbaxy shall accrue to Sun Pharma.

What's the growth potential for the European markets where Ranbaxy has presence?

Makov: The transaction allows Sun to build on Ranbaxy's strong global footprint and well-established product portfolio.

Our view on European markets hasn't changed and is reflected in our strategy for the continent.

Will you be expanding the research and development pipeline after the Ranbaxy acquisition? Will Ranbaxy's R&D team be merged into Sun Pharma Advanced Research Company (Sparc)?

Makov: Ranbaxy's R&D team will not go into Sparc, which is independent of Sun Pharma.

This acquisition is about the growth of Sun Pharma and expanding its capabilities.

On the R&D pipeline, we still need to understand and evaluate the various initiatives.

What kind of growth is expected for the new company?

Makov: The transaction allows Sun to build on Ranbaxy's strong global footprint and well-established product portfolio.

Since the product offerings are complementary, we expect to derive immediate synergies from enhanced footprint across regions, opportunities for brand building and cross-selling.

The combined business will also have a strong portfolio of products for chronic and acute (diseases) marketed globally.

What is the growth expectation and how are you planning to achieve that?

This combination creates a strong global infrastructure that would be leveraged to grow, though being specific about the growth rate will be difficult at this point.
Image: Sun Pharma Managing Director Dilip Shanghvi and Chairman Israel Makov; Photograph, courtesy: Business Standard