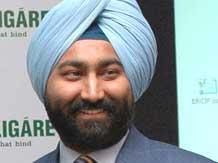 A day after Daiichi Sankyo, the Japanese owner of troubled drug maker Ranbaxy, alleged certain former shareholders had concealed and misrepresented critical information concerning the US Department of Justice and Food and Drugs Administration investigations while selling the company, Malvinder Mohan Singh, the former promoter and now executive chairman of Fortis Healthcare, countered the charges as 'false and baseless'.

"Daiichi Sankyo purchased the Singh family's interests in Ranbaxy in 2008 after a long negotiation process, as is typical of deals of this magnitude, and after conducting full due diligence on the affairs of Ranbaxy.

"The negotiations on behalf of Daiichi Sankyo were led by Takashi Shoda, Daiichi Sankyo's current representative director and chairman, and Tsutomu Une, executive director, who is also the current chairman of Ranbaxy.

"They and Daiichi Sankyo were legally advised," Singh said in a statement. In a conversation with Business Standard at his bungalow in Lutyens Delhi, Singh also brushed aside allegations made by Dinesh Thakur, the whistleblower in the case.

Singh, who looked upset but combative, said no wrongdoing was ever reported to the board during his association with Ranbaxy and he was hurt that Daiichi Sankyo had not been able to grow the company.

Edited excerpts:

How do you react to Daiichi Sankyo's allegations?

There was nothing that was kept (from Daiichi).

They came, they saw, they did due diligence, they discussed it and they have been there for last five years.

I am rather surprised that after five years they have suddenly come and started making these allegations.

We were very clear nothing was hidden from anybody. I have just kept away from everything and from the sector in these years.

The only reason I am talking to you today is because of their statement.

Please understand, anything linked to FDA or the Department of Justice is all there in the public domain and on their website.

There is nothing that is not known to people.

What about the charge that the data were faked during your times?

I cannot answer, after five years of leaving the company, what Daiichi has discussed (with FDA) and agreed to.

As long as you were associated with Ranbaxy, was anything of a fraudulent nature brought to your notice?

No. What they (Daiichi) have gone and done, how can I comment on that? No wrongdoings were ever reported to us.

Dinesh Thakur, in his testimony, alleged he, through his boss, Rajinder Kumar, had brought the wrongdoing to the notice of the board and the senior management.

He has talked about a particular board meeting in Thailand.

What he says doesn't make a difference.

There was no board meeting in Thailand. He saying it in his testimony doesn't mean it is the fact.

It also hurts me, as the previous owner, as a proud Indian, to see Ranbaxy not continuing to grow and strengthen.

What is happening in the industry now Ranbaxy achieved when it went global.

It is their inability that they cannot manage a business of that nature.

So , what is the crux of the FDA and Department of Justice issue?

It is for them to talk about. How can I talk about what they discussed, why they agreed.

What were the issues with FDA during your time?

There were conversations going on within the team, there was a bunch of dialogues. But Daiichi Sankyo was given all update about it.

How can you ever imagine that a company like Ranbaxy will be questioned on basic ethics?

So, are you denying any wrongdoing, as reported, in Ranbaxy during your time?

We had the best people in the industry, the best global managers in the company.

Do you want to imply that they were all doing wrong things?

Building a business of global stature on wrongdoing? We are talking about India's most reputed company which had taken brand India global.

I sold this business (to Daiichi Sankyo), and they wanted to do it their way; so I moved out.

Then suddenly after five years they have started making allegations.

For what and on what basis?

This is totally inappropriate. I won't accept it.

Before the acquisition took place, did Daiichi Sankyo do complete due diligence? Did they specifically ask about pending litigation and cases with FDA?

They came and interacted with my team.

I was not even present there.

They asked us for information.

And information was there.

All these matters were in the public domain.

They had bankers and lawyers.

They were the ones to push the deal.

They said we want it done by this date.

They pushed for an earlier closure.

I did it because it was good for us. I wanted to create a hybrid model (of generics and innovation).

There was never an intention of selling the business, it was all about partnership.

And today they are raising issues.

I am going to defend it.

When I was leaving Ranbaxy, they were very appreciative of the work I did.

They even called me for the launch of Synriam (last year). I went for it and they gave me a very warm and cordial reception.

If you have not been able to run your business, don't come to me after five years.

I am not accountable.

I thought the company was going into good hands and they will take it forward but, unfortunately, they have not.

And what about the allegations that the data generated for FDA was fake?

I was not aware of it.

I came to know of it now from the same magazine that you have read.

Don't assume what you are reading is right.

I am not referring to the magazine but to the testimony.

That is not fact, it's a statement.
Image: Malvinder Singh | Photograph, courtesy: Business Standard