"Protectionism is not new. The attention that is given is because there is a political and emotional element to it."
TCS COO N G Subramaniam tells Ayan Pramanik and Raghu Krishnan why India's largest software exporter is optimistic despite global headwinds.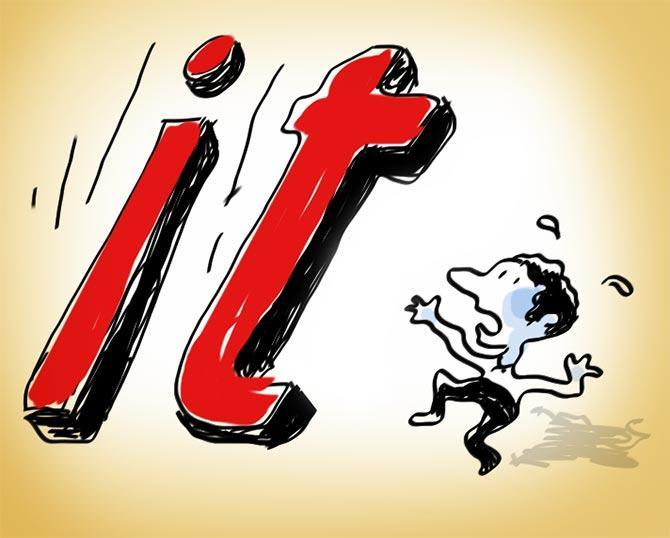 Illustration: Dominic Xavier/Rediff.com
Tata Consultancy Services is confident of a higher operating margin in 2017-18, despite a tepid growth forecast for the sector. The country's largest software exporter says the Indian information technology (IT) industry has the potential to weather all storms and overcome waves.
N G Subramaniam, chief operating officer, TCS, discusses the company's growth opportunities and the sector.
TCS seems pretty optimistic for the year ahead. What gives you the confidence to say the buoyancy is back?
In the past six weeks, Rajesh (Gopinathan, the managing director) and I have been to the US, Europe and Asia-Pacific, and met customers. We also met a few prospects and one of them resonated very positively.
None of them have resonated anything negative about their (IT) budgets and they continue to do the technology spending. Budgets are there pretty much in our budget for the calendar year, which gives us confidence.
Annuity revenues are, kind of, secure.
But, we have to worry about the discretionary spends.
We hear the spending on traditional IT services have been reduced by companies and there has been pricing pressure. The project size of digital technologies is very small, for compensating the decline in large deals in traditional technology. Are you seeing the same trend?
In any digital project, certain things need to be done on the front-end.
The mobile, the experience and finally the need to connect with the back-end. You have to spend in terms of modifying those systems and ensure connectivity to the new experience should work seamlessly with the back-end. So, as a part-digital, we do both and we factor in the back-end applications to provide for services that are more granular or micro services.
When we do all these, you can say all are getting accounted in digital.
But, typically, the back-end services we do have been part of the traditional services. It will be a negative commentary to say traditional services have decreased.
Ultimately, any organisation's transactions are processed in the back-end systems; that is where the money is actually accounted for, and we need maintain and support it. It is not actually coming down, but is probably getting accounted from one bucket to another.
Needless to say, the typical maintenance work is seeing a year-on-year decrease, as our customers will look for productivity increases.
On the aspects associated with business process services or infrastructure services, there is a great deal of automation that we are focusing on, whether through the Ignio platform or others.
So, the traditional business is readjusted and I am happy because we get better pricing points.
We are seeing protectionism across regions. Will you be able to maintain the committed margin, with cost pressure?
This is not new. The attention that is given is because there is a political and emotional element to it.
We pioneered the whole globally distributed work paradigm.
In the US, for example, we have delivery centres in six-seven places.
We have such centres in Europe, China.
Certain centres are in high-cost locations and some in low-cost ones. So, as a combination, given a particular customer engagement, we will have to put the right model of execution -- having the local talent, executing it out of the delivery centres onsite, offshore or nearshore.
We have to be putting together the right collaborative technologies, so that work happens independent of location. We are working on that.
We have remodelled our workplaces and invested heavily in digital technology training of our employees -- agile execution at scale.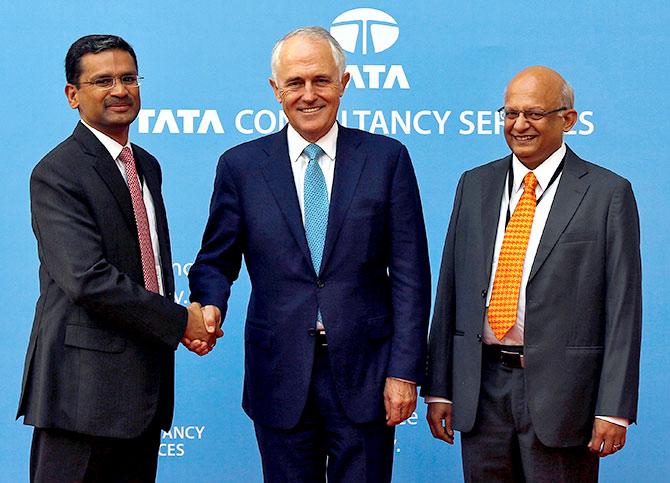 IMAGE: Australia's Prime Minister Malcolm Turnbull, centre, with TCS CEO Rajesh Gopinathan, left, and COO N G Subramaniam in Mumbai on April 11, 2017.
Australia recently abolished the 457 visa programme used by over 95,000 temporary foreign workers, majority of them Indians, to tackle the growing unemployment in the country.
Photograph:

Shailesh Andrade/Reuters

.
TCS is among the fewer IT service providers to have hired in scale last year, with more than 30,000 jobs. With the change in business model, will such hiring at a large scale continue?
In the past (March) quarter, we added 7,000-8,000 people; overall, close to 33,000 people in FY17. We will be hiring.
Based on the technology skill sets we need, we have also become agile in our recruitment. There will be certain (amounts of) campus hiring. We are also trying a few things like Hackathon, Codevita, to source a different type of people, with the right mindset and technology skills. We are adopting some of those principles.
Hiring will be there but, directionally, it will be lower with automation. Our (staff) retention has been good. We will continue to hire best-in-class talent, using Hackathon and similar platforms.
The digital technology platforms of TCS are seeing growth and you have filed 71 IPs under Ignio. Is organic growth enough for the digital transformation?
There are enough things we can do organically. That does not mean we do not look at acquisition.
We have always stated that we would not acquire a company for (only) revenue... they have to bring in certain key competencies, key markets or intellectual property or all the three.
Having said that, we believe there is enough room for growing organically in this business.
If we take digital, we have invested heavily in building infrastructure for agile workspaces, design studios in parts of the world and also training our employees during the past two years. Nearly 200,000 employees have been trained, 500,000 competencies have been created and more than a million certifications on digital technology.
We believe every one of us in TCS and outside are creative and born with unlimited potential. It is possible to upskill and train them to be relevant to our business and customers.
We hear people writing off the Indian IT services sector. What is your view on that? You have seen many shifts.
We are Indian IT and I still have my job. We all have a bright future at TCS. These are headlines and rhetoric.
If you take the Indian IT industry, it has to de-risk itself, and we have successfully done that.
Technology changes every three-four years and there have been waves in the past few decades.
In each one of these waves, have we failed to be creative?
Have Indian engineers failed?
Some of those older people -- do they have capacity to learn?
At the same time, India has such young talent. Multi-tasking talents in India and the kind of productivity here is tremendous.
What we call it is continuous partial attention. The productivity they can give us will be unparalleled.
Unlike any other sector in India, IT takes the responsibility to train employees to stay relevant in the business.
I am very confident that we will continue to reskill and upskill ourselves, and manage the growth.