'It is very clear that Air India cannot be managed by the government.'
'Air India should be run as a separate profit entity.'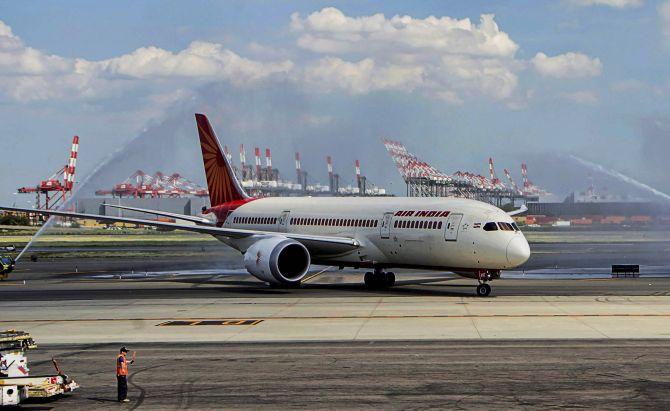 On Monday, January 27, the Narendra Damodardas Modi government issued a bid document to divest the Centre's 100 per cent stake in Air India.
The move comes two years after the government's attempt to sell 76 per cent of Air India's equity came a cropper, with no airline or banker showing any interest in buying the national carrier.
Learning from the experience, perhaps, the government has now sought to sweeten the deal, by reducing the airline's debt from Rs 62,000 crore (Rs 620 billion) to Rs 23,286 crore (Rs 232.86 billion), offering employees ESOPs, and relaxing the bidding norms.
"It is a win-win situation for the successful bidder. In return for the money they put in, Air India has good (parking) slots in premium airports across the globe," Sankalp Sinha, director Aero Compliance, and head of sector research, Martin Consulting, tells Syed Firdaus Ashraf/Rediff.com.
How do you see this move to fully divest the government's stake in Air India?
Any investor would want complete control of the airline or at least management control. If you look at foreign airlines or the guy who has money, they would want management control. The earlier rule restricted that. Now (under the new rule) the government will completely offload its ownership of Air India.
That is a positive move.
Does this point to government desperation to sell compared to its 2018 position?
The government made its intent very clear from the very beginning, that Air India cannot be run by the government.
It does not have the financial leverage to keep pumping public money into an airline which is running in a loss for the last 10 years ever since the merger happened (between Air India and Indian Airlines in July 2007).
In 2018, the divestment attempt was a failure on two counts. First was lack of ownership right for bidders, and second was the fear among Air India employees who are highly unionised. These were the two major concerns for investors who wanted to put their hard-earned money in Air India.
The government has also reduced its debt from Rs 62,000 crore to Rs 23,286 crore before putting Air India on the block. Do you feel it is a good deal for buyers?
If you look at it purely from an economic perspective, this was bound to happen. The government cannot be expected to take a hit of Rs 62,000 crore, with the public paying for it.
Now it is a win-win situation for the successful bidder as well. In return for the money they put in, Air India has good (parking) slots in premium airports across the globe.
Air India has its own plus points which the successful bidder will get. It cannot be a zero sum game or win all for the successful bidder.
But the unions won't be very happy, and can be expected to launch some sort of industrial action. How do you get the labour unions on board?
Obviously, the unions won't take this lying down. They have the backing of the current state government in Maharashtra because the Shiv Sena is one of the biggest supporters of the Air India union, from a political perspective.
Even the employees and unions know that if they start blocking everything the government would have no option but to close down the airline. That is a double-edged sword which the employees and union will have to consider.
Pawan Hans was also put on the divestment block a while back and the employees there decided to be a part of the process by being one of the bidders. That can be explored by the Air India employees too. They can look at that, but being totally against this move can be counterproductive for everyone.
An ageing fleet, an ageing crew, low morale. Does Air India have a future?
Air India is pretty okay. It is not an ageing fleet as such. It is just the 747s which are pretty old and they generally don't fly them on their main routes.
The 777 and 787 form the bulk of international flying, they are pretty new, especially the 787 Dreamliner. On the domestic front they are pretty okay.
It is just that the ageing fleet is highlighted because the maintenance part is a question mark as they do not have adequate funds to kind of support that.
Air India has the infrastructure and is one of the best, but they do not have the money to support that from the airline perspective.
From the safety perspective, no airline would compromise on an aircraft in service which is not fit to fly. That is a no-go area for everyone.
In Indian aviation as such safety is paramount and is the number one for every operator.
In the last five years the Modi government infused Rs 16,000 crore (Rs 160 billion) in the airline, but still failed to revive Air India. Given that, do you think a sale is the only option left?
Yes, as far as the government running the airline is concerned, it is very clear that Air India cannot be managed by the government.
Air India should be run as a separate profit entity. They tried to sell earlier and failed. Hopefully the new guidelines will get a better response.
Considering the current economic situation, lending agencies, banks and financial institutions are negative on the aviation industry as a whole. It will be a challenge to see how a bid can be put in.
Jet Airways went bust, before that Kingfisher Airlines too went under. Is running an airline that difficult in India? Why is India's aviation sector in crisis?
It is a legacy issue. The Indian aviation sector has been very challenging to operate from the very beginning.
In the airlines, whether promoter driven or board run, there is a lack of professional leadership. Professional management is not there.
The ability to take an informed and better decision on how to run an airline is generally lacking in all operators.
Secondly, with fuel being one of the major components of airline expense, though fuel prices were deregulated, still the amount of taxes the operators have to pay is pretty significant, which is much higher than the world average or what other airlines pay across the globe for.
Here the operating environment is not the best.
What is needed to be done to revive the sector?
If you look at the last quarter, October-November-December is considered one of the busiest quarters besides April-June. But still you had airfares on the lower side. Why was this? Because airlines are chasing passengers rather than looking at profitability.
The government has in the past sent Air India aircraft to rescue Indian citizens trapped overseas, to universal praise.
What happens in such a scenario now, where the government has no aircraft at its disposal?
The government can always issue a general directive that in case of an emergency all operators will have to release their aircraft to the government to fulfil its obligations.
Yes, Air India is the backbone of such operations as it is owned by the government and comes first.
In times of crisis the government can issue orders and the private sector will have to release aircraft for rescue operations.
How do nationalised airlines in other countries fare?
For example, you see the USA. They have the largest market and it is totally different dynamics. They have chapter 11 bankruptcy which allows airlines to restructure quickly and come back into business.
If you see all major airlines, United or Delta, they have gone to chapter 11 bankruptcy and come back. It helps them.
British Airways was privatised. Air France is government owned and so is Alitalia, which are making losses. There are very few examples of government-owned airlines actually making a profit. It generally happens when there is no competition.
Private players are much more lean and efficient. It becomes a huge challenge for a government-owned airline to survive. They either end up being privatised or fold up.
Generally what happens is, the government has sovereign guarantee so if an airline shuts down it restarts with a new airline. This has happened in many countries in Eastern Europe where a lot of airlines are government-owned.