A political party's manifesto is the first stage of building a compact with the voters in any governance plan. If that compact is dependent on a document that reeks of fiscal imprudence and lacks credibility, it is a serious setback to the country's democracy and governance, says A K Bhattacharya.
Illustration: Uttam Ghosh/Rediff.com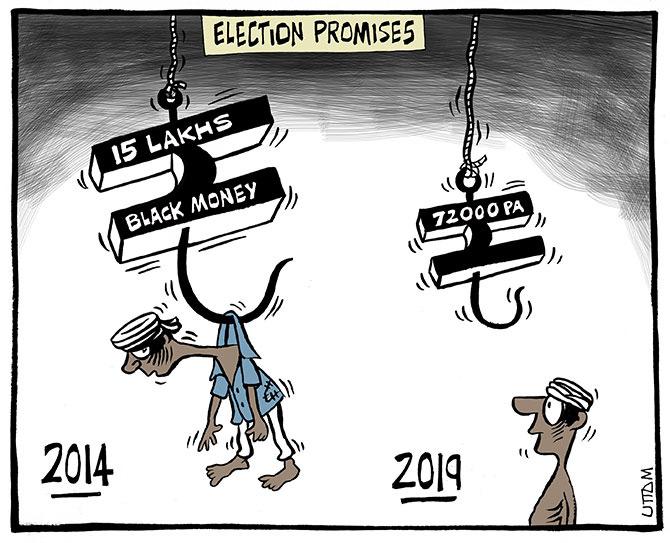 The divorce between fiscal prudence and manifestos released by national political parties is complete.
The Indian National Congress, in its bid to return to power, released its manifesto on April 2 and the Bharatiya Janata Party (BJP), which is seeking another five-year term in office, announced on April 8 what its goals would be if it were voted back to power.
Many of the key economic promises in both the manifestos are not only fiscally imprudent, but they also reveal how unrealistic our political parties can become while making economic policy promises.
A lot has been written about the NYAY agenda of the Congress.
It promises up to Rs 6,000 per month to the bottom 20 per cent of the poor families.
There is a phased roll-out schedule and the cost is expected to be shared with the states.
In spite of that, the total cost, when fully implemented, will be huge - estimated at about 1.9 per cent of the country's gross domestic product (GDP).
This is bound to raise questions on how the required resources would be mobilised.
Will they come from more taxes or reduced outlays on subsidies and other poverty alleviation schemes?
More disturbing than the lack of clarity on such issues is the thought that the scheme's implementation will be fraught with challenges.
The scheme will be crucially dependent on identifying the poor households on the basis of income - a task that will be extremely onerous and prone to wrong targeting of beneficiaries, particularly in the absence of any credible up-to-date data on family incomes.
Take another promise made by the Congress on the Goods and Services Tax or GST.
The manifesto promises a simplified single-rate GST.
This appears to be a big promise.
But dig deeper into the document and you will see that the manifesto actually promises as many as three rates.
This is certainly better than the existing regime. But then why promise a single-rate GST?
The promised abolition of the e-way bill system, a transparent online instrument of preventing evasion of taxes, will only pose newer challenges for those who administer the GST.
The promise is also puzzling as the e-way bill scheme has been implemented largely without any protest or complication.
Why change it then?
It will of course please traders and small businesses, which do not generally enjoy the idea of increased tax compliance. But will it lead to a more effective GST?
The Congress manifesto's promise on a new package for the micro, small and medium enterprises (MSME) is equally flawed.
It comes up with what seems to be a crazy idea of redefining MSMEs on the basis of the number of people employed, at a time when automation and technology have reduced the need for employing more workers.
If any unit employs between 101 and 500 workers, then it would classify as a medium enterprise and not qualify for benefits such as exemption from all laws except those for minimum wages and taxation.
The exemption will be enjoyed by only the micro and small units employing less than 101 workers.
Thus, there will be a perverse incentive among small units to employ less than 101 workers to enjoy the benefits for at least three years.
The economic promises of the BJP manifesto are no less problematic.
The additional financial impact of fulfilling the promise of extending the coverage of the Prime Minister Kisan Samman Nidhi Yojana to include all farmers, irrespective of their land holdings, is not significantly huge.
The government has budgeted for an annual expenditure of Rs 75,000 crore for paying out Rs 6,000 a year to each of the 125 million farm holdings of less than two hectares.
Now that all operational land holdings would be covered under this scheme, the remaining 21 million farm holdings of more than two hectares would also be eligible and the total annual cost would be about Rs 87,600 crore.
The increase is not substantial on a Budget size of Rs 27 trillion, but unfortunately the principle of benefitting the needier segment of small and marginal farmers has been diluted.
The idea of extending loans of Rs 1 lakh to farmers without any interest is even more fiscally irresponsible. Assuming that all the country's 146 million land-holding farmer families go for this interest-free loan of Rs 1 lakh, the total credit would amount to Rs 14.6 trillion, which is a little more than the annual agricultural credit of around Rs 11.6 trillion disbursed in 2017-18.
In other words, the government is promising that all loans to the agriculture sector would be free of interest.
Who will bear the cost of interest on this huge amount of loans to farmers?
The government already offers partial interest discount through an interest subvention scheme that cost it Rs 15,000 crore last year.
Its fiscal burden will go up significantly if the entire interest on Rs 14.6 trillion of farm loans will have to be waived. Where will this money come from?
Banks are already burdened with the Mudra loans, whose cumulative value in the last four years is estimated at Rs 8.26 trillion.
Many of these Mudra loans, meant for small and tiny units, are without any collateral.
The repayment rate so far has been high, but the risk of some of these loans going sick cannot be ruled out.
The banks will then have to take a hit on account of the Mudra loans to small and tiny units.
They cannot be expected to take any fresh exposure on account of the interest-free loans of up to Rs 1 lakh to farmers.
Finally, the BJP's promise of raising capital investment in infrastructure to Rs 100 trillion by 2024 is a goal that would require the government's capital expenditure to grow by 60 per cent every year on an average for a period of five years.
The total capital expenditure by the government, including the internal and extra budgetary resources of the PSUs and the Indian Railways, was estimated at Rs 6 trillion in 2013-14 and rose to Rs 9.61 trillion in 2018-19.
This represented an annual average growth rate of 10 per cent in the five years of the Modi government.
The promise of raising this growth rate six-fold is too tall a promise.
The net outcome of such rosy manifesto promises is that these documents are becoming increasingly irrelevant as they lack credibility with the voters.
A political party's manifesto is the first stage of building a compact with the voters in any governance plan.
If that compact is dependent on a document that reeks of fiscal imprudence and lacks credibility, it is a serious setback to the country's democracy and governance.