It is largely due to his vision and efforts that we have almost quadrupled our per capita milk availability in the last 40 years, points out Shailesh Dobhal.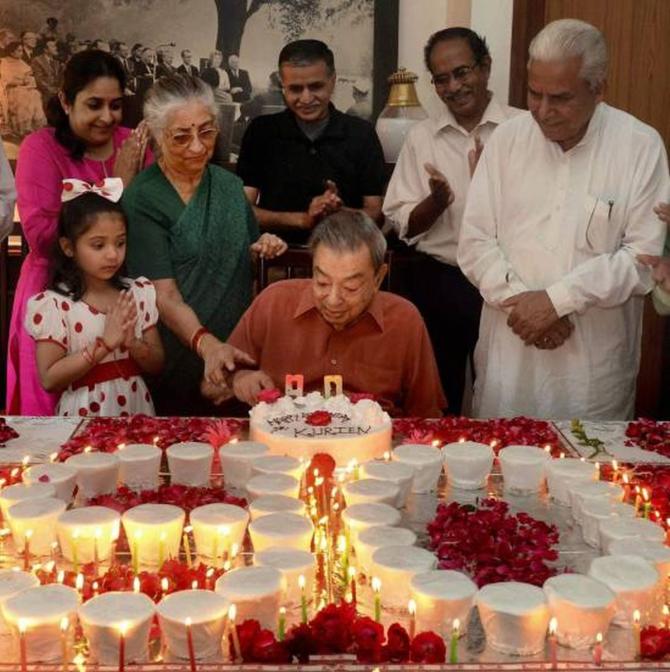 So far, there have been four dozen recipients of the Bharat Ratna, independent India's highest civilian honour.
They come from diverse fields -- from politics, social service, science and technology, performing arts, industry, even sports.
Politicians and people in public life dominate the list, accounting for over half (25) of the awardees.
Performing artistes come in second with seven recipients and social workers third with five.
The rest is accounted by people from science and technology (four), academics (three) and one each from industry and sports.
So far, only two non-Indian citizens have won the Bharat Ratna: Khan Abdul Ghaffar Khan in 1987 and Nelson Mandela in 1990.
Four recipients are alive: Professor Amartya Sen (1999), Lata Mangeshkar (2001), Professor C N R Rao (2014) and Sachin Tendulkar (2014).
The trend of awarding it posthumously started with former prime minster Lal Bahadur Shastri in 1966, the year of his death.
Rajiv Gandhi too was awarded posthumously the same year, 1991, as his tragic assassination.
Congress stalwart K Kamraj (Year of death 1975; awarded 1976), social reformer Vinoba Bhave (1982; 1983), and politician M G Ramachandran (1987; 1988) and Aruna Asaf Ali (1996; 1997) were conferred within a year of their passing.
For the other eight who were awarded posthumously, there was a delay of decades -- the architect of India's Constitution, Dr Bhimrao Ambedkar's Bharat Ratna came in 1990, 34 years after his death (1956; 1990).
The wait was 69 years for Hindu Mahasabha founder Madan Mohan Malviya (1946; 2015), 51 years for the country's first home minister Sardar Vallabhbhai Patel (1950; 1991), 49 years for Assam's first chief minister Lokpriya Gopinath Bordoloi (1950; 1999), 44 years for the country's first education minister Maulana Abul Kalam Azad (1958; 1992), 20 years for activist and politician Jayaprakash Narayan (1979; 1999), nine years for social reformer Nanaji Deshmukh (2010; 2019) and eight for musician Bhupen Hazarika (2011; 2019).
What explains this delay? Well, governments come in different political hues with their specific agendas, and national priorities, too, change with the times.
Time, it seems, is not a constraint for recognising an individual's contribution to the nation in his or her chosen field when it comes to picking winners for the Bharat Ratna.
To the 14 posthumous list, may I suggest we add one more by awarding a Bharat Ratna to the country's 'Father of White Revolution', Dr Verghese Kurien, who passed almost a decade ago in 2012?
This year (November 26) will also mark his birth centenary.
The move can be a win-win for both the ruling Bharatiya Janata Party-led government at the Centre and the struggling cooperative sector in the country.
Here is why.
Kurien's contribution to dairy farming and its concomitant impact on rural livelihoods and income is perhaps unparalleled.
His efforts at building a professionally-run cooperative organisation in Anand Milk Union Limited (or Amul) dairy cooperative in Kheda, Gujarat -- which subsequently morphed into the Gujarat Cooperative Milk Marketing Federation that currently boasts of sales upwards of Rs 39,000 crore (Rs 30 billion) -- and the stewardship of the National Dairy Development Board are well recognised.
Kurien's unrelenting focus on developing a viable, technology-enabled dairy model with the milkman or better still, the milk-woman, at its core in the country from the shortage years of 1960s is all well-documented.
It is largely due to his vision and efforts that we have almost quadrupled our per capita milk availability in the last 40 years.
The current value of dairy production, at over Rs 8 trillion per annum, outstrips the value of traditional grain production, and makes India the biggest producer of milk in the world.
The Narendra Modi-led Bharatiya Janata Party government has decided to focus on the cooperative sector and has created a new ministry of cooperation, headed by Home Minister Amit Shah to galvanise the 300 million people-strong cooperative sector in the country.
There are over 800,000 cooperatives in the country; over two-thirds of them are in the credit space at the village level; 194,000 dairy cooperatives and over 330 cooperative sugar mill operations.
Undoubtedly, there is a need to professionalise and de-politicise these currently underperforming units to realise their true potential and to bring meaningful change in rural and suburban India.
A well-run cooperative model across a host of agriculture and non-agriculture activities holds the potential to transform India's rural landscape and become the bulwark that can double, even triple farmer incomes.
It can also provide a counterweight to the private sector-led consolidation in the supply chain of agriculture and rural economy produce at the procurement, storage and transport and retail end, with promise of better realisation for the farmer a la Amul, where as much as 80 per cent of the price of milk goes back to the producer.
Already, the move to create a central ministry for cooperatives -- a subject looked after by the ministry of agriculture all along, barring 13 years between 1953 and 1966 -- has raised political heat.
Opposition parties have alleged that the Centre's move reeks of politics, with an eye on capturing politically strong cooperatives across Maharashtra, Gujarat, Karnataka and Uttar Pradesh.
Nationalist Congress Party Chief Sharad Pawar met the prime minister recently over fears of Centre-state turf issues in regulating cooperatives.
The Supreme Court recently upheld only a part of the 97th Constitution Amendment that enables the Centre's role in multi-state cooperative societies even as it struck off all other elements of it that limits the exclusive authority of states over its cooperative societies.
Though no one is clear on the objectives and exact remit of the new ministry of cooperation, what better way to kick-start it than honour the tallest leader of the cooperative movement who spearheaded 'Operation Flood' that made India self-sufficient in milk?
Kurien could be the first and a highly deserving recipient from the cooperative sector, in the league of C Subramanian (2000; 1998), India's food and agriculture minister between 1964 and 1966, who helped usher in the country's Green Revolution along with M S Swaminathan, B Sivaraman and Norman Borlaug.
Feature Presentation: Aslam Hunani/Rediff.com