Dr Mitra called the Pandara Road crowd a 'cheerful collective of young dreamers,' united in its 'love and pride for the newly Independent India,' despite 'sharp disparities in background, temperament and attitude.'
Dr Shreekant Sambrani recalls his encounters with the legendary economist who passed into the ages.
Illustration: Dominic Xavier/Rediff.com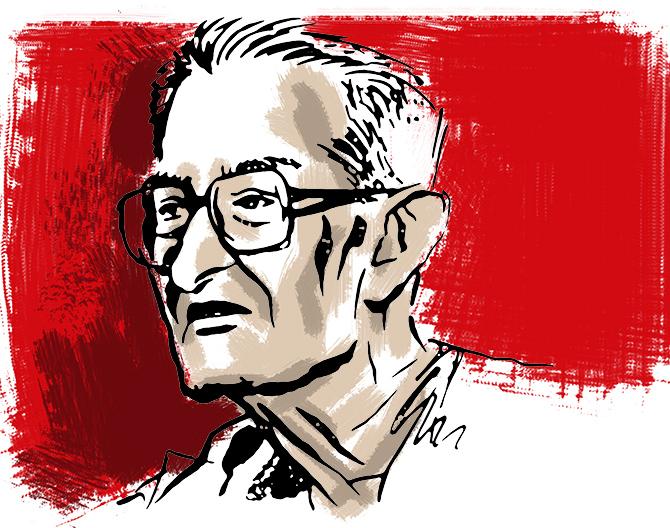 Pratik Kanjilal in his moving memories (external link: 'Subversive devil,' The Indian Express, May 3, 2018) refers to the latter's last collection of columns begins shortly after Independence in 30 Pandara Road, a D II flat close to India Gate in New Delhi.
The flat in question was allotted to my maternal uncle B N Datar, a brilliant M Sc (Statistics) from London.
After a stint as labour commissioner with the Bombay government after 1947, he moved to Delhi at the urging of Gulzarilal Nanda who was the first deputy chairman of the planning commission and the planning minister.
Mr Datar headed the fledgling labour and employment division, eventually becoming advisor (labour and employment) to the commission and becoming the member-secretary of the national commission on labour headed by Justice P B Gajendragadkar (both post-retirement).
The commission produced a seminal report decades ahead of its time, which like most such reports, remained on the shelf and is probably not even accessible now.
Mr Datar was a widower (his young son, my contemporary, stayed with his maternal aunt, Mrs Gajendragadkar, in Mumbai) living alone in his roomy but downmarket flat (so considered in Lutyen's status-conscious Delhi due to its D II tag). So he shared the flat with his early colleagues in the newly-formed Indian Economic Service.
That is how K N Raj, I G Patel, Sharad Marathe, Ashok Mitra, et al, ending with Manu Shroff, became Datarji's (as he was affectionately addressed by all, in deference to his age seniority) flatmates serially.
Datarji's circle drew all the smart young men and women then working hard for a luminous emerging India.
It included J J Anjaria (nominally, Dr Patel's boss as the chief economic adviser), Dharma Venkataraman (later Kumar) and K S Krishnaswami from the Reserve Bank of India, Jagadish Bhagwati and Padma Desai (who were an item even then) from the university, Hiten Bhaya recently retired as a naval commodore, Chanchal and Latika Sarkar, Mohit Sen (the Communist parliamentarian), George Verghese, among others and the current and past flatmates.
They were all bright scholars with advanced degrees from renowned institutions who also shouldered important responsibilities at relatively young ages.
Dr Raj had drafted the First Five Year Plan virtual single-handedly while not yet 30.
Drs Anjaria and Patel were the high priests of economic policy, while Dr Marathe performed a similar function at Udyog Bhawan.
Commodore Bhaya was shortly to head each of the three public sector steel plants serially.
The group regularly met for Sunday brunches, mostly at 30 Pandara Road (and later at the nearby and more spacious 42 Wellesley Road, a C II flat allotted to Datarji) catered by Krishnan, Datarji's versatile major-domo and master South Indian chef who held a day job as a government office attendant and occupied the servant's quarters in Datarji's flat.
These were long affairs, lasting four or more hours, and no topic was taboo. Someone would be returning from a trip abroad, or there could be a visiting foreign economist, many of whom considered Yojana Bhawan an important stopover.
The group eagerly quizzed them about what the papers in London or New York were saying in those dark days with no Internet.
What conversations they were, full of information, gentle humour and not a trace of envy! We visiting children were avid listeners and were encouraged to talk without fear, even though we understood little of what was said.
Some of these took us out for ice-cream treats at the air-conditioned comfort of York's (a great luxury in those days) in what was then Connaught Place. Scintillating conversations continued here as well, with considerable light-hearted banter.
Such was the influence of this galaxy for a young nephew visiting his uncle that he switched his discipline a decade later to economics after receiving highly regarded degrees in engineering from the Indian Institute of Technology-Bombay and Northwestern University.
I met Dr Mitra twice in my adult life. The first was when he came for a lecture in Ahmedabad in the mid-1970s. He was the chairman of the Agriculture Prices Commission. I was at the Indian Institute of Management-Ahmedabad then. He came home for a cup of tea.
That is when I learnt that he had had a term at the Indian Institute of Management-Calcutta at the behest of Commodore Bhaya, its first director. And what a team he built there!
The other time was during a visit to Kolkata much later, when he had just resigned as the state finance minister.
When I thought I could write commentary in popular press, Datarji told me to keep reading Calcutta Diary (as it was then called) in the Economic and Political Weekly and see if I could emulate Dr Mitra by writing well on a wide variety of topics.
I have followed that advice religiously (but with scant success); I have seldom received wiser counsel.
In the present parlance, 30 Pandara Road would be a chummery. Dr Mitra called the Pandara Road crowd a "cheerful collective of young dreamers," united in its "love and pride for the newly Independent India," despite "sharp disparities in background, temperament and attitude."
That was Datarji's great nursery of brilliant young minds.
You can read Dr Mitra's columns which were published on Rediff.com here.