Some reversal of unilateral ad hoc trade policy measures may have been all that was reasonable to expect. However, since trade policy has been used by Trump as a major political instrument, even this may have been a hard bargain to achieve for the Indian side, says Amita Batra.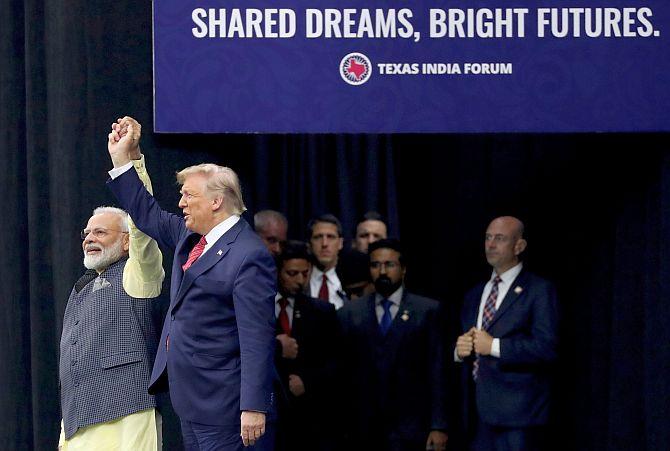 In a week that has seen India's diplomatic success with the United States attain new heights, India-US trade talks have been rather muted.
This is not surprising, given that even the closest allies of the US have not been spared of President Donald Trump's hostile trade policy actions.
In the last one year, India has been subjected to repeated criticism of its relatively high tariffs, restricted market access, and the general trade environment.
While the tariff on imports of Harley Davidson motorbikes has been most often cited by the US president, more serious policy action has followed in terms of withdrawal by the US, earlier this year, of the long-standing preferential treatment accorded to India and some other countries under its Generalised System of Preferences (GSP) programme.
In June, last year, the US had announced higher tariffs of 25 per cent and 10 per cent on imports of steel and aluminium, respectively, from which India had been unable to secure exemptions, unlike some countries such as Canada and Australia.
For this, though India has registered a complaint with the World Trade Organization (WTO) dispute settlement body, the US inaction with regard to new appointments on the appellate body (among other things) has rendered the multilateral institutional mechanism weak.
Timely outcomes of disputes registered may therefore be hard to achieve. India has now set in motion a retaliatory action by increasing tariffs on 29 commodity imports from the US.
While the extent of impact of all these policy decisions on India-US bilateral trade may not be high, they need to be viewed in terms of not just the immediate trade lost, but also the increased competition that domestic producers will potentially face as Indian exports get subjected to most favoured nation (MFN) tariffs, as well as loss of export market share and consumer welfare for some commodities that have been brought under higher retaliatory tariffs.
In recent years India-US bilateral trade has seen positive growth. After a decline in 2015-16, trade increased in 2016-17 and substantially so in the last two years. Growth in India's trade with the US was a little over 15 per cent in 2017-18 and around 18 per cent in 2018-19.
After many years of being second to China, the US emerged as India's lead trading partner in 2018-19, with trade worth $87 billion.
Growth in imports registered a jump from 19.29 per cent in 2017-18 to 33. 59 per cent in 2018-19. However, export growth declined from 13.42 per cent in 2017-18 to 9.46 per cent in 2018-19.
Even in the eventful year, 2018-19, which has seen major adverse policy changes, the share of the US in India's trade increased marginally to 10.42 per cent from less than 10 per cent in the preceding three years.
The impact of GSP withdrawal is likely to be felt most in sectors like chemicals; plastics; machinery and mechanical appliances; electrical machinery; and photographic, optical, medical, and surgical precision instruments, that is, sectors in which the largest number of commodities are under GSP concessions.
In all these sectors, which are also among India's top 20 export sectors, the US is the largest or the second-largest export market for India.
In the last two years share of the US market in India's exports in these sectors ranged from 7 per cent in electrical machinery to 20 per cent in machinery and mechanical appliances.
But, India's share in US imports in these sectors is very small, only 1 per cent or less, other than in chemicals, where India has a share of 4.6 per cent in US imports.
After the withdrawal of the GSP, as Indian exports are subjected to MFN tariff, they will compete with products from China, Germany, Japan, South Korea, and other developed countries, which are leading exporters to the US in these sectors.
In the face of stiff competition from these advanced economies, India may not be able to retain even its small share in the US market.
As regards steel exports, a decline of 34 per cent was registered in 2018-19 and in May this year, exports have fallen to their lowest in three years. This is on account of higher tariffs in the US as well as preventive/safeguard measures by other importing countries against potential import surge.
The share of aluminium exports in our exports, which was 1.4 per cent in 2018-19, has also dropped to 1.1 per cent in 2019-20 (April-July).
Turning to India's retaliatory tariff hikes, the items with a substantial share in US exports are almonds (54 per cent), apples (15 per cent), phosphoric acid (33.7 per cent), and some iron or non-alloy steel products (29.7 per cent).
However, while having a substantial share in US exports, these products simultaneously hold a significant share in India's imports of these commodities.
In 2018-19, over 80 per cent of India's almond imports 47 per cent of both walnuts and fresh apple imports, and 41 per cent of stainless steel imports were from the US.
A higher duty may, therefore, be equally detrimental for Indian importers and consumers in terms of higher prices. Retaliatory action by itself may, therefore, not achieve much, and may certainly not exert sufficient pressure on the US for restoration of GSP concessions to India.
Difficulties also apply to other demands of the US related to e-commerce, increased market access in agriculture, reduced duties on information and communications technology (ICT) products, and moderation in sanitary and phytosanitary (SPS) measures in dairy products.
These are not easily acceptable as they are among issues that India is yet grappling with even at the multilateral level and/or in some of its long-running bilateral free trade agreement (FTA) negotiations.
Removal of price caps on certain medical devices, also a US demand, is difficult since providing affordable healthcare is a national priority in India.
High expectations and persistent references to a trade deal were probably misplaced ab initio, as there was no bilateral FTA or economic partnership agreement that was to be negotiated in this visit.
Some reversal of unilateral ad hoc trade policy measures may have been all that was reasonable to expect. However, since trade policy has been used by Trump as a major political instrument, even this may have been a hard bargain to achieve for the Indian side.
Perhaps, a selective restoration of the GSP for some of India's major export products, in return for not so difficult and probably desirable reductions in import duties on almonds, walnuts, and apples (especially now, close to the festive season and peak demand period) may be a more feasible outcome to pursue as negotiations proceed in the next few days.
Amita Batra is professor at School of International Studies, JNU.