What were the Indian authorities doing all these years, especially when it was well known universally that all was not well within HSBC? Either our politicians are too honest or the fact remains that they ensure that our agencies are simply reduced to be toothless watchdogs that refuses to bark, probably the later, writes M R Venkatesh.

I owe a confession upfront to all readers. The "sensational" revelations of Arvind Kejriwal on HSBC allegedly indulging in Hawala fail to stun me. On the contrary, I must state that this is on expected lines. In my considered opinion what has been revealed by him has been an unexciting trailer of a horror movie; the main picture is yet to come. Believe me, even the main picture too will fail to shock us.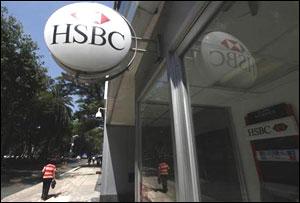 Readers may recall that in one of my earlier columns titled "Why India too is a TAX Haven" I had traced how two employees of HSBC, Herve Falciani and Georgina Mikhael, leaked secret data of 79,000 individuals and 20,000 companies of their accounts in Geneva, Switzerland.
The list included criminals of various nationalities. Subsequently, the French made available this data to governments across the world for possible pursuits of their tax cheats.
It is widely believed that there are about seven hundred Indian names in that list. That was in July 2011. It is this data that is now haunting the Indian government through Kejriwal. (It is a remarkable coincidence that the French concluded a multi-billion dollar fighter jet deal with us just then.)
Once the list was received, government of India apparently "swung" into action. According to Kejriwal, the IT department conducted searches in the premises of three such persons (One is not sure what happened to the balance). When confronted with evidences they admitted that they had bank accounts in HSBC abroad, which was not originally declared to the tax authorities.
This is where the plot thickens. Uniformly, the three independently have detailed to tax authorities as to how they managed to open, operate and get back their cash deposited in such accounts.
If documents released by Kejriwal are to be believed, all it requires is a phone call to HSBC who will depute their officers to open account, collect cash (in INR), have it deposited abroad (in currency of your choice), operate it under your instructions and then should you require, pay you cash (in INR) as and when required in India.
Understanding Hawala
This is Hawala, plain and simple, where INR instantly becomes USD as much as USD becomes INR. The icing on the cake: one need to go out of India to open or operate an account. All it takes is a phone call. Instantly, someone representing Hawala operator would call on you and render prompt service.
Hawala, it may be recalled is an informal money transfer without the actual transfer of money. It is akin to a bank but without any of the trappings of a formal bank. In a globalized world, the Hawala system could facilitate anyone with ill-gotten wealth to transfer his illicit money so as to escape the long arm of law in the first place.
A few hundred crores given in Delhi could instantly convert to equivalent pounds in London or vice versa with speed, efficiency and reliability unmatched by formal banking system. In these transactions since there are constantly two-way flows, there are no issues to "settle" accounts.
Despite being an artificial construct the efficiency associated with a Hawala transaction has to be seen to be believed. It has an in-built dispute resolution mechanism that would challenge the efficacy of any formal court; honesty unmatched by saints. Despite these troubled economic times, left to itself, it is a massive employment generator.
Nevertheless, Hawala wrecks havoc on national economies, encourages drug peddlers and aids terrorists. That is why it needs to be fought upfront.
All this in the instant case involving HSBC was allegedly happening in a country where you cannot deposit cash exceeding Rs 50,000 per day into an account in India. Such a measure was primarily aimed at preventing laundering of illicit wealth and passing it of clean, unadulterated licit money through the banking channels.
Importantly, Hawala it was believed was restricted to drug mafia, terrorists and politicians. What if one of the persons in the 700 member list leaked by Herve Falciani and Georgina Mikhael happen to be a terrorist? What if they were using such money to rig our stock markets? What if drug cartels were using these channels? Scary isn't it?
But what is scarier is the alleged role of such international banks. Nevertheless, all these are well-known in international financial circles for over a few years. Yet, these banks continue to carry on such operations leading to the obvious conclusion that the high and mighty of the land must have blessed such operations.
But first a word about HSBC before we proceed any further.
HSBC – exposing the soft underbelly of global finance?
HSBC is no ordinary bank. Headquartered in London, it is the world's third-largest bank and sixth-largest public company according to a composite measure by Forbes magazine. Having locations across continents, HSBC's international network comprises around 7,200 offices in over 80 countries. According to Wikipedia, its market capitalization as at July 2012 was in excess of $100 billion.
But recently the Telegraph, London, reported that HSBC was at the centre of Revenue and Customs investigation after it opened offshore accounts in Jersey for "serious criminals." Further it stated that British authorities have obtained details of about 4,388 British clients of HSBC, Jersey, (aggregating to approximately $1.1 billion) after a whistleblower secretly provided a detailed list.
Remember Jersey is no holy place. It is widely regarded as a tax haven. Yet, when it involves its own citizens, security and anti-money laundering regulations, there is no compromise. Mercifully, Jersey is not governed by UPA!
But that is one dimension. What if some whistle blower was passing on a list of Indian names to Chinese or Pakistani governments? And as someone said once to me, that such a whistle blower could probably come from within CIA, as they must already be having such a list.
It may be noted that the US Senate Permanent Subcommittee on Investigations was constituted to strengthen its Anti-Money Laundering (AML) efforts by investigating how money launderers, terrorists, organized crime, corrupt officials, tax evaders, and other wrongdoers have utilized U.S. financial institutions to conceal, transfer, and spend suspect funds.
To examine the current money laundering and terrorist financing threats associated with correspondent banking, the Subcommittee selected HSBC as a case study and submitted its report. Needless to emphasize its findings were adverse for HSBC.
Consequently, Jill Treanor, in an article in Guardian last week warned that the Bank was bracing for "significantly higher" fines from US authorities. Stuart Gulliver, bank's chief executive, admitted even more money (over and above $1.5 billion) may be needed to cover the actions that it faces from a number of US regulators under AML laws.
Interestingly, Stuart Gulliver is reported to have conceded these allegations, which date back to 2002 when Stephen Green was at the helm, had "undoubtedly damaged" the HSBC brand.
Noted chartered accountant Richard Murphy is reported to have commented on this issue: "This bank was clearly out of control. It confirms what we've begun to realize, that this is a bank that was, during the period that the Reverend Lord Stephen Green was in charge, the world's biggest money-launderer." (Source: Daily Mail, Nov 9th 2012).  That implies, possibly, such unlawful practices were carried out in India by the Indian arm then.
What unites US, Britain and India? HSBC isn't it? That explains the deafening silence of HSBC in India to Kejriwal's revelations. That also explains why I am not stunned either!
But that brings us to the crucial question. What were the Indian authorities doing all these years, especially when it was well known universally that all was not well within HSBC? What was the official position on HSBC? Was it under surveillance for such unlawful activities? Or were we naïve enough to be oblivious of these developments worldwide on HSBC?
There is probably yet another dimension. What if several of our biggies were laundering their illicit wealth using such services? What is adding weight to this theory is the fact that till now none of our high and the mighty have ever been caught, much less convicted, for Hawala or laundering money.
Either our politicians are too honest or the fact remains that they ensure that our agencies are simply reduced to be toothless watchdogs that refuses to bark, probably the later.
Is that why HSBC has been operating in India without any let or fear? It may not be out of place to mention that under Section 24 of the Prevention of Money Laundering Act when a person is accused of having laundered money, the burden of proving that proceeds of crime are untainted property shall be on the accused.
Despite such powerful legislation and overwhelming evidence why is that the RBI silent and allowing HSBC to operate in India? Why is the Enforcement Directorate not taking any action on HSBC under the AML laws? Or have they all closed the file? Watch this space.
PS: H for HSBC. H for Hawala?
Photograph: Edgard Garrido/Reuters
---
The author is a Chennai-based Chartered Accountant. Comments can be sent to mrv@mrv.net.in