'With a less than comely bride and no dowry to speak of, the prospects of landing a good match look bleak, a grim, sinister and no-nonsense prospective father-in-law notwithstanding,' says Anjuli Bhargava.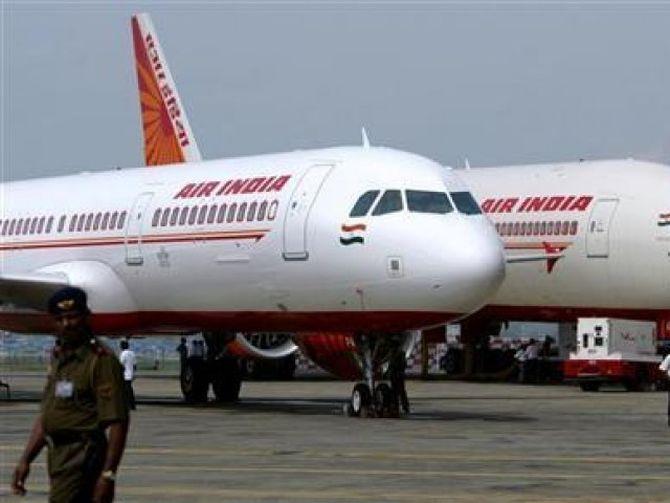 The other day, a news report caught my attention.
t quoted a government official claiming that two airlines -- IndiGo and Etihad -- had evinced interest in acquiring Air India.
It also stated that the Tatas had not yet shown any interest in the proposed sale.
As things stand, only an Indian-owned carrier can opt for 100 per cent of the stake; a foreign airline or investor can own only 49 per cent.
Of all the possible airlines, the two mentioned in the report struck me as most unlikely suitors.
IndiGo already commands close to 50 per cent of the domestic market share and although Air India's domestic presence has been on a steady decline, the combined entity would cross 50 per cent of the market share, attracting the attention of the Competition Commission of India.
As it is, IndiGo is driving fares and many in Jet argue that its closure was driven by the market leader's predatory pricing once Jet's problems surfaced.
A former CCI chairman told me that there was no chance that the CCI would approve an acquisition of the national carrier by Indigo.
Expecting Etihad -- which recently burnt its fingers with Jet's closure and has plenty of troubles of its own -- to step in would be equally naïve.
In 2018, the airline posted a loss of $1.8 billion, taking its three year deficit up to $4.8 billion.
There have, in fact, been talks of Etihad being bought out by Emirates or one of the stronger partners in the Gulf region.
To float its name as a potential taker for Air India at this stage sounds almost silly.
Meanwhile, Air India's own internal problems refuse to abate.
The airline's net loss for 2018-2019 was Rs 8,400 crore, against a revenue of Rs 26,400 crore.
Although at some stage during the current financial year and after Jet's demise, Air India hoped to lower its losses for the year and even post a small operating profit, it now seems unlikely.
CAPA estimates that the airline will end the year with a loss upwards of $500 million, but the industry is willing to bet the final loss will be much higher than the CAPA estimate.
In addition to its mounting losses, a substantial part of Air India's fleet is on the ground due to maintenance problems and parts being unavailable due to a paucity of funds.
Almost through the last year, between 25 and 35 aircraft were grounded, give or take a few.
This, of course, is paradoxically good news for the carrier as more aircraft in the air means higher losses.
Typically, airlines don't want to keep any planes on the ground and look at maximising utilisation.
As with the country as a whole, none of the usual yardsticks apply in the case of our national carrier!
An acute shortage of funds has the airline strapped on all fronts.
Salary delays are a given, no one expects timely payments.
They are, in fact, grateful that payments are still being made.
CMD Ashwini Lohani meanwhile has been out with a begging bowl, yo-yoing between the threat of closure and reassurances of continued operations, a daily comedy circus that no one takes very seriously any longer.
Responses to his threats and exhortations appear to be taken in from one ear and let out from the other by a government that is mired in all manner of controversy.
Although Lohani with his more tempered handling of staff has proved better for employee morale than his predecessor, junior pilots in the airline have been putting in their papers.
Resignations have been high enough in numbers to raise a degree of alarm, stirring the director operations into action, making himself available to meet the aggrieved in the last week of the holiday season in December.
Heavens must truly be falling!
Resignations of any kind are a rarity in our national carrier, known for the stickiness of its staff in general.
After you have worked in Air India, a job in any other airline feels like actual work so you'd really have to be bitten by a mad dog to quit.
When I asked one of the senior employees -- who has been there since the late 1980s -- about this strange and recent phenomenon, he pointed out that it must be the younger lot.
"The high command and commanders of the airline will never leave until it shuts down; who else will tolerate their tantrums?," he said in jest but with an uncanny degree of realism.
So dear reader, loath as I am to be the harbinger of bad news, I am really not optimistic on any kind of wedding in 2020.
With a less than comely bride and no dowry to speak of, the prospects of landing a good match look bleak, a grim, sinister and no-nonsense prospective father-in-law notwithstanding.