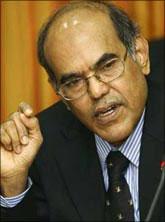 The Reserve Bank of India on Friday increased mandatory cash reserve of banks held by it by 75 basis points (0.75 per cent) in a bid to suck excess liquidity to combat rising inflation.
However, short-term lending and borrowing rates between RBI and banks were kept unchanged, leading to speculation that banks' commercial lending rates may not change.
The apex bank also upped its economic growth projection to 7.5 per cent from its earlier estimate of 6 per cent for the current fiscal.
The 75-basis point increase in cash reserve ratio to 5.75 per cent is expected to suck out at least Rs 36,000 crore (Rs 360 billion) from the system. The move is to check food inflation spreading to other sectors.
The Reserve Bank said that the expected outcomes of the actions are:
(i) Reduction in excess liquidity will help anchor inflationary expectations.
(ii) The recovery process will be supported without compromising price stability.
(iii) The calibrated exit will align policy instruments with the current and evolving state of the economy.
According to RBI estimate, inflation is likely to touch 8.5 per cent by this fiscal-end from over 7 per cent in December. Earlier in October, the apex had projected the rate of price rise to be at 6.5 per cent by March-end.
Central Bank of India executive director Arun Kaul said CRR hike is more than market expectations, and definitely liquidity would go down and may have some impact on interest rate.
Immediately after the announcement of credit policy, the benchmark Sensex on the Bombay Stock Exchange nosedived by 300 points but recovered from day's low level. The key index is trading down by over 190 points at intra-day.