Advertisement

  

Advertisement

RBI raises CRR by 0.75 per cent
January 29, 2010 11:29 IST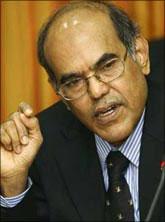 The Reserve Bank of India [Get Quote] raises Cash Reserve Ratio by 75 basis points at 5.75 per cent.
RBI, hwoever, has kept the repo and reverse repo rates unchanged at 4.75 per cent and 3.25 per cent, respectively.
CRR hike of 75 basis points in two tranches will suck out liquidity to the tune of Rs 36,000 crore (Rs 360 billion) from the system.
As a result of the CRR hike, home, personal and car loans are likely to rise.
The Indian economy will grow by 7.5 per cent this fiscal, the bank said.
The central bank also raised the nation's inflation projection to 8.5 per cent by this fiscal-end.
Details soon. . .
© Copyright 2009 PTI. All rights reserved. Republication or redistribution of PTI content, including by framing or similar means, is expressly prohibited without the prior written consent.