Team Careers360
From core careers like CA and CS to design and fine arts, here's a wide range of options for students to choose from. Read on
Have a head for numbers?
Then you could explore a becoming a Chartered Accountant (CA), Costs and Works professional (CWA) or a Company Secretary.
The accounting maestros, CAs, lend rhythm to the cacophony of finances. Running even a mid-size firm without a CA is inconceivable.
In that respect, no CA is ever out of job, come hail or recession.
For CWA, you can start the studies right after 10+ 2, taking the Foundation Course. The course trains you in accounting, cost and management, audit and tax functions among others.
As a qualified CWA professional, you are responsible for maintaining and scrutinising accounts, preparing cash budgets, maintaining cash flow statements among others. But it is cost cutting that you would specialise in.
Last but not the least, if you want to pursue the Company Secretaries Course, you have three stages: Foundation, Executive and Professional Programme.
Graduate students are exempt from Foundation Programme.
If you are an arts graduate, you can also opt for a career in design, fine arts, journalism or visual communicate. But before you make a choice, here's a ready reckoner.
Illustration: Uttam Ghosh
1. Chartered Accountancy

Admission
There are three stages: Common Proficiency Test (CPT), IPCC and Final Exam.
One can register for CPT soon after Class 10 but taking the CPT is allowed only after Class 10+2. The second stage, IPCC, comprises group I and II.
You can clear both the groups and straight away join the Final Course or just clear Group I - IPCE or Integrated Professional Competence Exam and join three years of practical training and in the mean time qualify for Group II.
If you want to put a full stop temporarily after Group I and not go for Group II, you can still obtain Accounting Technician Certificate.
All you need to do is to clear the four papers and complete one year of work under a CA in practice or in industry. You will be designated as Accounting Technician.
Once you have cleared IPCC (group I and II), you can appear to qualify CA Final while serving last 6 months of article training. Candidates are given 15 days of training in general management and communication skill after two years of Article training.
Course details
CPT teaches you fundamentals of accounting, mercantile laws, money, banking etc. IPCC has six subjects and seven papers in Law, ethics, financial management, income tax and others.
After you qualify, you will be sought after in specialised areas of accounting, auditing, corporate finance, corporate law and taxation.
You will also be sought as business advisor for preparing financial reports, helping the firm in securing loans, preparing financial projections and determining business viability.

You advice on tax compliance and tax laws which will make you a much sought after professional A lot of CA aspirants take coaching. But should you go for coaching?
According to Kishen K Warrier, a 2010 All India CA topper, coaching provides a disciplined approach and can guide on topics but self-study is important. 'Coaching can give a start-up and guide on topics to cover besides inculcating a disciplined approach, he says. "But self-study is important," he emphasises.
Fee
The CA fee is around Rs 40, 000. Fee concession is given to differently-able students as well as meritorious students.
First three rank holders of CPT are exempted from registration and tuition fee of IPCC, and they don't have to pay Final
Course fee if they clear IPCE in first attempt.

Placement and Salaries
Students are snapped up like hot cakes.
While you may be interning in a meager salary of Rs 7,000 or so, as a qualified CA, you start with no less than Rs. 35,000 in a decent firm.
ALSO READ:7 HOTTEST jobs CAs can consider
2. Company Secretary

Duration
Foundation programme is of eight months. It is open to students of all backgrounds--Arts, Science or Commerce stream.
After passing Executive programme, a student has to undergo practical training for about 15 months.
After successful completion of training a candidate is eligible to be called as an Associate Company Secretary.
Admission
Admission to the CS course is open throughout the year. Examinations are held twice a year in June and December.
ICSI has 66 examination centres pan India, including one overseas centre at Dubai.
The course is recognised by the various universities for admission to PhD course.
Fee
For Foundation, the cost is Rs 3,600 and for the Executive programme, the fee is Rs 7,000 for Commerce graduates while for non-Commerce students the fee is Rs 7,750.
Course and Coaching classes
There are four papers in CS Foundation programme that includes English and Business Communication along with Economics, Statistics and others.
In the final stage of professional programme, there are 8 papers divided into 4 modules that cover topics like Drafting, Appearances and Pleadings, Restructuring & Insolvency, Forex management among others.
Some students take coaching classes.
Puneet Gupta, All-India CS topper 2010, never took any. He emphasises the importance of practical training.
Placement, Role and Salaries
The institute assists students on placements. A candidate gets employed as a legal advisor by a company, guiding the company in matters pertaining to corporate law, corporate governance, ethics, corporate social responsibility, risk management and capital market among others.
At the recently held ICSI Foundation Day event, Anil Murarka, President, ICSI said, "In order to be an efficient CS one should gain thorough understanding of domestic and international regulatory regimes. Possessing knowledge in risk management to help corporates maintain standards of accountability, transparency and ethics is also important as these aspects are gaining wider currency in a globally integrated workplace."
Corporate firms like Ernst and Young, KPMG, GE who hire CS start with a salary range of Rs 30,000 and above.
Illustration: Uttam Ghosh
3. Cost and Works Accountant (CWA)

Duration
The three stages of course can be completed at one go. But students unable to clear Intermediate at first shot or later, can try for another seven years.
After a lapse of seven years, they can re-register and appear for test for yet another seven years. But only a very few pass the exam.
Admission
Exams are held two times in a year, starts on June and December. For June Term Exam one needs to apply before December 5 of previous year and for December, before June 5.
Fee
For foundation course, along with oral Coaching, the fee is Rs. 3500. For executive, the fee is Rs. 7,000. Those who take oral coaching, pay Rs. 4,000 extra.
Course details
In CWA, you are trained to be a Cost Accountant. After course completion, you can start working independently or in partnership with private or public companies.
For further academic enhancement, one can enroll for MPhil and PhD. Several Universities recognise ICWA qualification for further studies.
IGNOU offers specialised BCom and MCom programmes for ICWAI students. The students can simultaneously study the specialised BCom (Financial & Cost Accounting) programme with ICWAI Foundation/Intermediate Course and specialised MCom (Management Accounting & Financial Strategies) with ICWAI Final Course.
Placement, Role and Salaries
Companies keep and maintain cost records, and have to get auditing done. Qualified professionals can go on to top management positions to be finance director, internal auditor etc.
Realising the importance of the profession in the economic development of the nation, the central government has constituted an all-India cadre known as Indian Cost Accounts Service (ICAS) at par with other Class-I services such as IAS and IFS to advise the government in cost pricing and in framing tax policies.
There is provision of campus placement and average salaries start from Rs 25,000 onwards.

4. Teaching

Fast Facts
Job: Elementary school teacher and nursery school teacher
Eligibility criteria 10+2 with minimum 50 per cent and 2-year diploma in elementary education or 4-year bachelor degree in elementary education (B.El.Ed)
Institutes: List is available on www.ncte-india.org
You can be a government school teacher with a diploma in elementary education after passing class 12.
Perhaps, this is the shortest route to become a teacher in government school. Though school teaching may not pay a lot, but it comes with relatively good benefits and in public schools, the much needed job security.

For being a primary teacher, an aspirant can pursue a two-year diploma in elementary education, which is known by different names like BTC, PTC, ETE, DED, and TTC etc. But such diplomas should be approved by the national regulatory body of teacher education i.e. NCTE. Check the approval of course on NCTE.
Besides this two-year diploma in elementary education, a four-year Bachelor in Elementary Education (B.El.Ed.) after 10+2 also makes you eligible for elementary school teacher.
B.El.Ed. is designed to integrate the study of subject knowledge, human development, and pedagogical knowledge and communication skills. Both professional and academic options are available to students who graduate with a B.El.Ed. programme, which is quite popular in Delhi where seven college of Delhi university are offering B.El.Ed at present.

Salini Verma, a teacher in government school Meerut (UP) says, "I got this job after a diploma in education but I continue to study through distance learning. Teaching job gives ample opportunities for further studies."
After 10+2, a Bachelor's degree in elementary education opens opportunities even in research and social works.
A teacher in central school teaching primary classes gets a starting pay package of Rs 20,000 to Rs 25,000.
Starting package in State government schools vary between Rs 15 to 20,000 per month.
On the other hand, private schools monthly package usually starts from Rs 8 to 12,000.
ALSO READ: These youngsters taught their way up to land in dream jobs
5. Journalism

While some might believe that the power of pen is something inherent that cannot be taught but has to be developed with practice, yet these journalism courses promise to teach the "craft of journalism" within a few years.

With rampant rise in institutes and universities offering Bachelor's degree in journalism across the country, its popularity is now an established fact.
"I think in today's competitive world of journalism where skills are important and so is niche reporting with focus on content, a journalism course is more than relevant and significantly useful if you wish to join the field," said Anubha Yadav, Assistant Professor in Journalism Department, Delhi University.

The three year degree course aims at introducing all kinds of media careers (print, television, online, advertising, public relations) as well as the various schools and thoughts around it in history and in today's times. Also students get trained in reporting, editing and even technologies.
"It is a very challenging enterprise. I think a person who passes out of the course will have more than introductory grounding in media field," adds Yadav.

After pursuing the course, students are free to choose. While a sizable number end up finding entry-level work in newspapers, television, media portals, advertising agencies, etc; there are others, disillusioned by the course's cursory stance in all subjects, who decide to pursue a completely different course in postgraduation.
"I realised after completing my journalism course that I had not really learnt in depth about any particular subject," informs Pallabi Roy, currently pursuing her MPhil in Sociology from JNU.

"I could have easily opted for a basic graduation degree and followed it up with postgraduation in journalism. But I wanted to enter the field early as industry experience matters more than higher qualification in media," says Mrinalini Raman, a student of Journalism at University of Mumbai.
Most courses require students to do at least one internship with any media organisation. After completion of course in journalism, one can expect jobs in leading newspapers, journals, news agencies, online news sites, advertising firms and a host of other organizations. After completion of course, the entry level salary is around Rs 12,000 to 15,000.
As one gains experience of 3-5 years salary can grow somewhere between Rs 25,000 to 50,000.
In fact, the relatively lower salary in media industry as compared to any high-flying corporate career has not managed to deter aspirants.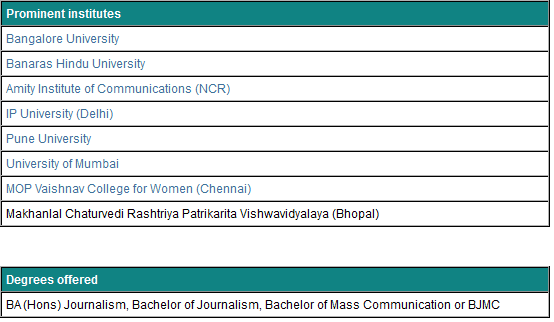 Illustration: Dominic Xavier
6. Foreign Language

Globalisation has meant a boom time for those who know languages of developed or emerging economics.
Call centres and back-end operations of MNCs are recruiting students proficient in foreign languages like French, German, Spanish and even Mandarin.
The specialist language occupations include working as a translator, interpreter, language teacher or linguist.
Academic qualifications in foreign languages assist in pursuing careers in the areas of tourism, entertainment, public relations and embassies, diplomatic service, publishing, etc.

Deciding on a language
"Popularity or better career prospects in a foreign language are linked with the international and economic ties with a particular country," says Professor Sankar Basu, Dean, School of Language, Literature and Culture studies, JNU.

Though many teachers discourage choosing a language based on its worth, B Mathews, administrative manager, Instituto Hispania says it is a practical approach.
"One should keep in mind the viability of a language as one invests time and effort." Aptitude and demand for a language are most important.

Jobs & Opportunities
Max Mueller Bhavan (Goethe-Institut), for example, has designed its curriculum to cater to the private sector. Business German is an important component of its syllabus.
'While our primary focus is on imparting communication skills, learning Business German only improves careers prospects even more,' says Dr. Stefan Dreyer, Regional Director, South Asia, Goethe-Institut, Max Mueller Bhavan.

Pay packages
While interpreters charge Rs 1,000 per hour to Rs 25,000 a day, translators earn on a per word basis (from 60 paise to Rs 5 per word).
Foreign language professionals are also needed by the IT and offshoring industry and salary depends on the language and proficiency.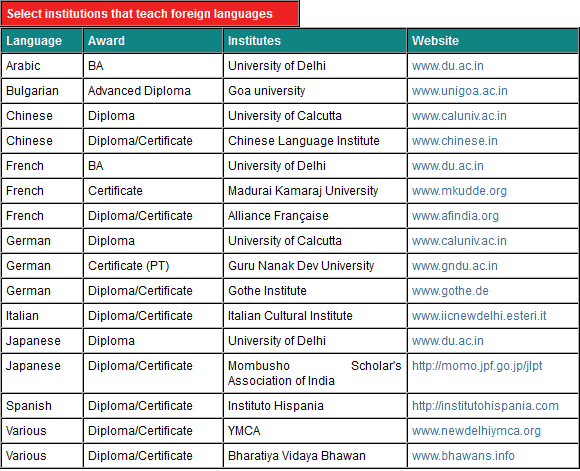 7. Design

Photographs:
Hitesh Harisinghani/Rediff.com
"If you make a beautiful sculpture, that is art. But if you have a specific use for that sculpture, that is a design piece," explains Vaibav Sharma, an Interior Architecture design student at Pearl Academy of Fashion (PAF).
From Class 9 Vaibav knew he wanted to be a designer as he got some exposure to it in his Art & Design class in school. But most students have very little exposure to design, which is vast and seems to be gaining prominence in India.
At the UG level one can choose from an eclectic mix of disciplines right from product to interface design.
UG courses kick off with a Foundation Course, where students get savvy about basic design principles. But by the end of the first or second year, some students rue their choice of programme.
Know your design discipline
Shares Ramneek Kaur Rajitha, Associate Prof of Communication Design at PAF, "We recently had a student who shifted from a Fashion Communication course at another institute to Pearl's Communication Design programme".
The student wanted to do communication design as a whole. So, it's important to choose wisely. The best way to know your design interest is to ask established designers.
Websites like coroflot.com feature the profiles and portfolios of design students, faculty and professionals from around the world.
Many designers have private blogs or websites; view these and connect. View project work by the students of in design colleges on their websites.
For instance, one can see the industry-projects by students at National Institute of Design (NID) at Young Designers. Connect and expose yourself to various design disciplines. Your answers may be a few clicks away!
Also, visit design colleges to view students' work, which tends to be displayed in corridors and galleries. Another reason to visit a college is to see the infrastructure and chat with current students, about their campus experience.
Abhishek (named changed) joined an animation training institute, which goes by the name of a famous artist. "The faculty was really bad," he complains, three years and Rs 7 lakhs later.
While the promise of a career in design is growing, admission can be a competitive experience, as India has limited colleges and seats. An aptitude test, studio tests and portfolios, are standard selection procedures. Private design colleges can set you back from Rs 7-22 lakhs (tuition fees), while the state-run ones can cost between Rs 2-3 lakhs.
"A bit of de-schooling happens, initially," shares Ramneek, referring to the shift from lecture-style classes to hands-on, studio mode of teaching, which students take a while to get used to.
Expect interactions, discussions, assignments and jury. The time for spoon-feeding and rote-learning is over!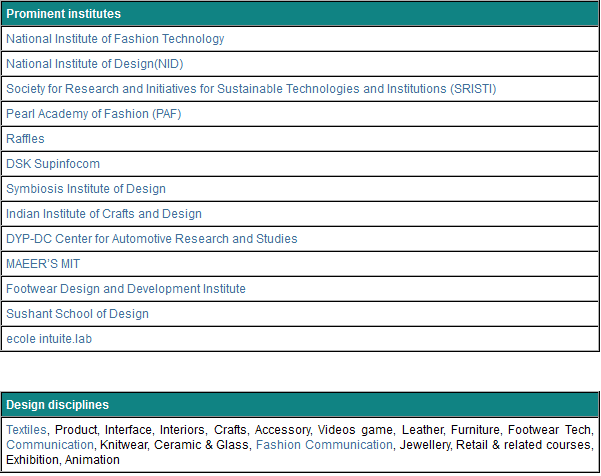 8. Fine Arts

Photographs:
Divya Thakur/Courtesy Tandem Communications
The field is all about self expression and helps students develop and refine artistic expressions through multiple mediums of art, says Professor, Indrapranit Roy, MSU Faculty of Arts.
Some colleges refer to the programme as Bachelor's of Visual Arts (BVA) and other calls it a Bachelor's of Fine Arts (BFA).
In all fine arts colleges, along with broad-based art education, students choose a specialisation to have close focus on a particular art.
The specialisations include -- Painting, Sculpture, Applied Art and Art Education. Sculpting is creating statues, monuments by either chiselling stone or carving wood or handling clay.
Applied Art imparts knowledge on communication design. It caters training for design oriented industry (industrial, graphic, fashion, interior design).
G Katyayni, BFA Painting, MSU Faculty of Arts student who dreams to become an illustrator expresses, "I have a keen interest in literature, I plan to blend the two passions by getting into book making in future."
The test pattern comprises GK, life drawing and painting. For the GK paper, one has to be updated about the latest happening in the art field. The questions posed are like -- Is MF Hussain a painter or sculpturer? Is Amjad Ali Khan a Sarod or Guitar player?
"For Life Drawing exam, we were given a still model to draw (bucket, football) and painting paper was based on a particular theme like a scene of bus-stand, railway station," informs Devashish Sharma, third year BFA-Painting student of MSU Faculty of Arts. Besides this, some colleges do offer diploma courses and the duration ranges from 1 to 4 years.
Generally, the intake is not more than 20 to 25 in art colleges.
"During the selection process, we look for creative spark. Your expression must be nurtured by what you see. We expect the student to be a keen observer," advises Professor M G Kidwai, Dean, Faculty of Fine Arts, Jamia Millia.
"Most commonly a student may draw a bus, bus stand, public queue. We are focusing something beyond it.  Is he looking at things very carefully? Has he captured beggars, buskers and street kids well? We evaluate the memory of the spot and how well he expresses it in the painting.
One can witness newer dimensions in fine arts education, like design, graphics and commercial art -- The art used for commercial purposes, primarily advertising (designing books, advertisements, posters and other displays to promote sale).
In the print making class, students learn to combine typography and images to create wide variety of designs. They study different print techniques on blocks, wood, zinc, copper, litho graph (a special lime stone). It is said that print art form is much cheaper than other mediums of art.
In most businesses, the use of art is a valuable asset. Arts students can explore a range of options -- art studios, animation, advertising companies, multimedia computer firms, newspapers, magazines, book publishing and fashion houses.
A large number of commercial artists do freelance and they design a range of items. "BFA graduates can explore teaching. Arts Management is a new arena opening up," shares Professor, Ruchika Wason, Delhi College of Art.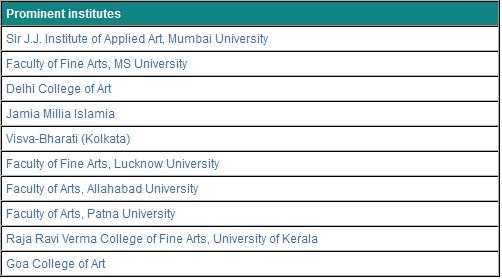 9. Visual Communication

Photographs:
Satish Bodas/Rediff.com
What exactly is Visual Communication?
The use of images and visuals for communication is as old as humanity itself. Visual communication is the communication of ideas through the visual display of information.
Primarily associated with two dimensional images, it includes: art, signs, photography, typography, drawing fundamentals, colour and electronic resources. Recent research in the field has focused on web design and graphically-oriented usability.
In a country that has a deficit of designers and creative professionals, a degree in visual communication may just be the route to channelise creative instincts and pursue a career in it.
This course can be taken up by anyone who has completed 10+2 in any stream.
Most colleges have their own entrance exams and interview before selecting a student. A few of them also review portfolios.
"The course is designed to help students theoretically understand human communication, development communication and media culture and society as well as gain basic practical knowledge in advertising, photography, television production, film and computer graphics," explains Henry Maria Victor. V, Head of Department, Visual Communication, Loyola College, Chennai.
Loyola College was one of the earliest colleges in the country to start a course in Visual Communication in 1989. There are about 30 colleges in and around Chennai offering a course in VISCOM.
The course offers students openings in the media industry and advertising industry as art directors, copy writers and account executives; in the television industry as programme executive, camera man and editor in the film industry as directors, actors and art directors; in IT field as web designers, computer graphics artists and animation personnel, interface designers; in the photography industry as photo journalists, advertising photographer, fashion photographer, industrial photographer and wildlife photographer.
"After doing my graduation in Visual Communication, I immediately got a job as a photojournalist with a leading newspaper.
Next year I am planning to apply abroad for a specialised course in photojournalism," informs Gayatri Murthy, a former student of Visual Communication at a college affiliated to University of Madras. An entry-level job would pay a fresher anything between Rs 10,000 to 15,000.
Although, there are jobs available for graduates, most graduates specialise in a field of their choice. For instance, if you have a flair for writing and are passionate about it, journalism is one option.
Institutions like Loyola College offer MSc programmes in VISCOM. So if you are attracted to visuals, art and designing, a course in Visual Communication might be a lucrative option for you.