Photographs:
Careers360
Team Careers360
In the first part of this 3-part series, to help young readers make an informed career decision, we bring you 7 hottest science careers students can choose after class 12. Read on
More than one crore students appear for their 10+2 examination each year across India.
Of these, just over 15 per cent get the opportunity to go for higher studies. And their choices have been uniform from time immemorial.
The best go for MBBS. The next best to IITs for B.Tech. Others move into engineering.
And the rest would do BA/BSc/BCom, unless one is talking about St Stephen's in Delhi where the best of the best try to enter.
However, there are many more options one choose, besides the usual suspects.
For instance, creative students could opt for design, fine arts or visual communication. If you are good with numbers, you can explore Chartered Accountancy.
If you aspire to be a top chef, you have hotel management.
Allied medical science such as physiotherapy, have a demand in the heath care sector. Even a field like forensic sciences, needs skilled professionals.
So if you did not make the cut for Medicine, do not worry.
An integrated MSc in Nanomedicine would be as good if not a better career option for you. Here, we list out the most popular ones in the following pages, beginning with Science. Choose well!
ALSO READ: 7 HOTTEST jobs CAs can consider
What YOU can do after a Hotel Management degree
Top 11 science exams you MUST take after Class 12
Top 10 medical exams you MUST take after class 12
Click NEXT to continue reading

1. BSc/BCom/BA
Photographs:
Careers360
With nearly 18,000 plus colleges, and about 2 million plus seats, the general Bachelor of Arts (BA), Bachelor of Science (BSc) and Bachelor of Commerce (BCom) is the de facto choice for most of the 10+2 pass outs.
The Association of Indian Universities (AIU) lists out nearly 365 different disciplines and subjects under which one can pursue undergraduate degree programmes.
Science is one discipline that is losing its charm despite the persistent initiative of the State.
While the launch of integrated programmes by Indian Institutes of Science Education and Research has brought the charm of science back, general colleges are not keeping pace.
While some like Delhi university are attempting to incorporate applied subjects like polymers, microelectronics, integrated circuits etc to core science degrees, some others like Loyola College, Chennai are integrating live projects to basic degrees to make it interesting.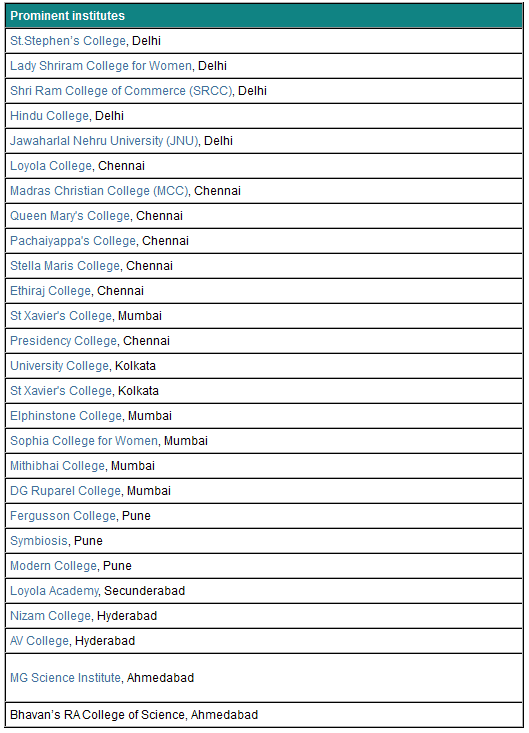 ALSO READ: Best Science colleges of India 2011
2. Engineering

Photographs:
Punit Paranjpe/Reuters
From construction of roads and buildings to automobiles and telecommunications, engineers are required in almost every area of human endeavour one can think of.
It should come as no surprise to anyone that the only Indian education brand recognised worldwide, namely the Indian Institutes of Technology (IITs), belongs to engineering.
Engineering students and engineers seem to wield disproportionate influence in several areas of higher education and industry. Even the prestigious Indian Institutes of Management (IIMs) have 80 per cent of their seats grabbed by engineering graduates.

With role models like former president and the 'Missile Man of India', Dr. A.P.J. Abdul Kalam, N.R. Narayana Murthy of Infosys, E. Sreedharan of Konkan Railway and Delhi Metro, and Sabeer Bhatia of Hotmail, aspiring engineers in India have a lot to look up to.

Popular Branches
Though engineering has continuously been growing new and exotic branches, there are some that are time tested and hugely popular like Computer Engineering, Information Technology, Electronics & Communication Engineering, Electronics Engineering, Electrical Engineering, Mechanical Engineering and Civil Engineering.
Admission Tests
Admission to the State-funded premier institutes is via IIT-JEE, a test that has a very low selection rate.
The next IIT-JEE is scheduled to be conducted on Sunday, April 8, 2012.
AIEEE is the other hugely popular exam with more than 10.5 lakh aspirants appearing for it in 2011 at 1685 centres located across 86 cities.
This exam is the gateway to 20 National Institutes of Technology (NITs), four Indian Institutes of Information Technology (IIITs), the Indian Institute of Information Technology and Management (IIITM), 16 self-financed deemed universities and nine other institutions.
AIEEE is scheduled on April 29, 2012.
Other than these two national level exams, there are a number of State-level exams for individual States.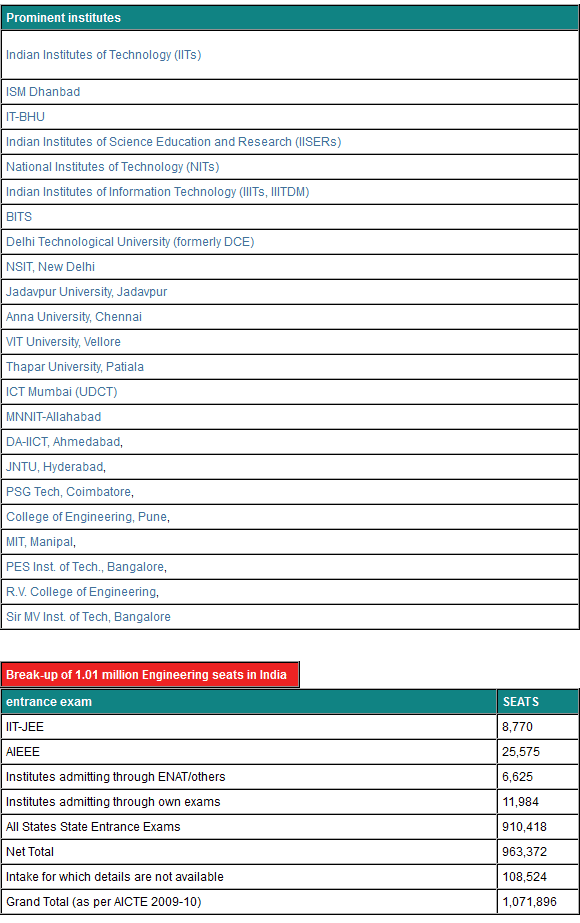 3. Pharmacy

Photographs:
Reuters
The pharma industry in India is nearly a hundred years old.
Today, the Indian market comprises over 25,000 manufacturing units and according to government statistics one-fifth of them makes bulk drugs.

Candidates who possess 10+2 with Physics, Chemistry, Maths/Biology (PCM/PCB) are admitted to the 4-year Bachelor's programme (Bachelor of Pharmacy or B Pharm).
The pharmacy degrees offered in India include 4-year B Pharm, Diploma in Pharmacy (D Pharm, 2 years' duration) and Master's in Pharmacy (M Pharm).
Entrance exams for the admissions to pharmacy courses are usually at state-level.
One needs to be registered as a pharmacist in India in order to practice hospital and community pharmacy. One does not require registration to work in other areas such as the pharmaceutical industry.
Possessing a B Pharm degree from a recognised university usually suffices unless you want to develop new drugs.

4. Medicine

Photographs:
Reuters
White coats flailing, stethoscope in hand, the speeding figure that dispenses health and has the power to cure has always been the fantasy profession for many a child.
Being a doctor is a dream come true still for millions of students but only about 30,122 students get admissions each year.

While State colleges are usually large, admitting 150-200 students a year, barring a few private colleges most central and trust funded colleges like AIIMS, JIPMER and CMC offer about 50-75 seats in each college, and the competition to get into one of these top colleges is intense (see table).

Admissions are not restricted to students from India and as a matter of fact overseas students are encouraged to study.
For instance, Kasturba Medical College at Mangalore, established in 1953, admits nearly two third of its students from foreign countries.
Similarly States like Maharashtra, Tamil Nadu, Andhra Pradesh and Gujarat have quite a few of these high-intake, high-fee colleges offering both PG and UG courses.

Course work
The four-and-a-half years of MBBS course is divided into three phases and nine semesters, wherein each semester consists of approximately 120 teaching days of an hour each.
As per the MCI guidelines, medical school training adopts a pattern of one year of basic science and pre-clinical subjects; one-and-a-half years of para-clinical science and two years of clinical teaching (see box).
Registration is obtained after a year of compulsory rotating internship. In most colleges, there is very little effort to integrate basic science with the clinical disciplines.

The problem areas include learning by rote, exam-oriented course work and very little attention to developing other skills such as performance, communication or attitudinal changes.
Internship
Each candidate, after passing the final MBBS examination, has to undergo a compulsory rotational internship for 12 months so as to be eligible for the award of the Bachelor of Medicine and Bachelor of Surgery (MBBS) degree and full registration.
It enables them to learn on the job. Out of one year, 6 months are devoted to learning tertiary care being rendered in teaching hospital/district hospital, 3 months of secondary care in a small district or Taluka hospital/community health centre and 3 months in primary health centre.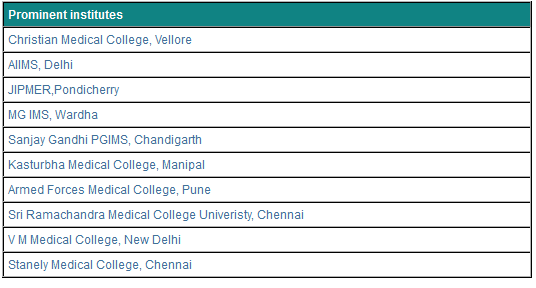 5. Allied Medical

Image:
Sri Lanka's captain Sangakkara is treated by team physiotherapist Clark during a practice session
Photographs:
Reuters
As soon as you visit a doctor for any ailment, you are led to a lab and tests are done.
Who performs this necessary task for you? Doctors? No, they are the paramedical professionals.
Optometry, Radiography, Lab Technology, Physiotherapy, Occupational Therapy and Rehabilitation are some of the prominent disciplines in allied sciences.
Admission procedure and job scenario
It varies from institute to institute.
It has been felt that the paramedical staff does not get due recognition at times and that is why courses at Master's and PhD level have been started.
But at an operational level, a paramedical job does not require higher studies but field experience is most important.
Most institutes prefer to admit students through national-level admission tests while others through state/institute level tests.
Good news is that finding a job in this area is easy once you have your degree or diploma as no hospital or clinic can run without a paramedical staff.
Anurag Saxena of RP Centre for Ophthalmic Sciences in AIIMS says, "Students pursuing the course are able to find part-time jobs in their first year itself at a stipend of around Rs 7,000. After completion of the course, the salary begins from Rs. 15,000 and if the person has some part-time experience, he can get even higher."

6. Biotech

Photographs:
Rediff Archives
Biotechnology is a set of powerful tools that employ living organisms (or parts of organisms) to make or modify products, or develop micro organisms for specific uses.
A BSc degree is the entry point to the discipline and is offered in most good universities.
Entrance exams are held for admissions to all top colleges and universities. The main topics for the entrance exams at the undergraduate level include the basic topics of Physics, Chemistry, Mathematics and Biology.
Two main sources of employment are medical biotechnology and agricultural biotechnology.
Medical biotechnology, is an emerging sector in India, and accounts for nearly 70 percent of the total revenue of the biotech sectors.
Yet another domain which would recruit in the long run would be the biofertiliser and biopestisides industry.
A healthy knowledge of ethical issues is also important. This is a knowledge intensive field and a thirst for knowledge is a sine qua non for survival here.