Honey Vanilla Sponge Cake by home chef Nivedita Gangay is eggless, doesn't require an oven and is easy to make.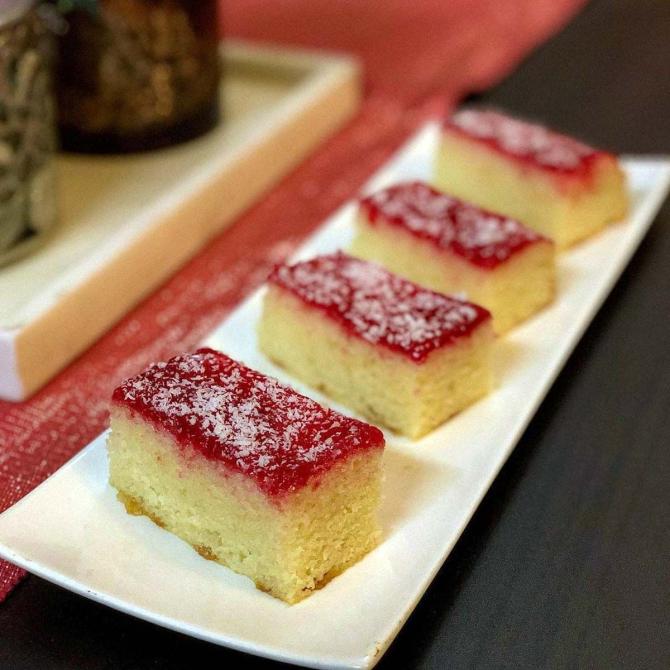 Honey Vanilla Cake
Ingredients
For the sponge cake
2 cups of maida or all-purpose flour
1 cup yogurt
1 cup sugar
1 cup oil
2 tsp baking powder
½ tsp salt
1-2 tsp vanilla essence
Butter or ghee or oil, for buttering the baking pan
For the honey jam topping
2 tbsp honey
1 tbsp water
3 tbsp mixed fruit jam
Desiccated coconut shavings, for garnish
Method
Butter a baking pan or metal container which can easily fit inside a pressure cooker or inside a large saucepan and line with butter paper.

In a bowl combine the maida, yogurt, sugar, oil and mix well.
Add the baking powder, salt, vanilla essence and mix into a smooth batter.
Pour into the buttered baking pan, filling it only half or 3/4.


Don't fill to the brim as the cake needs room to rise.

Heat a large saucepan, that has a lid and is wide enough to fit the baking pan in.
Or use a pressure cooker, without the gasket and whistle.
Don't add any water.
Place the baking pan inside and cover.
Let the cake cook for 35-40 minutes over low heat.
Open the lid and insert a fork or toothpick into the cake -- if it comes out clean, the cake is done and take it out of the cooker or saucepan and let it cool 30 minutes before taking out from the pan.


If the toothpick or fork doesn't come out clean, bake another 5-7 minutes and then cool.
For the honey jam topping
In a small heavy-bottomed saucepan heat the honey and the water over medium to low heat.
Cook it for two minutes and take off heat and cool.
Using a toothpick or fork, poke a few holes on the cake and drizzle the cooled honey mix into it.
In the same saucepan melt the jam and keep stirring till smooth.
Take off heat and cool.
Spread it evenly on the cake.
Garnish with desiccated coconut and serve.


Nivedita Gangay is a home chef and the author of the cookbook Homemade Goodness.
Follow her on Instagram @niveditagangay to view her recipes.