Time to get the Christmas carols playing as you whip up a delightful chicken starter and a show-stopping dessert.
Chef Ranveer Brar's Glazed Chicken, with strawberry accents to to match the strawberry season, is for those of you who like a hint of sweetness in your appetiser.
Nothing screams Christmas better than a Tutti- Frutti Chocolate Pudding filled with raisins and candied fruit.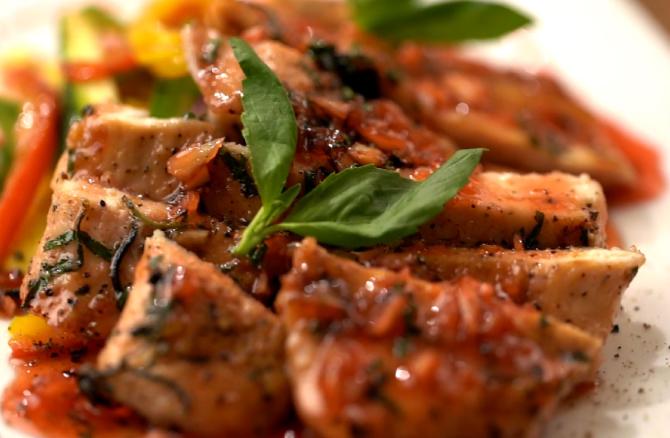 Strawberry Glazed Chicken
Serving: 1
Ingredients
1 chicken breast
½ cup strawberry syrup
Few rosemary leaves
2-3 pods garlic
2-4 tbsp oil
1 tbsp chopped basil

1 tsp lemon juice
2 tsp Tabasco, optional
3-4 tbsp chicken stock
Salt to taste
Pepper to taste
Basil sprigs, for the garnish
Method
Flatten the chicken breast -- use a hammer, a meat mallet, a rolling pin, the back of a skillet or the bottom of a heavy jar, like a Mason jar.
Make a few cuts on the breast.
In a bowl combine the strawberry syrup, lemon juice, Tabasco with the rosemary leaves.
Add in the chicken and let it soak in the syrup.
Season with salt and pepper.
Set it aside for a few minutes.
Heat 1-2 tbsp of the oil in a grill pan over low to medium heat and fry the chicken in it, without the syrup.
Pan sear on both sides for a few minutes.
Take off heat and place on a baking tray.
Pour the chicken stock over it, add some of the chopped basil leaves and place it in the oven for 5 minutes.
Take the chicken out of the oven and keep aside but reserve the leftover chicken stock.
Heat the remaining 1-2 tbsp oil in a heavy-bottomed frying pan.
Add in the garlic along with the reserved strawberry syrup.
Heat it for a few seconds and then pour in the leftover chicken stock.
Add the remaining chopped basil leaves and kep warm.
Slice the cooked chicken and plate it.
Pour the warmed strawberry basil sauce over it.
Garnish with basil sprigs and serve.
Note: Substitute chicken stock with half a chicken cube mixed with a few tbsp water.
Both the chicken stock/chicken cube contain salt and spices so take care while adding pepper and salt to the chicken.
---
Tutti-Frutti Chocolate Pudding
Serves: 2
Ingredients
110 gm butter + extra to grease
140 gm castor sugar (a kind of finer sugar manufactured by top baking brands)
2 eggs
½ tsp vanilla essence
1½ tbsp maida or all-purpose flour
1½ tbsp almond flour
1 tbsp raisins and/or tutti-frutti
4 tbsp cocoa powder
75 ml chocolate syrup
Caramel-flavoured syrup, as needed
Icing sugar, to dust
Individual ramekin dishes
Method
Butter the ramekins and keep aside.
In a bowl mix the butter, castor sugar, eggs, vanilla essence, almond flour, maida, cocoa powder, along with the raisins and the tutti-frutti.
Add the chocolate syrup and mix well until the ingredients are well blended.
Pour the batter into the ramekins and place them on a baking tray.
Bake for 160°C for 10 minutes or until the top of the pudding is firm and cracks.
The chocolate beneath or inside should be hot and gooey.
Take out of the oven and cool on a rack.
Dust with icing sugar and drizzle caramel syrup on top.
Chef Ranveer Brar is an author, MasterChef India judge and restaurateur with over 25 years of experience in the food industry.