'The single most quality that separates men from women is they are better at managing risks.'
'This is one of the best professions for women.'
'It is very easy now. I work at my own pace, I trade the market at my comfort, and still I end up making more money.'
Photographs and Video: Hitesh Harisinghani/Rediff.com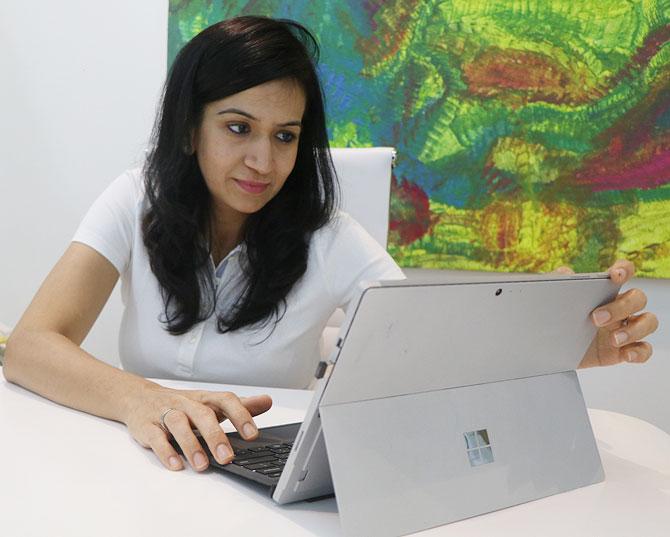 From a corporate lawyer working the 9 am to 7 pm shift, Meghana Malkan, of malkansview.com, has emerged as a stock market maven, ably mentored and supported by her trader husband Vishal.
The couple from Mumbai's suburban Borivali are into coaching people -- online and offline -- about technical analysis, a study of price action, patterns, and momentum, etc, based on which traders figure out high-probability buy/sell decisions; fundamental analysis, on the other hand, deals with studying the balance sheet of a company and its market valuation to make a buy/sell decision -- and market psychology, that takes the couple throughout India.
Meghana, who along with Vishal has authored #Cashtags: How Anyone Can get Started in Stock Market and Level Up as a Power Trader, credits him with helping her enter the stock market and hone her skills so much so she quit her job in 2008 and started a journey that has now given her financial freedom from trading the market as well as the time to take care of her two school-going children.
Meghana spoke with Rediff.com's Prasanna D Zore on why women make better traders than men, why Nifty is likely to remain in the 11000-12000 range till December, and offers her success mantras for making money consistently by trading the stock market.
---
On Being A Woman Trader And Coach
How does it feel to be a woman in a segment -- stock market training and trading -- dominated by men?
It does feel 'out of place', if you can say so. It's been an 11-year journey for me now and when I began my journey there were very few women in this field. Predominantly, stock markets are supposed to be a man's domain.
But it does feel good, because having been through the journey my biggest realisation is that this is the place that offers women more freedom; freedom to create their own financial independence, and freedom of choice to decide their working hours.
What kind of day-to-day challenges do you face as a woman trainer and trader in the stock market?
When you step up on the stage -- for the training workshops and seminars -- to teach how to make money from the stock market, you do get a different kind of eye from all the men sitting out there: what is she going to teach us about the stock market? But then your success stories, the work that you do, the people that you train and mentor speak for themselves.
There are so many women out there who have transitioned from being home-makers to full-time traders. They are creating a passive income stream for themselves. There have been women who have left their jobs and are now into full-time trading and enjoying their financial freedom and freedom of time.
Any instance when you faced the what-a-woman-can-teach-us-about-the-stock-market look, and how did you deal with that?
There have been many (such instances). Initially, I was not mentally and technically equipped to deal with that but over the years -- as your work speaks for you -- the instances have reduced. This has happened simply because as you create more success stories, and the people who raise eyebrows realise the knowledge that you have about the stock markets, then they start believing in you and your knowledge.
Your husband Vishal Malkan and you are into the same business. How do you complement each other?
It is a boon to be in the same business as your husband. I have seen a lot of couples working together and it had always been a dream (to work with my husband).
When you are working with your spouse it creates a beautiful blend of energy around you. We both bring our own energies, knowledge and ideas to the table.
While he provides the technical knowledge, the advantage that I bring is in shaping the people's (traders') mindset because that is where one needs to be stronger for emerging as a successful trader.
I am a certified high performance coach where I coach people on topics like clarity, productivity, influence, physiology, psychology, etc and shape traders' mindsets.
---
Why The Nifty Will Remain In The 11000-12000 range
Now that the Union Budget is out of the way, how do you see the Indian markets panning out till December? What are your targets for the calendar or the financial year?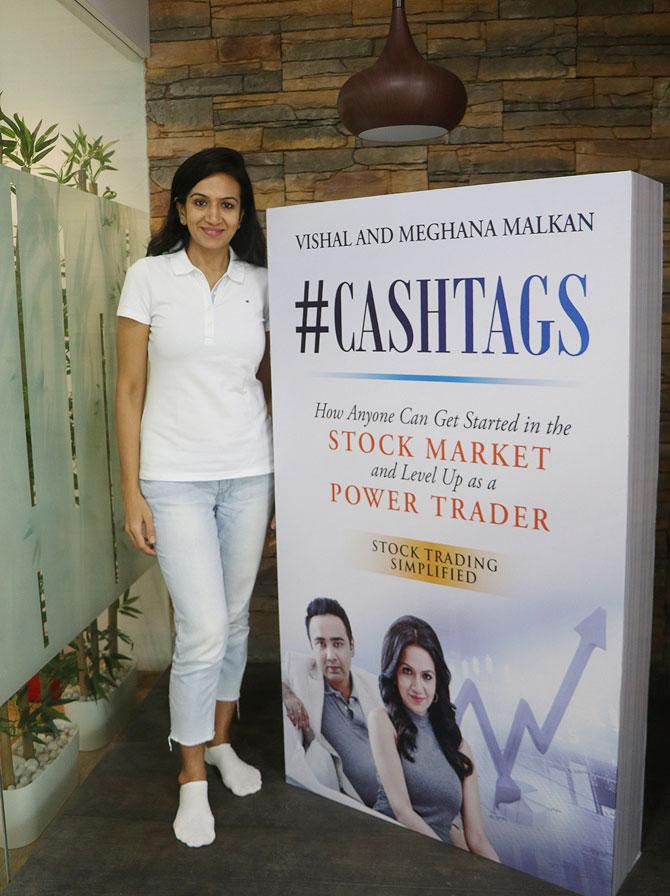 2019 began with a lot of events. First we had the elections (general elections that saw Narendra Modi win a landslide victory) followed by the Union Budget and we have not seen the reaction that the market was expecting after the election (a strong bull market post Narendra Modi's victory). The market has now moved into a broad band.
I see the Nifty moving in a range for the next quarter (till December 2019) between 11000 on the downside and 12000 on the upside. Markets would need a very strong trigger to get out of the 11000-12000 range. This (the 1000-point range), in itself, is sufficient for the traders to play with.
What could be that trigger to get the Nifty out of this range?
On the unpleasant side it could be anything: we have had similar reactions during 2008 (financial meltdown), 2013 (the Fed unwinding its easy monetary policy), etc.
On the positive side, honestly I don't see any big trigger coming right now. That doesn't mean I am bearish; it means that while the market is in this broad range, there exist a lot of good trading and investing opportunities sector-wise.
What sectors, stocks, look attractive to you for trading as well as investing?
Based on my technical analysis I believe the auto sector is in for a big rise. If you see Maruti, Tata Motors and Ashok Leyland -- hugely beaten down stocks -- are trading at a good support level.
We are not ready to do breakout trading, as the broader indices are range bound, but this is the right time to buy very strong stocks available at strong supports. These three (Maruti, Tata Motors and Ashok Leyland) could be one of them.
From an investors' point of view, Jindal Steel and Power could provide good returns in the next two-three years. It has a nice set-up (in technical analysis parlance, a set-up means coming together of many positives that results in a high-probable trade) that could take it a long way three years from now.
How do you think the macro economic indicators –--there is expectation of fiscal deficit overshooting the budgeted target, high inflation and fall in GDP growth -- will impact the markets going ahead?
As pure technical analysts we believe that the impact of all the big decisions or events that the country is likely to witness are all discounted by the current prices before they emerge. The manner in which we approach trading based on technicals -- price action -- is by keeping away from all the news and the discussions happening at the macro level and focus just on the price action.
If the macro economic indicators have to have a negative bearing on the Indian markets, the cracks would start appearing into the longer time frame charts (weekly, monthly, yearly). I believe this has begun.
There have been a couple of bearish candlestick patterns on the monthly Nifty chart; the momentum just seems to be holding on to the RSI (Relative Strength Indicator, a technical tool that gauges the strength of price momentum; RSI above 80 levels indicate an overbought market and RSI below 20 indicate an oversold market) at 60.
I believe the price action in the indices would show if these macro economic indicators will have a negative impact on stocks.
Technical analysts always believe that current index levels discount the positives and negatives that are likely to manifest themselves in the future. People trading on the basis of technical analysis don't depend on the fundamentals.
What are the technicals of the market revealing? Have the Indian markets -- the NSE Nifty and BSE Sensex -- topped out?
I wouldn't say we have peaked out but I would say that the kind of strength the markets should have shown at these levels is missing. That makes me stick to my presumption of a sideways market than predict any breakouts (breaking the Nifty 11000-12000 range on the upside).
Your advice to traders and investors?
Play for smaller targets; this is not the time where you can pick up any stock and it will make money for you. This is not a market where you would have that kind of bullish runs.
Be very vigilant about what you are trading or investing in and get profits off the table if you are making decent money.
Three things new traders and investors need to keep in mind while entering the stock markets?
Don't trade on gut feel, news, views, tips or rumours; it will end up wiping off your capital
Always follow a system and process when you begin your journey as a trader. Always keep your risk in mind. Traders who wipe off their capital trading the markets ignore risk management the most
The third thing, and which I emphasise a lot on is, your mindset is your most important asset. Working on your mindset and following a system with rigorous discipline is the only way to make money trading in the market. Focus on your emotions, productivity and clarity
Success mantras to make money in trading?
Follow the process and not the profit
We believe trading is like any other business. In a business you make money by following a process and not by thinking how much money you are going to make. Focus on the process and not on the profit. That's the only success mantra
---
On Making Money Trading In The Market
Do women make better traders than men? Why?
I do believe that women make better (stock market) traders than men.
The single most quality that separates men from women is they are better at managing risks.
Over the years, having coached men and women to become full-time traders, I believe women have shown this quality: they are better at managing risks, better at creating a portfolio as per their financial needs.
Women have an innate quality to become better traders.
From a professional lawyer to stock market maven: What was your journey like?
I was happy with the corporate job (of a lawyer) that I was doing and always believe that stock markets were a gamble. That it is a 50-50 percent business, a zero sum game.
But having learned how to study the price action and make decisions based on it, and reading about successful traders, my impression has changed.
I now believe that this is one of the best professions for women. I had a very difficult journey, and I have had my ups and downs, but the end result has worked in my favour.
Ups and downs? Could you talk about Meghana Malkan's best and worst phase as a stock market trader?
Let's talk about the worst phase first. The belief that stock markets are a gamble worked against me when I began trading. I would make huge losses with that mindset, and, at one particular time in my trading journey, this loss escalated so much that I lost all my savings in trading.
It was a tough run then but the change in the belief system, with the right mindset and with the help of my mentor -- Vishal has been my mentor throughout -- in the journey helped me come out of the losses.
Then came the best phase where I made more money that I had lost earlier.
Two key things that helped you come out of your loss-making habit...
The first and the most important thing that worked in my favour was the presence of a mentor. Since Vishal had already walked that path -- and come out victorious -- which I was just about plodding through then, his guidance in picking my trades using right processes and system shortened my learning curve.
My efforts, in working on my mindset after my failures, are the second most important thing that worked in my favour. I tried to work on my belief system and other emotional aspects of trading and that helped me get out of my losses.
What is the best part of trading the stock markets?
I have got all the freedom to be with my kids by doing what I am doing. I get so much time to work with them -- my son is 10 and daughter is six -- because I am out of that fixed working hour which I did as a corporate lawyer, when I would leave at 7 and come at 9 in the evening.
It is very easy now. I work at my own pace, I trade the market at my comfort, and still I end up making more money.
How do you maintain your work-life balance?
I tweak around my children's schedule to trade in the markets. I limit my trading to equity markets because my kids are in school at that time. The rest of the time I spend upgrading my knowledge, trading techniques.
I often switch roles with Vishal where, if he is out conducting workshops and seminars, I look after the children, and when I am out for workshops, he looks after the children.
Success mantras for making money in the market?
The biggest success mantra is to know that it is not weakness to ask for help. A lot of people I meet during my workshops think they can make money as traders without any knowledge and systems or mentors.
Trading is just like any other profession. You cannot expect to be a lawyer or a doctor by just looking at few successful people. You need to go deep into it; you need somebody to guide you along the way and then you do the work for yourself.
Education and mentorship can be a good thing if you want to be successful in this field.
Just like any other business or profession, life as a trader needs 100 percent effort. It is a full-time effort just like any other endeavour.
Watch what advice Meghana has for stock market traders