Manasi Sadarangani shares an easy recipe.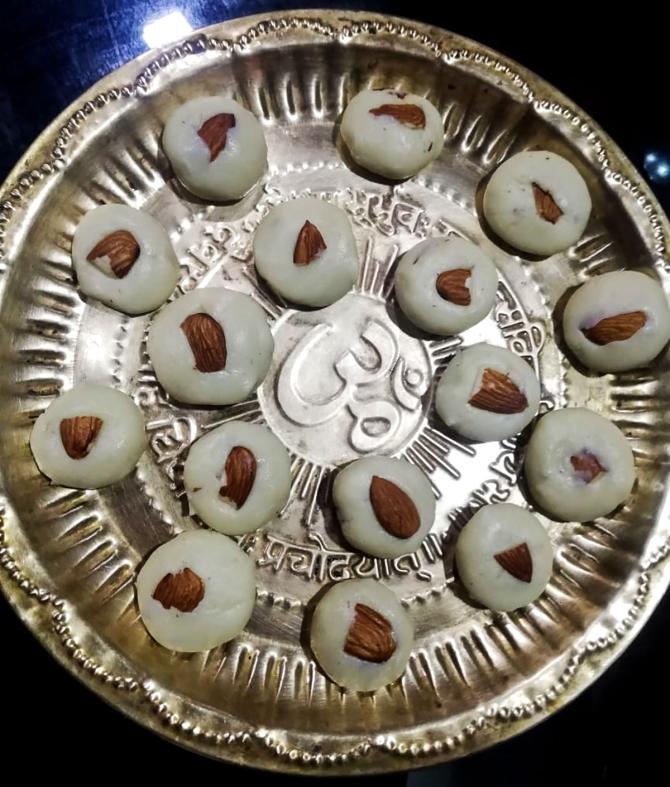 Ingredients
1 or 2 bowl of milk powder or mawa
½ cup sugar
½ tsp cardamom
5-7 almonds
Saffron (optional)
Milk (according to consistency)
Method F
Take 1 or 2 bowls of mawa or milk powder in a kadai.
Add sugar and cardamom.
You can also add saffron strings.
Mix well.
Add 4 to 5 tbsp of milk and mix.
The mixture will be of a liquid consistency.
Keep stirring until the mixture thickens so that it doesn't get burnt.
Immediately pour the entire mixture into a steel plate or tray.
Do not overcook as then the peda will become chewy.
Knead the mixture properly and make a thick dough.
Take small portions from the dough and roll them into small to medium balls.
Place a few almonds on top of each peda and flatten them.
These pedas can be refrigerated.