The examination season -- and results -- represent enormous pressure, both for students and parents.
Children killing themselves because they were unable to meet expectations is commonplace.
How can parents, teachers and children cope? Sneha Bhattacharjee speaks to a few excerpts.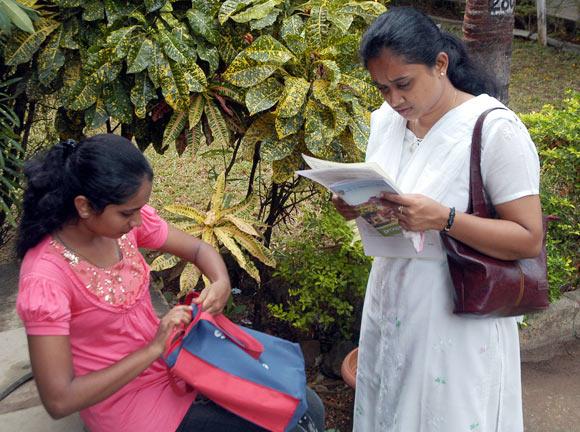 A 17-year-old committed suicide in Telangana after she failed to pass in just one subject in her examinations.
Up north, in Roorkee, a class 12 student committed suicide because he secured 74.5 per cent and not the 80 per cent he was expecting.
A Noida girl took her life even before the results were announced fearing she would fail. She secured 70 per cent.
These are just a few among the lakhs of stories behind the success of the 90 percentiles.
Stories that shock and reflect nothing but grief and anger.
Today, board examination results have become all about celebrating how high you can score.
A 90 per cent is nothing, when marks are being distributed in freefall.
All across newspapers, you will find mugshots of smiling children, pictures of parents hugging their topper children, stories about what they did and how they achieved such a feat.
However, Nikil Jonathon, a Delhi-based film photographer, feels there is another side to this: What about students who have had learning disabilities and still managed to score what they did?
"Why not talk about their strategy or learning techniques?
"How about kids who did not give up on their passion or hobbies in order to excel in exams?
"That would make for a different and heart-warming story," he adds.
It is not just Jonathon who thinks so but also a mother whose social media post praising her boy for scoring a 60 per cent went viral.
A communications professional, Vandana Sufia Katoch, in the post said, 'Yes it is not a 90, but that doesn't change how I feel.
'Simply because I have seen him struggle with certain subjects almost to the point of giving up, and then deciding to give his all in the last month-and-a-half to finally make it through! Here's to you, Aamer. And others like you -- fishes asked to climb trees.
'Chart your own course in the big, wide ocean, my love. And keep your innate goodness, curiosity and wisdom alive. And of course, your wicked sense of humour.'
Katoch makes a valid point -- that marks are not the end.
"I was a 90 per cent scorer during my school days but when I look around now -- from those who scored high, to those who scored average, or those who scored low -- everyone is charting their own course as far as their careers are concerned. Children need to focus on who they are and what they want to be," she says.
Sometimes, it is the parents who want their child to excel and set them impossibly ambitious benchmarks.
Saloni Singh, a Delhi-based life coach dealing with parents and teenagers for over a decade, has had several such cases both in India as well as the UK, where she practised before returning to India.
Singh notes how parents are under pressure when they see their child not performing up to the mark, or up to the standard set by other students.
She, however, holds the education system as well as teachers responsible for this.
"Most students I spoke to after their results couldn't express their joy though they had done well in the exams. The fact that someone else in the class scored a 95 per cent or above made them question their own success," she says.
Teachers are critical of students who aren't performing well.
Singh has observed how there have been instances where the teachers, instead of being a source of support, have rebuked the child.
"That can lead the child into depression or may even push him towards bad choices just to be part of the peer circle," she notes.
Parents too feel embarrassed to share the marks their child has scored.
"Instead of observing whether the child has improvised on his skills, they focus more on the numbers," Singh notes.
This can be a deterrent for the child as he is likely to give in to cramming without applying his brain to learning.
"Rote learning is what we are making our children do, when what you need is a creative and practical approach to study," she says.
Katoch feels parents need to work with their child, look beyond numbers and understand the child's inner potential.
"Instead of comparing your child with that of another, it is better to be comfortable with what you have and help the child do what best he can," she adds.
Like Jonathon, both Singh and Katoch are of the opinion that this hype over marks across all media needs to stop.
The colleges too need to change their admissions criteria by focusing on the overall development of the child and not just marks.
"Educate the child to be a good human being. Make them understand their strengths and passion and let them serve where they can.
"Why push the child towards that end from where he may never be able to return?" Singh concludes.
*Image used for representational purposes only.