'Every parent knows his or her child's potential.'
'The problem is that they are not ready to accept it.'
'They think they can push the child beyond his capacity.'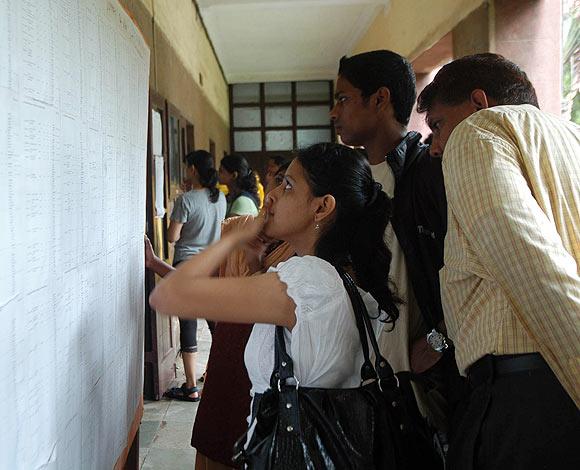 The increase in the number of students who have committed suicide due to stress has become a matter of grave concern in India.
Sanjay Sinha, a Patna journalist, believes society, teachers and parents are at fault and need to rethink their expectations from children.
Sinha, who has just published Suicide? There Is Always A Tomorrow, tells A Ganesh Nadar/Rediff.com that he hopes his book will add to the debate and help all those grappling with this problem,
What are the main causes for the stress faced by students?
The main reasons are society and family.
Parents cause the most stress to their children by comparing them with other children.
Apart from teachers, should we have psychologists in schools?
Yes, that would definitely help. It is not required in the lower classes, but we should have them in Class 11 and 12.
Counselling is important at that stage. It will help clear the wrong ideas in the minds of the students. It will also identify students who are under stress and help them.
Once students who are stressed are identified, they can be protected from taking any drastic steps.
IMAGE: Patna Saheb MP Shatrughan Sinha, Bihar Education Minister Ashok Choudhary, Super 30 Founder Anand Kumar and Sanjay Sinha at the book launch of Suicide? There Is Always A Tomorrow. Photograph: Kind courtesy Sanjay Sinha
What can a school do to protect its students from stress?
The school by itself cannot do anything. It is the mindset -- of society, of parents, of teachers, of students -- that has to change.
Everyone wants to be first. Everyone wants to be a topper. That has to change. People have to learn, and accept, the fact that not everyone can be a topper.
What can parents do to help the child?
Parents have to learn to be reasonable.
They have to realise what vocation is right for the student and let him/her do that. They have to get out of the doctor, engineer, IAS only mindset.
Four decades ago, scoring 70 per cent meant you had a good chance of topping the university. Now they are giving 99 per cent marks. Is this the reason behind the increased stress faced by the students?
High marks have intensified the competition. It is the biggest reason for stress. It would certainly help if the correction was stricter and students were given lesser marks.
Do you think parents do not judge their child's potential correctly?
Every parent knows his or her child's potential. The problem is that they are not ready to accept it. They think they can push the child beyond his capacity by putting them in special classes.
This causes maximum stress in the child.
Of the pressure exerted by parents, teachers and peers, which is the most dangerous?
Parental pressure is the most damaging. When a child cannot live up to his parents' high expectations, he gets stressed.
When he cannot handle the pressure, there is a chance that he might take the extreme step of suicide.
It is the parent's expectations that kill the child.
Parents who cannot afford the fees of professional colleges pressure their children to get high marks. What is the solution?
Trying to get admission on merit failing which you have to pay for a seat is the largest cause of stress and, thus, suicide.
The solution is the abolition of the management quota.
Education has become market oriented. This is dangerous and causes the most damage.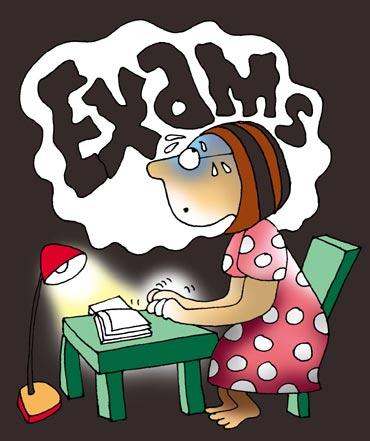 Why does Bihar have the highest rate of suicide among students?
There are no industries in Bihar. There are no jobs in the private sector. People see that IAS officers are respected, so they tell their children to become IAS officers.
They do not bother to find out if their child has the potential to clear the UPSC exams. This leads to pressure on the student and subsequent suicide.
What kind of research have you done for this book?
I read a lot of reports on this subject. I then read books.
I met motivational speakers and visited de-addiction centres where many of inmates are young students who were unable to deal with the stress in their life and turned to drugs as a way of escape.
Is your book meant for students, teachers or parents?
It is meant for society.
It will help students by showing them four alternate careers in case they fail the competitive exams. It will tell them that becoming a doctor is not the beginning or end of the world.
It will show teachers what they can do for students to avoid stressing them.
For parents, there is a separate chapter on scientific parenting that is a must read.
Is this your first book? Why this topic?
This is not my first book. My first book was about Nitish Kumar's tenure as chief minister from 2005 to 2015. This decade had a tremendous impact on Bihar.
Earlier, Biharis were ashamed of their state. Nitish made them feel good.
I travelled across the state and met people from all walks of life. All of them had something to cheer about after Nitish became chief minister. He had a positive effect on the state.
For my second book, I chose suicide as a subject because, as a student, I went through the trauma of competitive exams. It is killing at that age and I saw it increase every year.
Do you think your book will make a difference to those who read it?
It will start a discussion and that is my aim. I want people to talk about suicide and student stress. Nobody talks about it now.
I want to start a debate. A solution can come only out of dialogue.
Lead photograph: Sahil Salvi, published only for representational purposes. Illustration: Uttam Ghosh/Rediff.com