Rediff.com's Rajesh Karkera shares his impressions from the Kochi-Muziris Biennale, India's landmark artistic extravaganza.
Kochi these days is abuzz with a different kind of energy -- one that draws art lovers to experience the Kochi-Muziris Biennale, an international exhibition of contemporary art.
The 108-day celebration, which opened on December 12, features 97 artists from across the world and endS on March 29.
Some glimpses from the Biennale: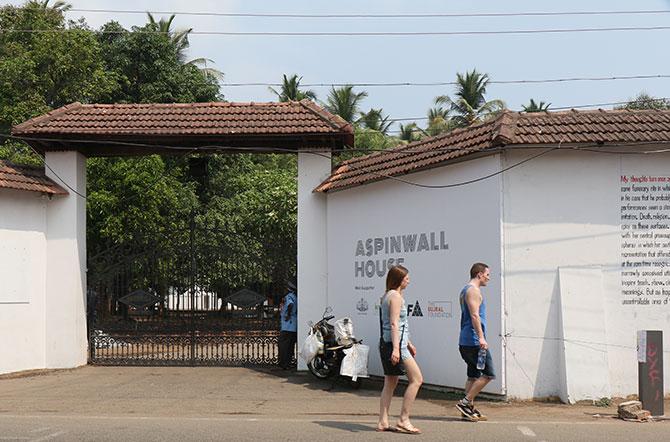 The Kochi-Muziris Biennale 2016 is spread all across Fort Kochi -- its curator Sudarshan Shetty, the distinguished Mumbai-based artist, wants spectators to find their way around the exhibits.
You encounter pages from Argentine writer Sergio Chejfec's Dissemination of a Novel -- 88 chapters of his tale Baroni: A Journey lay fragmented through the pavilions and street walls.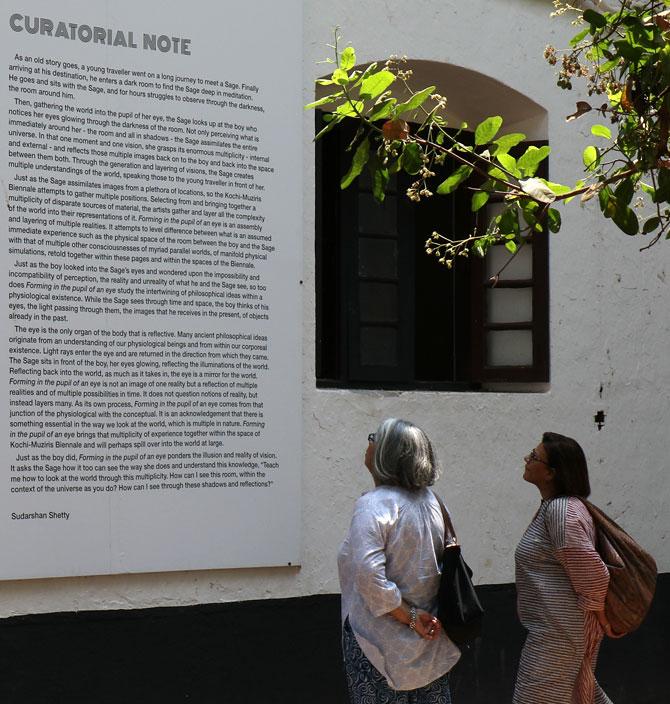 Aspinwall House, the central venue of the biennale, is a large sea-facing heritage property in Fort Kochi with a pyramid-shaped installation right in the centre.
"Going by the first two editions," says Shetty, "it would be tough to raise the bar further... this is a people's biennale, and that makes it special."
VIDEO: Sudarshan Shetty gives us a glimpse of the Biennale.
---
Bad Trip India: Daniele Galliano
Bad Trip is a series of paintings by self-taught Italian artist Daniele Galliano.
Each artwork originates from an amateur painting created by non-professional and unknown people.
Galliano brings these artworks to life by introducing a tribe of psychedelic characters scattered around these paintings.
---
Defile: Tatiana Arzamasova, Lev Evzovich, Evgeny Svyatsky, Vladimir Fridkles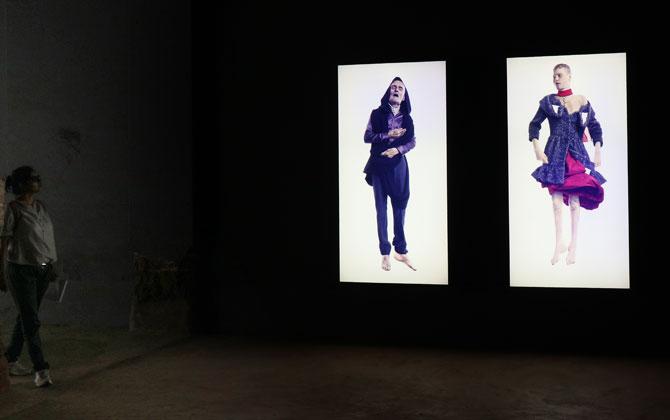 At first glance it comes across as a series of life-sized photographs of seven people.
When you take a closer look, you realise that they are all dead.
Four Russian artists dressed the deceased in haute couture -- the high-end clothing represents an industry, unlike any other, obsessed with youth and trends.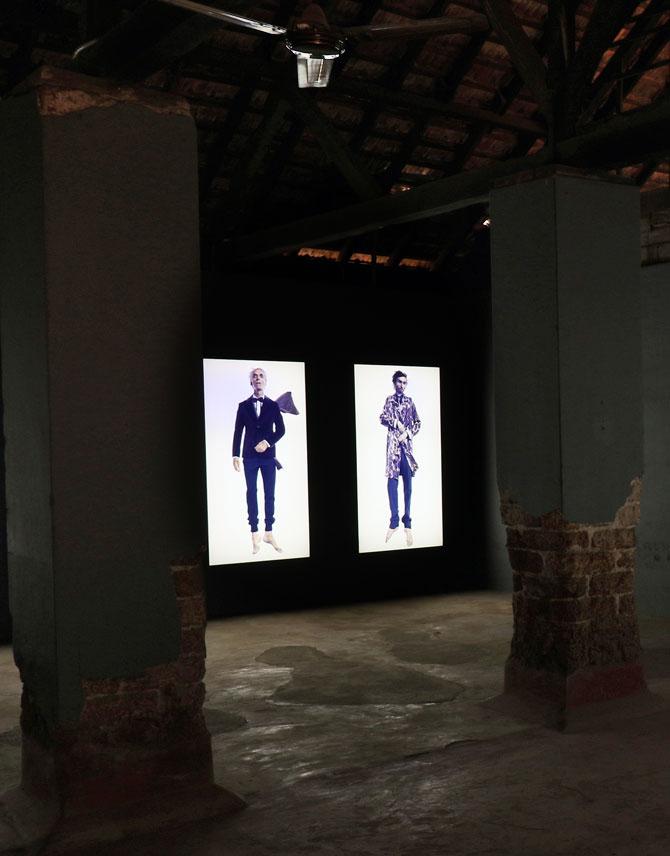 ---
12 Stories: P K Sadanandan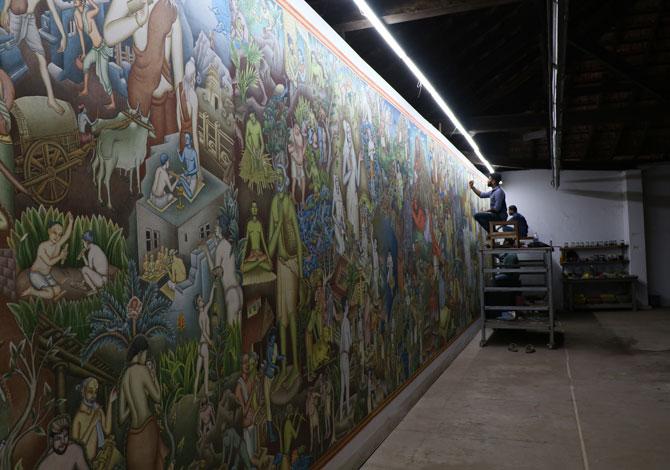 "If you visit a temple or palace," says P K Sadanandan, a mural painter and cartoonist from Kerala, "you'll find just religious murals. The ones you find in churches are biblical. When we stand in a democratic venue like the Kochi-Muziris Biennale, I wanted my work to have a democratic face."
Using natural colours and hand-made brushes, Sadanandan and his students painted a popular folktale from Kerala, Parayi Petta Panthirukulam, the story of a lower caste woman and her 12 children, who are brought up in different communities.
---
Composition: Anamika Haksar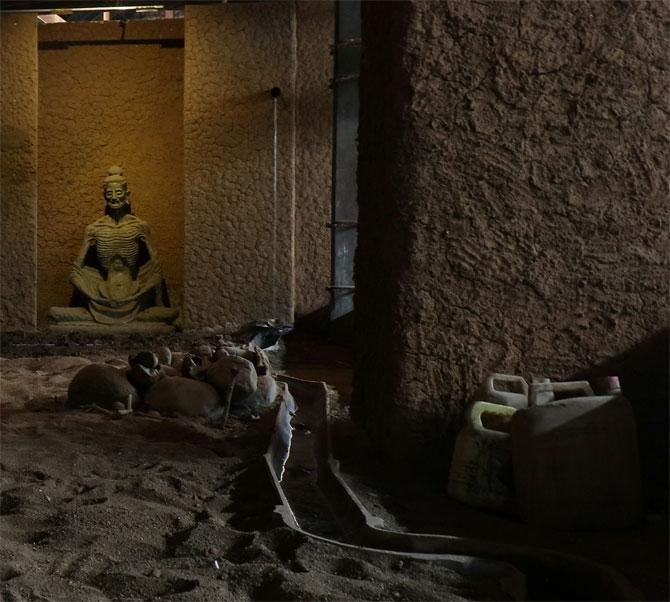 Anamika Haksar's work is socially and politically engaging. It speaks of the injustice and inequalities of the subcontinent.
You can call it improvisational theatre and installation work that engages with the memories of oppression.
It uses texts by Dalit writers, including the famed Marathi poet Namdeo Dhasal's poem Water, as the foundation for improvisation.
The set is made of earth, fire and running water.
---
Traces: Gauri Gill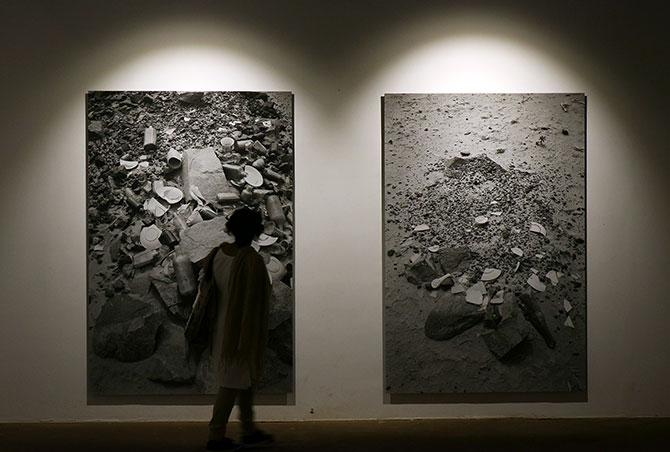 A series of photographs that depict configurations of unpolished stones and old bricks piled up on the sands of Barmer and Bikaner districts in Rajasthan.
These clusters include personal offerings from homes and individual hand-inscribed gravestones.
Within these mostly Muslim graves there is also one Hindu one, gesturing toward a fallacy that faiths are universally kept separate.
---
Big Dog: Liu Wei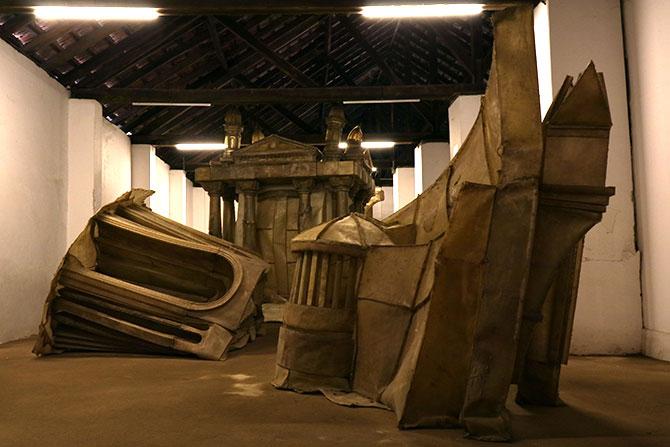 Big Dog is a large sculptural installation crafted primarily from ox-hide dog chews.
Through hand-sewn pieces of the animal edible product, Beijing artist Liu Wei sculpted installations including buildings, temples, amphitheatres, ornate columns and imposing domes alongside skyscrapers and museums.
Big Dog presents a world of comical grotesque and indulgence.
---
Bathroom Set: Dia Mehta Bhupal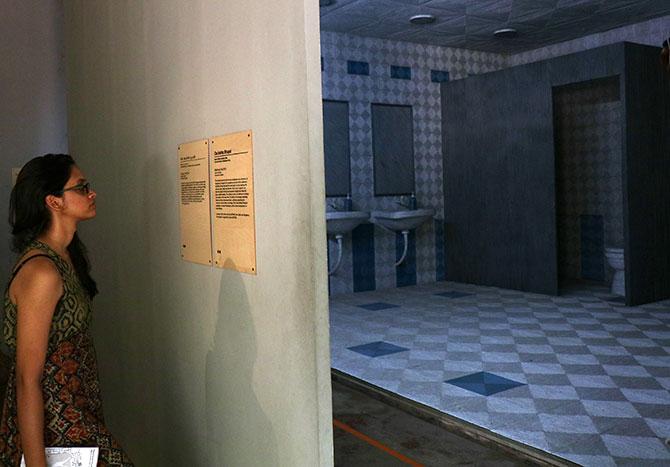 This is no regular bathroom. The building blocks for these life-sized installations are made from a collection of thousands of images from magazines and pop culture.
Hyderabad artist and photographer Dia Mehta Bhupal built her bathroom piece by piece, by playing with size and scale, reality and element.
Each scrap of paper is cut, rolled and glued, forming thousands of layers.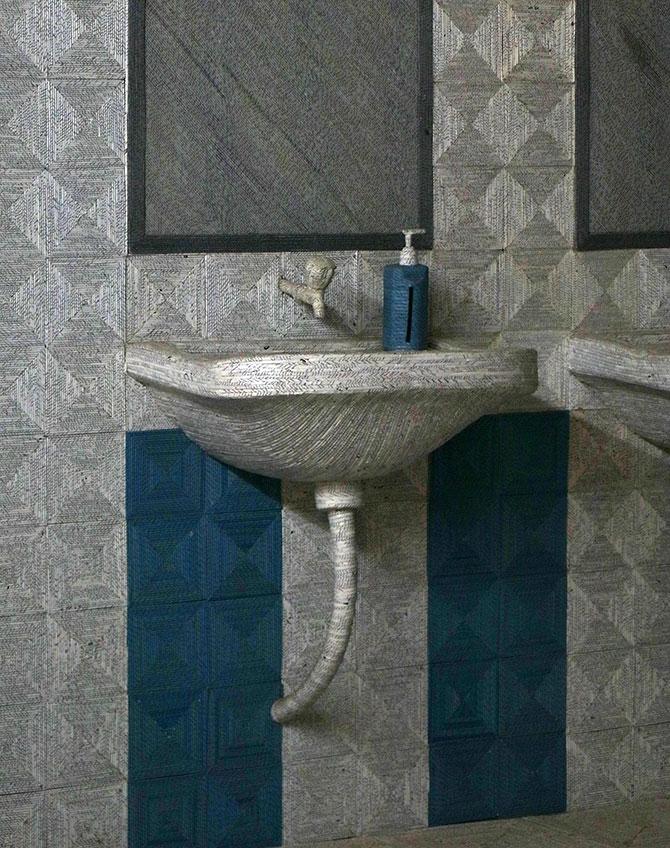 ---
The Sea of Pain: Raul Zurita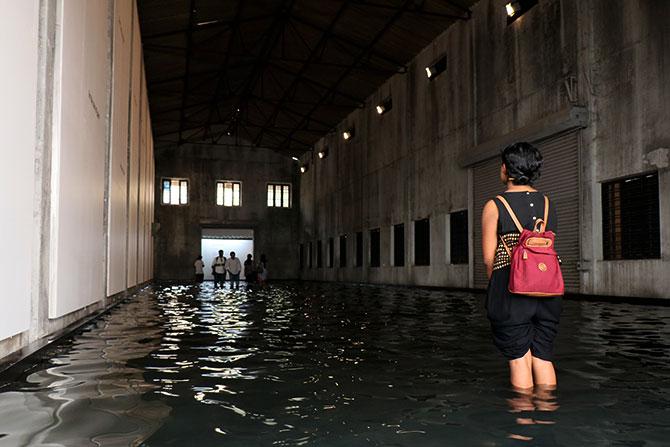 Most of us have read about Aylan Kurdi, the three year old whose body was washed ashore a beach on September 2, 2015.
No one remembers his older brother Galip. This work is an ode to Galip, another casualty of the horrific Syrian war.
Chilean poet Raul Zurita makes viewers walk through a body of water. At the end of the stretch is a wall filled with his words.
Reading his dedication to the child, with your feet immersed in water, makes you reflect on the reality of war and the unnecessary loss of lives.
---
Farewell, Spring and Autumn Pavilions: Wu Tien-Chang
Set within a stage in the exhibition space, there is a colourful screen with cheerful multi-coloured lights around its frame.
It is a work about visual artist Wu Tien-Chang's home in Taiwan.
Wu attempts to symbolise and reveal the hybrid nature of his Taiwanese identity, which is constantly haunted by memories and nostalgia of regime changes.
---
Home: Rajeev Thakker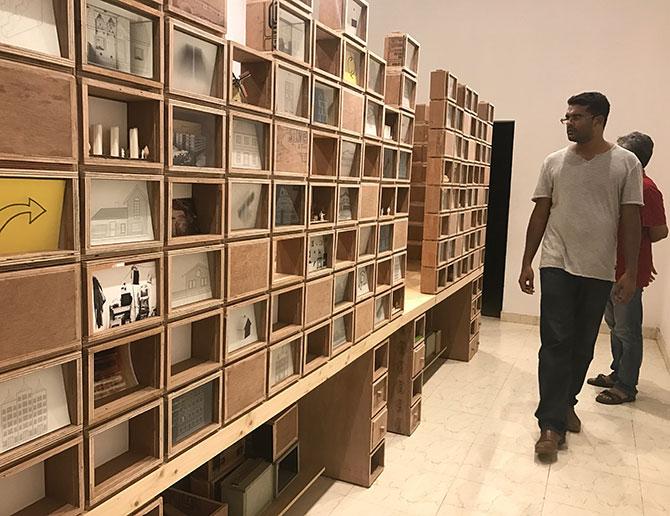 Mumbai artist and architect Rajeev Thakker presents a strange reality where individual homes mimic blocks of apartments in a building.
Here, a series of homes are stacked on top of each other, so that you get a glimpse of the multiplicity of ways in which people live in freestanding houses, apartments, bungalows and cottages.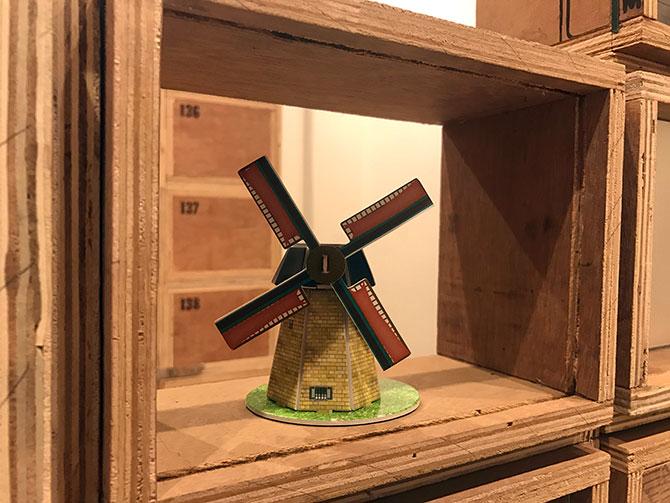 ---
Studio Flood: Tom Burckhardt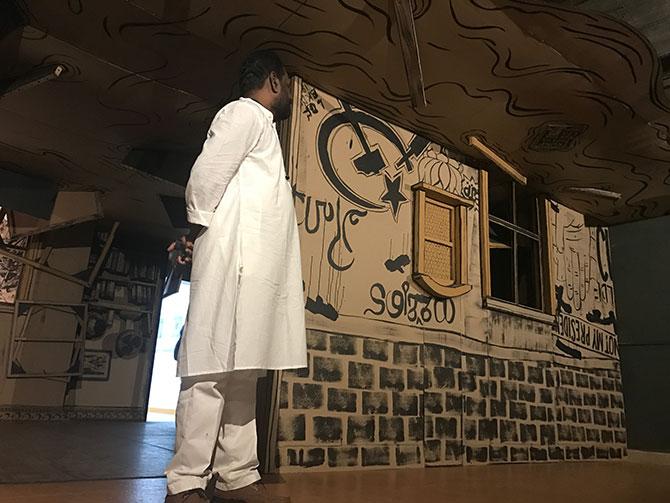 New York abstract painter Tom Burckhardt's Studio Flood is an installation constructed entirely of cardboard, black paint and wood.
It depicts an artist's studio inundated by catastrophic floodwaters and turned upside down.
Studio Flood is a critique of the failures of modernism and abstraction to grapple with our realities.
In the end, this painting will be submerged and consumed by the rising waters that take us all.
---
The Pyramid of Exhiled Poets: Ales Steger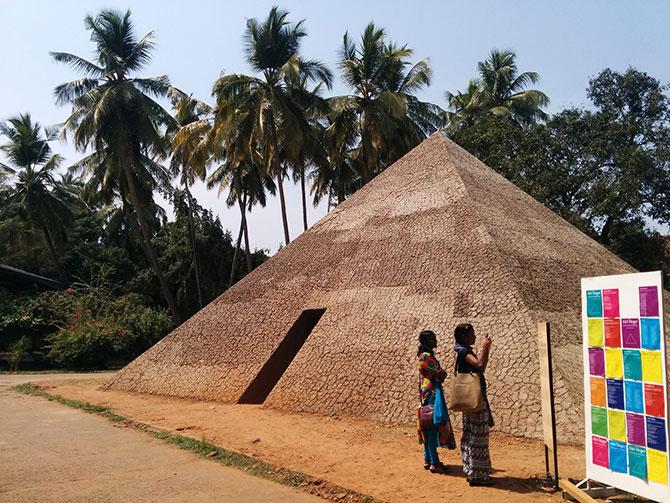 Ales Steger's pyramid is a tomb. It represents a resting place for the cast out, poets who have been in exhile and have disappeared.
---
En Puntas: Javier Perez
En Puntas is a video installation by Ecuadorean illustrator and art director Javier Perez featuring a ballerina performing on a grand piano in an empty theatre.
The ballerina wears a customised pair of shoes that extend beyond the toe box with a pair of sharp kitchen knives.
A surreal work that builds suspense, this throws light on the implicit gaze of the audience, who are both shocked to be witnessing such a scene yet willing to stick on till the inevitable climax.
---
19th Century Marble Bus: Jonathan Owen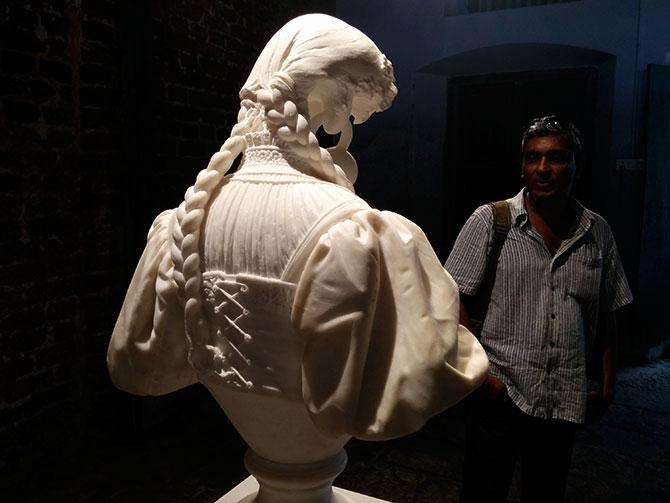 Jonathan Owen's untitled sculptures are about deduction.
Marble statues and reliefs are intricately carved into, creating disjointed and reduced versions of the original form, presenting an unsolvable yet intriguing puzzle.
---
Ye Yan Tu: Yang Hongwei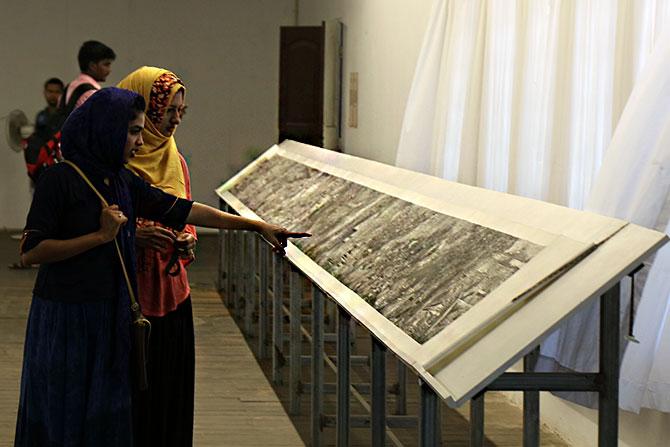 How can anyone miss this epic 12 metre scroll made out of traditional Chinese paper and ink?
Through a fantastical and fictional world, the artist examines the manner in which discussions of sexuality (and society's associated problems) have been shunned out of a historical narrative in China.
Impressive, isn't it?
---
The New Along the River during The Qingming Festival: Dai Xiang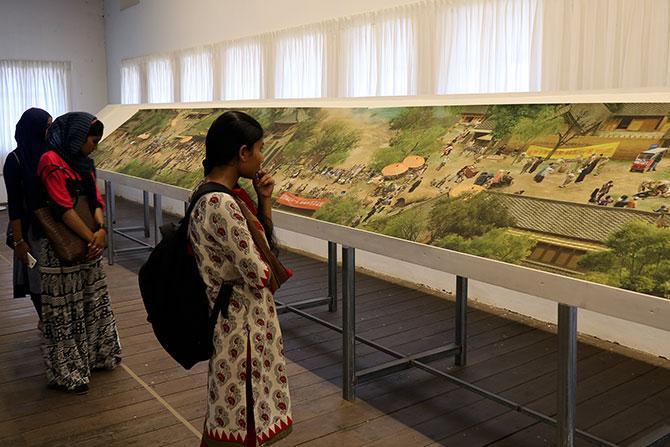 A stunning 25 metre panarmic (photographic scene) digitally sewn together.
It is inspired by Zhang Zeduan's 12th century song, The Riverside Scene at Qingming Festival.
Dai Xiang borrows from the visual frameworks of the original to depict politically charged subjects, portraying contemporary society in China.
The re-imagined historical moment of public life is satirically transformed with contemporary characters and events.
In a re-imagination of Zeduan's work, Dai Xiang foregrounds the conflict between imported culture from the West and local Chinese traditions since the opening up of Chinese society in the late 1970s and 1980s.
---
Room for Lies: Sunil Padwal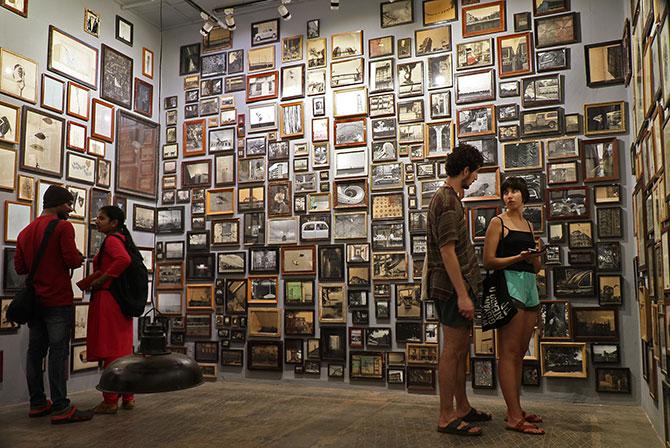 A room you can only dream of!
It is filled with everyday objects, documents now only worth the paper they are typed upon, photo frames found in flea markets and images shot in passing on an iPhone.
The artist's understanding of the modern city -- as a play of uncertainty and illusion -- is grounded in the street experiences of his youth in Mumbai in the 1970s and 1980s.
Sunil Padwal's work captures the abundant possibility for creativity through a game of rhythms and patterns, chaos and order, noise and silence, nature and construction.
---
Ghost Keeping: Istvan Csakany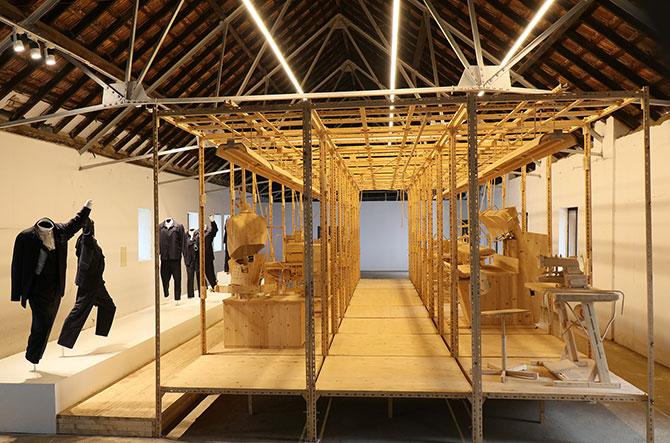 Ghost Keeping is a sculptural installation depicting a textile factory.
This realistic model of a sewing factory workroom could almost be frozen in time.
Built from building materials, it is a detailed work in two parts concerned with ideas of memory and monumentalism.
Surprisingly the figure of the worker is absent, perhaps referring to the demise of modernity.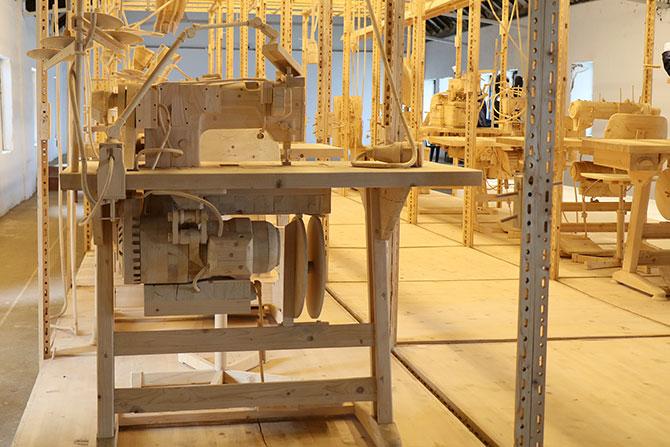 ---
Multiple Choice: Martin Walde
Imagine this... a pitch dark room with a wax sculpture of a man (made from a single block of wax) sitting with his hands covering his face. There is an infrared lamp above his head.
The lamp is triggered as you move in and around the space, and it turns off on your departure.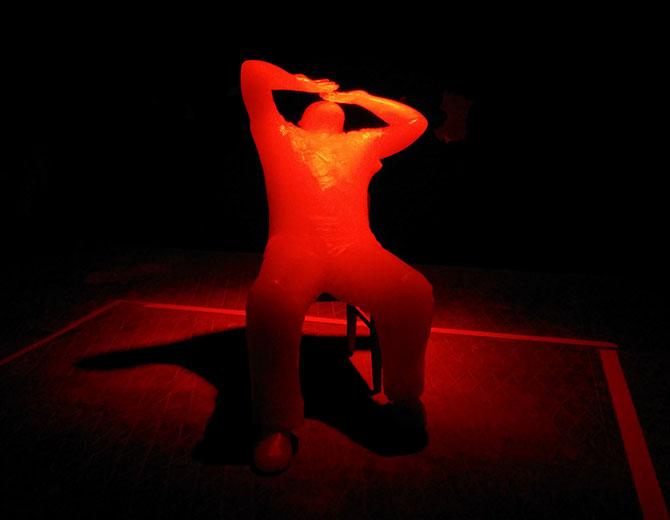 The longer you stay in this space, the greater the intensity of the infrared light and the greater the heat generated from it.
Your presence increases the heat of the room, threatening the existence of the figure and causing it to melt. Interesting, isn't it?
---
Symphony of a Missing Room: Lundahl and Seitl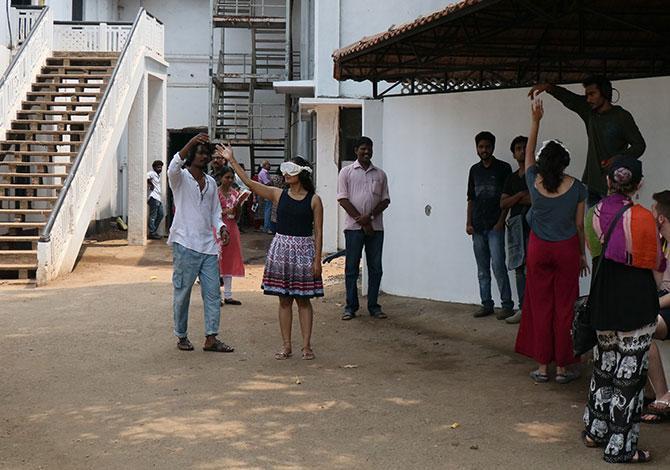 What a sight it was to see guests walking around the venue, with headphones strapped to their ears and masks covering their eyes, guided by volunteers.
All the participants were immersed in their own world -- some with their hands in the air, a few moving their bodies to a certain rhythm, others looking like they were in a trance.
Via a wireless headphone, a voice takes the visitors -- led by volunteers -- on a journey that traverses layers of the physical and imaginary architecture of the museum and its curatorial space.
The artist used multi-sensory illusions and binaural sound recordings to steer the visitor's attention away from the visible and tangible world.
VIDEO: Watch blindfolded guests experience Symphony of a Missing Room
---
Refuge: Alex Seton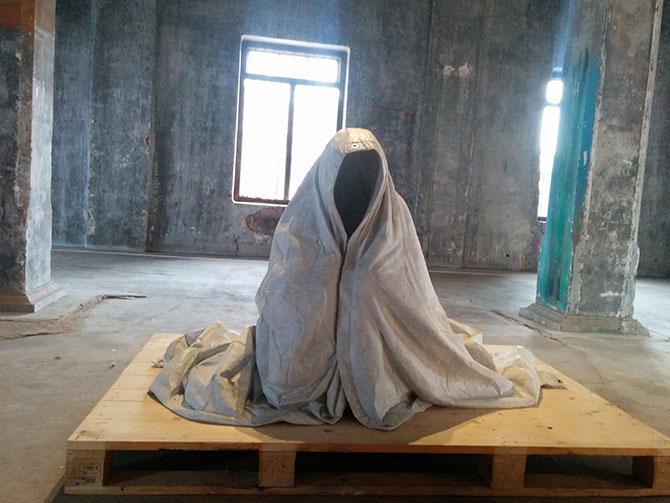 At first glance this looks like a hunched figure sitting with a white sheet draped around it.
A closer look reveals that the installation is entirely craved of marble.
It depicts the protective cover that refugees wish to have. There's no face inside the sheet as Alex Seton wants you to imagine yourself in that situation.
The Australian artist's work stresses the treacherous and often fatal journeys people in catastrophic war zones are forced to embark upon.
---
Bose Krishnamachari tells us how it all started...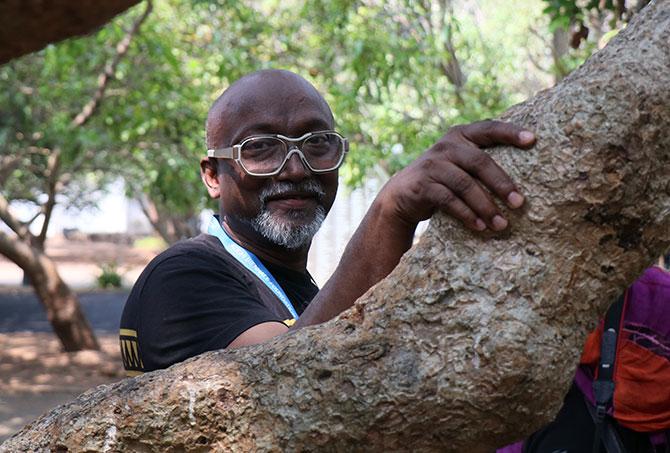 "Internationally the first biennale was started in 1968 by Dr Mulk Raj Anand and other like-minded people. They called it the triennale," says Bose Krishnamachari, the painter and co-curator of the Kochi-Muziris Biennale 2012.
"While we were studying in Mumbai, we could only witness international art at the triennale in Delhi, which is where we would go. Unfortunately that fell apart and since 2000 you don't see anything like this in Delhi," Bose says.
In 2005 many artists tried to start a biennale in Delhi, but the Delhi government didn't give them any financial support.
"Here (in Kerala)," says Bose, "it only happened in 2010 with the help of the education minister from the state, M A Baby. The biennale then was run by the Left government. They started thinking about the biennale -- the support and initial funding was given by them," adds Bose.
"In 2012, we started the biennale on December 12 (12-12-12). Since then every 12-12-14, 12-12-16 we have it."
"This biennale is started, run and curated by artists. We appoint an 8 to 10 member artists' advisory committee to select the curator. The only suggestion that goes from the Biennale Foundation is that we'd like to have an artist-curated biennale."
"The first edition of the bienanale was co-curated by (painter) Riyaz Komu and me. It was about the city and we called it the Kochi-Muzuris Biennale."
"Muzuris was the port which dropped off the map due to floods and an earthquake back in 1341. Ten years ago, this area was excavated by the pattanam excavation," says Bose.
"The head of the excavation team said that when you dig this land for one metre, you will find 1,000 years of history. And when you go lower one more metre, you find 2,000 years of history."
"This port vanished in 1341, and the new port was named Kochi."
"Kochi is an interesting location -- we felt that Kerala has always been like a mirror. Through the years, it has always received all kinds of religion, culture, trade etc. That is why we called it the Kochi-Muziris Biennale."
"The second biennale was curated by Jitish Kallat (the Malayalee origin artist from Mumbai. This year, Sudarshan Shetty was selected by the 10 member committee."
Information about the installations: Kind courtesy Kochi-Muziris Biennale.