'I love beaches and hence I love my swimsuits.'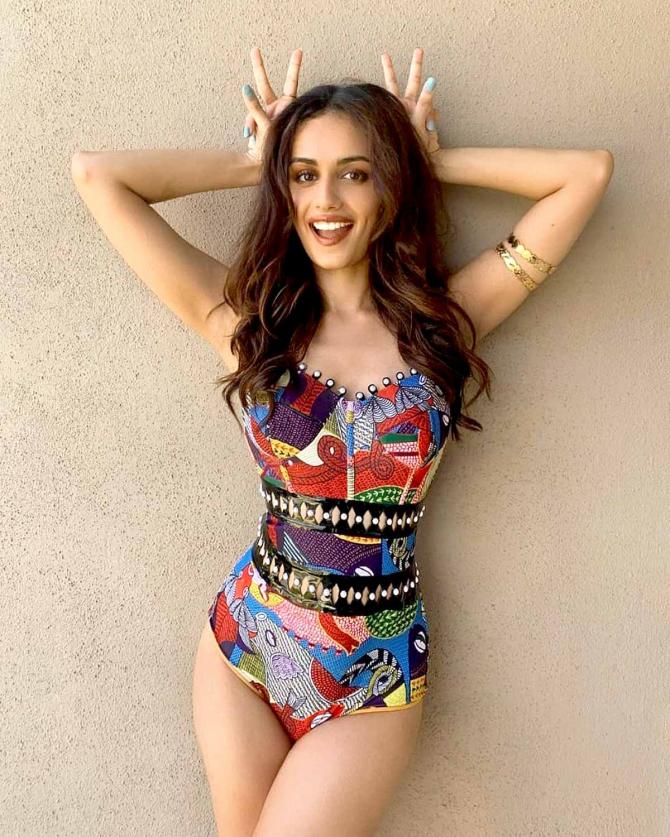 Manushi Chhillar is back from a trip to the Maldives.
The former Miss World is equally excited about her grand Bollywood debut Prithviraj opposite Akshay Kumar in which she will play the princess of Kannauj, Prithviraj Chauhan's wife.
The former MBBS student is currently living her dream, doing what makes her happy.
In a candid chat with Rediff Contributor PS Aaryan Khanna, Manushi -- who is a vegetarian -- reveals how she stays fit and maintains her skin, body and hair.
Did you miss modelling during the pandemic?
I've never really walked the ramp at a fashion show before. I've only walked on stage during my pageant days and that's very different.
But I do enjoy watching shows and I'm glad they have made a comeback.
I absolutely loved the Fendi x Versace collaboration recently. I do miss attending events and all the excitement of putting together a look.
How has your style and grooming changed since you won the Miss World crown?
I've always enjoyed dressing up, but never really got the time during college.
I think the basics are still the same, but now it's more like something that is expected out of me rather than something I just do out of choice.
I have always loved shoes and have had a shoe collection since my school days! Now it's definitely a lot more glam but I always pick up shoes when I shop or travel.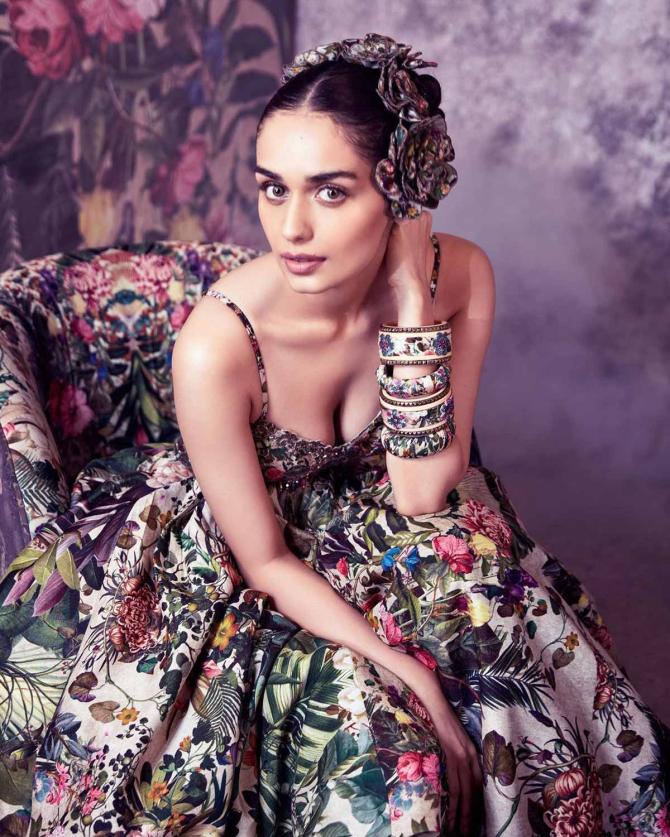 Who is your favourite designer?
I love wearing a lot of our Indian designers, depending on the occasion. But since I've expressed my love for shoes, one can never go wrong with Christian Louboutin. They are art.
I absolutely love how minimalist Tom Ford is! He is one designer I've never worn.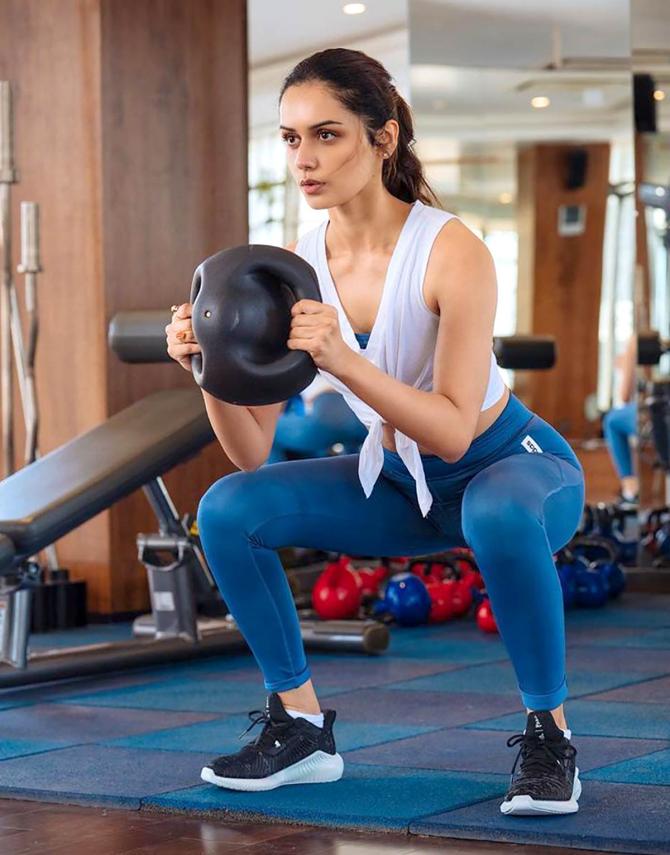 How do you stay so fit?
Fitness is holistic and for me. It's a way of life.
I love my five days a week gym session and currently, I'm going big on weights.
My workouts are the one thing I really looked forward to during the lockdown. But I also feel good sleep, good food and good relationships contribute more.
I try to maintain a balance and keep my fitness and wellness routine as simple as possible.
I have definitely gotten more into fitness since I began training for beauty pageants. But maintaining a healthy lifestyle has always been a priority since childhood.
As a vegetarian, how do you ensure a healthy, balanced diet?
I've always been vegetarian and I don't think I've ever felt like I've not gotten enough protein.
It's very much possible to follow a balanced diet and build muscle.
There are protein supplements that might help if one has a protein deficiency. I would say one must understand their genetics and lifestyle and make food choices that work best for them.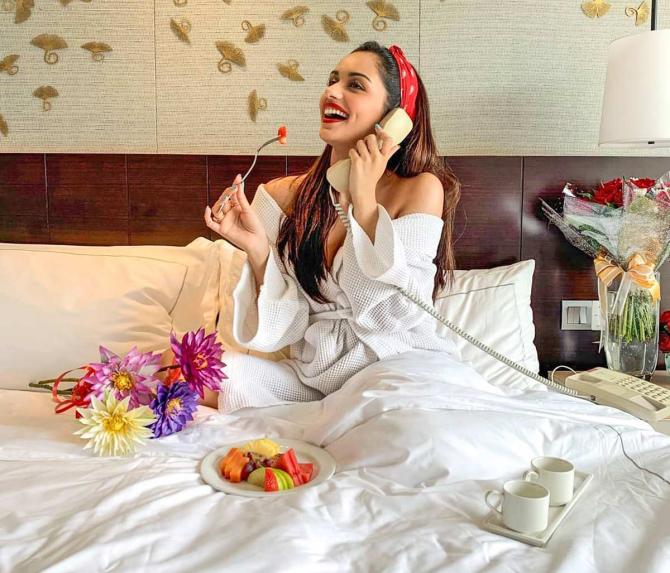 What's your daily diet like?
I have a very desi diet. I love home-cooked food and my diet is full of vegetables, paneer, lentils, ghee, rice and roti.
I love a hot soup before dinner and my morning oats.
Your favourite cheat meal
My cheat meals keep changing and off late I crave a lot of Delhi street food -- from chhole bhature to bhel puri.
I also love my weekend breakfast of parathas.
How do you take care of your skin and hair?
I think having a beauty routine is super important.
With my hair, I like to keep it simple by washing my hair, air drying it and styling them naturally.
For skincare, during the day I like to moisturise and hydrate my skin.
At night, I always cleanse my skin and take off any makeup I have on.
How difficult is it to maintain straight hair? Do you also have bad-hair days?
I am a fan of products that are effective and easy to use especially when I'm having a bad hair day.
I really enjoy experimenting and trying different hairdos. I especially like to curl my hair every now and then.
I did get them Afro braided a few months ago for a shoot and that was fun.
When I'm not shooting, I like to give my hair a break from heat styling and instead style them naturally.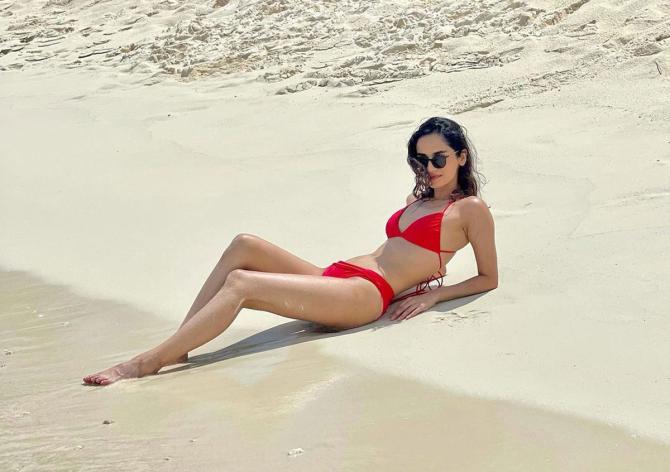 A beauty queen's secret to healthy shiny hair
Embrace your natural hair texture, maintain a healthy lifestyle and avoid using too many products in your hair.
What's your go-to makeup routine?
I usually prefer a glowy makeup look, fresh skin, simple glam and lots of highlighters!
Any fashion or style tips for young girls aspiring to be beauty queens?
Always look presentable. Have your own individuality and be comfortable with whatever you wear.
You need to love how you look and feel confident more than anything else. Most importantly, style should be fun, not stressful. So enjoy!
Your swimsuit and bikini looks are quite stylish.
I love beaches and hence I love my swimsuits.
I like them to be comfortable and it's mostly my stylist Sheefa Gilani who picks them up for me. She knows what I want and we like to mix a lot of different brands.
Any tips for beginners on how to pick the right bikini or swimsuit?
Always pick a swimsuit according to your body type and what will look good on you.
Pick something that you feel confident and comfortable in!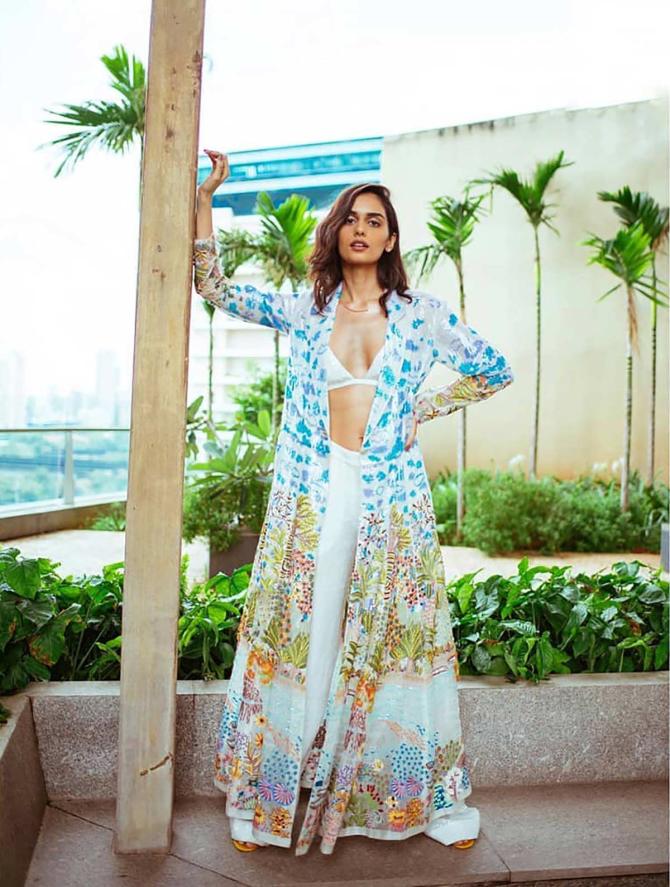 You have been a globe trotter. What's your favourite travel destination?
A favourite place in India would be really tough to pick. But since I am a beach person, I'd pick the Andamans.
Abroad, I absolutely love France. The art, the history, the shopping and the architecture is all so captivating.
A place you'd love to visit post the pandemic
There are so many! I would love to go to Greece and see more of Europe.