Jugal Hansraj, still known as the Masoom boy, was 10 when he acted in Shekhar Kapur's directorial debut, Masoom (1983).
Remember the adorable Rahul in the Naseeruddin Shah-Shabana Azmi starrer? His innocent face stole the hearts of millions.
Till date when people meet him, their first reaction is to smile. "Because I remind them of that film, even after so many years," reveals the actor-turned-director and now a children's author.
Hansraj went on to win the audience over with his performances in Papa Kahte Hain (1996) and Mohabbatein (2000).
He has also written and directed Bollywood films Roadside Romeo (2008) and Pyaar Impossible! (2010).
Today at 49, Hansraj, who shifted to the US with his wife Jasmine a few years ago, has written his second book The Coward and the Sword. His first book Cross Connection: The Big Circus Adventure cam out in 2018.
The book has a deep personal connection -- Hansraj started work on the book a few weeks after his son Sidak was born in February 2018.
"The inspiration was two-fold," he reveals in an interview with Anita Aikara/Rediff.com. "Firstly, my becoming a father and wanting to leave something for my son, to dedicate something to him."
Secondly, it was his study of Nichiren Buddhism -- he has been practicing Buddhism for years now. Whatever he learnt in Buddhism, the positive and encouraging things, he has tried and put in the book.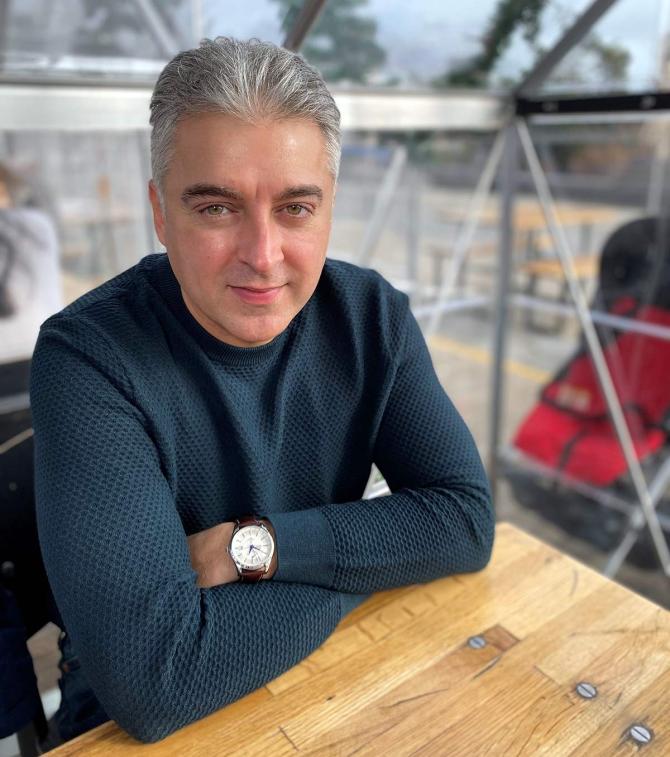 How does it feel to be remembered always as the Masoom boy?
Honestly, I don't really mind it.
Masoom is etched in the hearts of movie lovers and when people see me, their first reaction is to smile because I remind them of that film, even after so many years.
Being a reason for people to smile can't really be a bad thing now, can it?
What was your inspiration behind The Coward and the Sword?
It was two-fold. Firstly, my becoming a father and wanting to leave something for my son, to dedicate something to him.
A book he can enjoy and feel inspired by, thus also entertaining and inspiring other young readers in the process too.
And secondly, my study of Nichiren Buddhism and especially the quote by Nichiren Daishonin -- 'A sword is useless in the hands of a coward.'
A most profound quote that teaches us that what we need is really within us -- we needn't seek it outside. These were my two inspirations.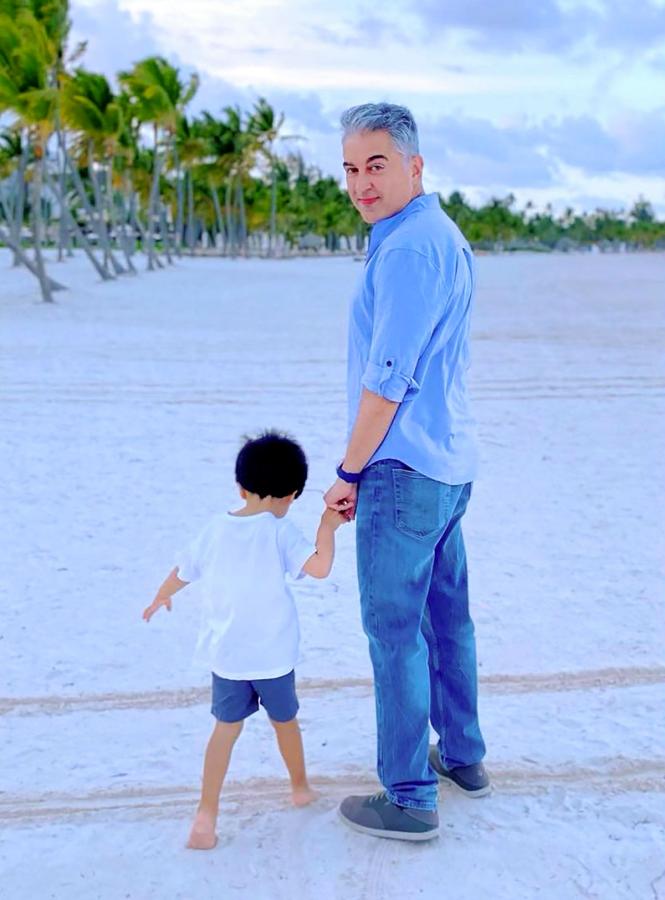 When did you begin writing the book? How much time did it take -- from idea to execution?
I began penning down notes sometime around February 2018, a couple of weeks after the birth of my son.
Every time he would nap, I would start putting down my thoughts.
It was a slow process as I was also busy with other work and this wasn't a commissioned novel, so there were no deadlines.
Is the character of Kadis based on someone you know? Is it derived from your son's name Sidak?
Well, yes, I reversed the name Sidak to come up with Kadis.
The character of the prince is not based on someone I know particularly, but I suppose it's just my observations, my own experiences and my way of looking at the world.
What is the kind of world that you'd want your son to grow up in?
Like any parent I would like my child to grow up in a peaceful and healthy world, but obviously that's not always the case.
But my wife and I can provide him with a happy, loving atmosphere at home, try and teach him the correct values and always encourage him and support him whatever path he might choose.
If he has a strong and unwavering self, we would have done our job well.
Do you miss writing for films?
As long as I can keep doing something creative, I'm happy.
So I still act, I write books, sing and try and keep the creativity alive.
How challenging was it for you to write a book, especially one that adults and children can read?
It is quite challenging! But what I did was tried to be honest and simple and try and tell a good story.
If I allowed the challenge of the task get to me I might not have completed it.
So I just took it one paragraph at a time, on chapter at a time.
My aim was to tell a story that children can connect to, can find entertaining and maybe learn some good values and for the elders to connect with on a different level as the book talks about banishing ego, pride and also talks about world peace.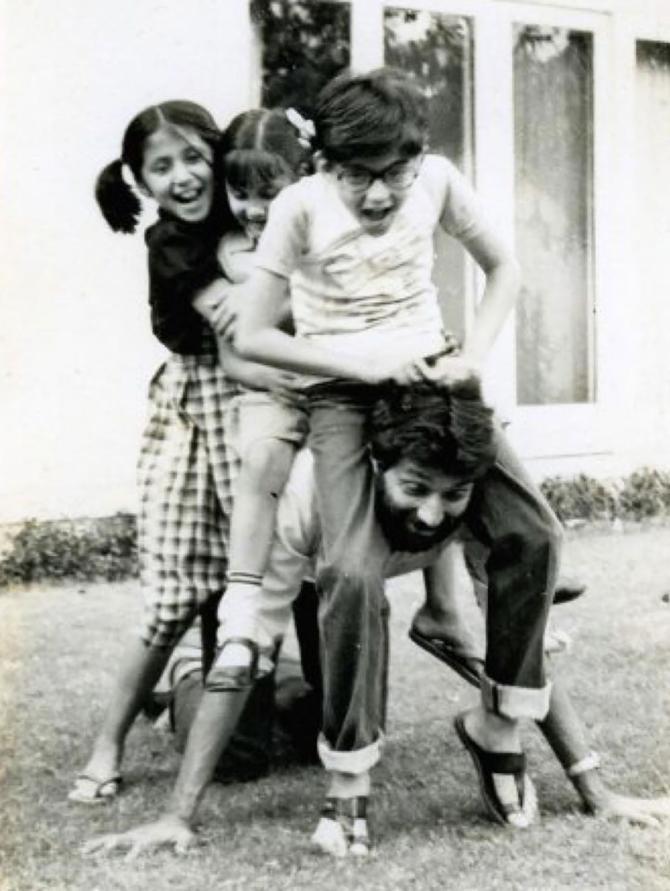 Was it easy to find a publisher? Did it help that you are a celebrity, and that you have writing experience?
I did hope to get the best publisher I could, but it wasn't easy at all!
Even getting an agent was quite tough as several agents rejected my manuscript and didn't want to take on something for children or young adult readers.
Some even suggested I rewrite the book from a first person perspective as only that works now. But I stuck to my guns!
I'm glad that finally, Mr Shambhu Sahu of Words Count Editorial agreed to represent me.
And I'm extremely grateful and honoured that Tina Narang and HarperCollins India enjoyed my manuscript and agreed to publish it.
They were the first publishers I wanted to send the book to and having them on board was like a dream come true.
Being a known name has nothing to do with this as I know no one in the publishing world.
I'm not writing about my life experiences in the film industry or anything related to films or film people.
I'm coming in as a fiction author.
Having writing experience did help -- I've written the story, screenplay, dialogue for my National Award-winning film Roadside Romeo, which I also directed.
I've also written children's fiction before this with one published book Cross Connection, so that helps.
The more you write the better at it you get, as with anything else.
The greatest lessons you learned after practising Nichiren Buddhism. How did it change your outlook towards life?
Studying and practicing Nichiren Buddhism has definitely transformed my life in the most positive way and it's brought a lot of value, happiness and strength in my life.
Have you incorporated some of your mentor Daisaku Ikeda's teachings/lessons in the book?
I read and study a lot of Sensei Ikeda's writings and they have definitely influenced the way I've written this book.
In fact the theme of peace and anti-war is something that is very influenced by his writings.
How did you spend time in the lockdown? Did you discover any new skills?
With all the time at my disposal I sped up my writing process and completed my book!
And though my wife Jasmine will disagree, I think I honed my cooking skills!
And what I learnt through the pandemic is to never take time or anyone for granted.
Live life to the fullest each day, trying to create some value.
Is there something you'd like to share by way of tips to budding screenwriters?
All I can recommend is to not follow trends and go by what other people might like.
Write what you would like to read. Try and be honest to the idea and keep it simple.
You composed the title song for Karan Johar's Kuch Kuch Hota Hai... How did that happen and what was the experience like?
Karan was planning his first film and we were all part of a group of friends.
Since I was already acting and had done several movies he narrated the story to me for my feedback.
I remember liking the script and that night when I was trying to sleep, I came up with this tune.
I recorded the first 8 lines of the song on my dictaphone so I don't forget it, and when we all met again I sang it out. Everyone really loved it.
Then a month later, Karan called me and said he's been working on the soundtrack and the composers are doing a great job, but for some reason he can't get my song out of his head.
So as a friend he asked me for a favour -- to go with him to Jatin-Lalit's music room and sing this song mukhda to them and to allow him to use this as his film's title song.
Which I did; they all loved it and then they went on to compose the verses.
So it wasn't a professional assignment; I was just helping out as a friend and am happy that the song I made is one of the most loved Hindi film songs.
I haven't explored composing but after that I did compose the melody for the antaras (verses of the song) Chalte Chalte from Mohabbattein in which I had played one of the leads.
Once again that wasn't a professional assignment and I did it as a friend, but that song too became very popular and loved, and this time I was one of the actors in that song.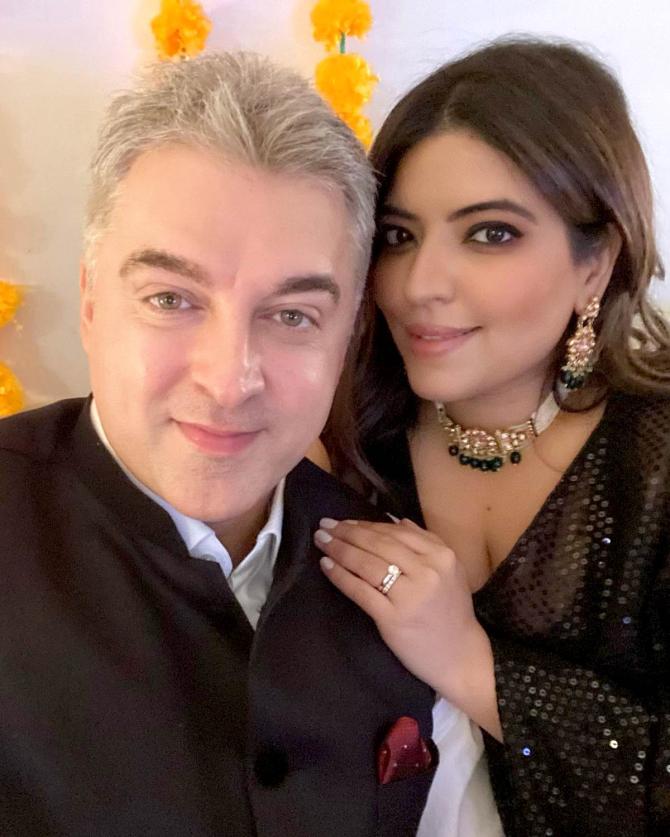 Who are your closest friends in the industry?
Close friends, almost none -- less than a handful.
I only have two good friends in the film industry and they are from the technical side -- one is a make up artist and one is a producer making content for streaming platforms.
Recently I reconnected with Mr Anupam Kher when I worked with him on an acting project here in the States (our sixth film together) and we really got along.
He was very encouraging. I've been in touch with him since.
No one else I would call a friend really apart from that.
Though having said that, I'm on good professional terms and have good working relationships with many in the industry.
Looking back, what are the three things you would have done and three things you would not have done?
To quote a line from one of my favourite songs My Way by Frank Sinatra... Regrets, I have a few, but then again, too few to mention.