'I was so insecure about myself and my body. The fashion industry has made me confident.'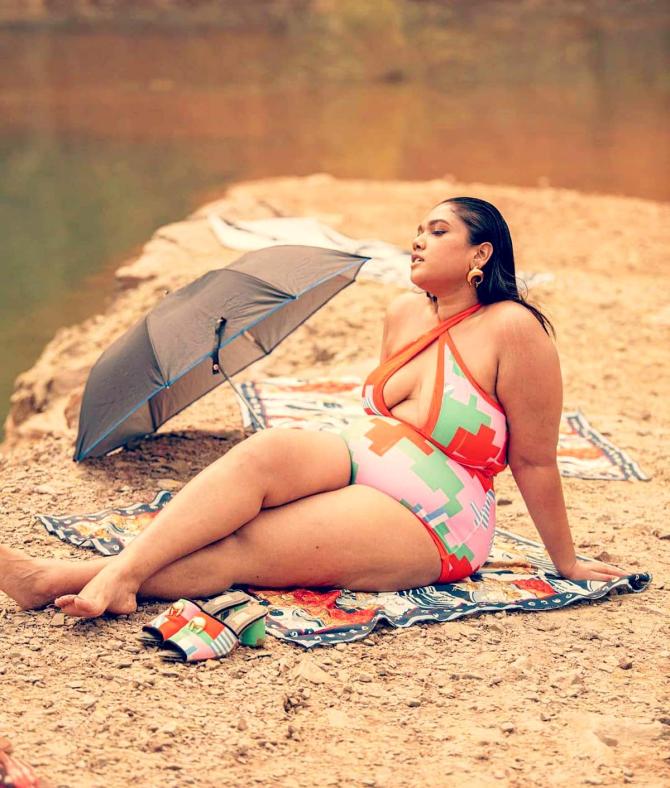 Janette Tirkey's modelling career started a little later than most -- at the age of 27.
It has been less than two years that she has been modelling, but the 30 year old from Delhi is already a popular face on the ramp.
She always loved fashion -- as a kid Janette remembers watching America's Next Top Model and being intrigued by host Tyra Banks and all the other models.
But never in her wildest dreams did she think of pursuing a career in modelling because she was overweight and was certain that the fashion industry would never accept her.
Hailing from a middle-class family, Janette was a studious child -- the first bencher in school.
Her parents wanted her to pursue a career in the civil services and get into the government.
"I have always been pushed towards that area. They (her parents) never thought I would ever fit into the fashion industry," she tells Anita Aikara/Rediff.com.
During her college days, she used to do little theatre. "But I was so insecure about myself. I'd think people would make fun of me, so I didn't pursue that as well."
When Janette was in college, she became a little more confident and a little less worried about what people think of her.
"I went from a convent school to a coed college and that shift was a little drastic for me because I had never really engaged with the boys.
"When puberty hits you, you tend to get a little insecure about everything, especially when you don't fit it to society's expectations.
"When I was in college, I got introduced to YouTube where I learnt about make up.
"When I applied make up and would go to college, people would tell me I was looking good.
"Every time I'd step out with just a red lipstick, people would say it looks so nice.
"Somehow I just felt that people were actually liking me and the make up was taking all the attention away from my body."
So Janette started an Instagram page and started uploading stunning pics of her with make up.
"It used to make me feel so good because people were liking me the way I looked."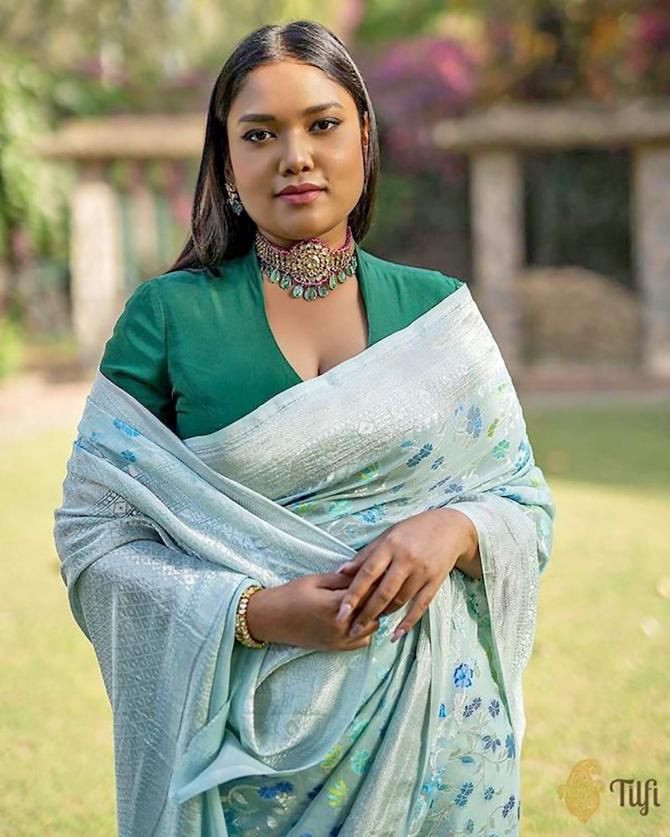 After 5-6 years of work as an HR professional in the corporate sector post her graduation, Janette stumbled upon an ad for a plus-size modelling contest on Instagram.
Janette wasn't prepared for what she was to expect at the auditions.
But when she went inside, she saw several plus-size women who were so confident about their bodies.
"That was the first time I felt I belong here. The whole vibe was so positive."
That feeling was very surreal for her. "Even when I'd step out with friends I would feel out of place, even though they would be really nice."
Janette gave the auditions and that's when she interacted with one of the judges who asked her to give the plus-size auditions at Lakme Fashion Week a shot.
"I participated and got selected there as well." In 2019, she walked for Designer Rina Dhaka at LFW and her modelling career slowly began to fall in place.
She got through the FDCI auditions and walked for Designer Urvashi Kaur, and later in 2020, modelling agency Purple Thoughts, scouted her online.
"I was working in the corporate sector. Back then I had no idea if I could shift careers and find appreciation in the fashion industry."
Janette started getting lot of work and walked for luxury swim and resort wear Designers Shivan & Narresh. She also did two seasons of LFW.
When modelling offers started pouring in, Janette decided to become a consultant at her company, "because a 9 to 5 job with modelling would be impossible to manage".
Be it a sari, bikini or even contemporary separates, whenever she walks the ramp, Janette stands out.
She has risen through the ranks in the last two years to become a popular face among the curve models.
While people love the way she carries herself, her confidence is noteworthy.
"Throughout my growing up years I never really had a fashion sense," she recalls.
"I remember wearing kurtis just so that I could cover up my body because I was so ashamed of it.
"It is not that I haven't wanted to be fit, but my body never helped me.
"It would always relapse whenever I'd go on a diet. I would fall sick immediately."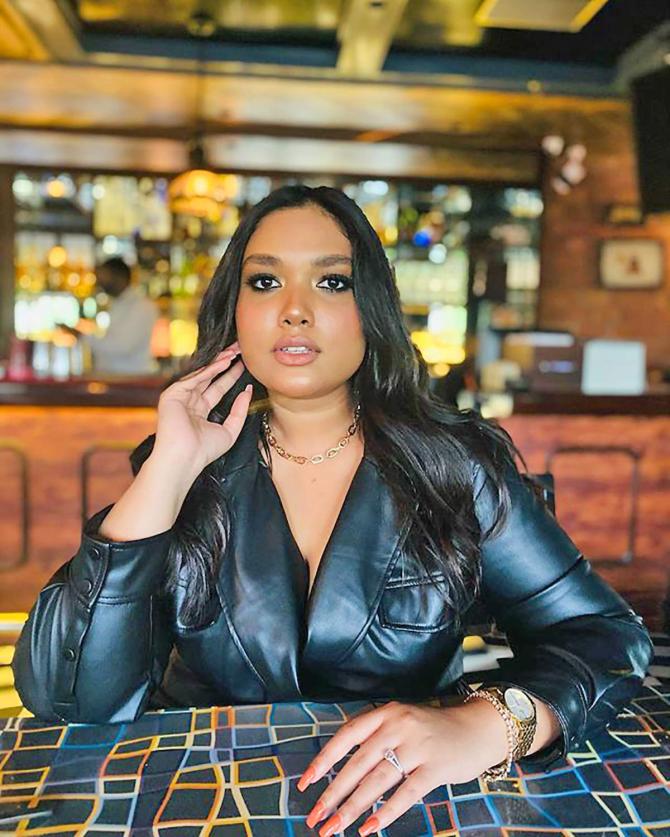 Janette got introduced to jeans in college because nothing would fit her. At that time, brands weren't inclusive.
"When I'd ask for a bigger size, the staff would ask me to try jeans in the men's section.
"I was a teenager at that time and I would feel so bad about myself.
"I used to wear men's jeans and I have worn it for 3-4 years," says the model who is very glad that brands have become more inclusive now.
Janette feels the people who like her for who she is are people who don't know her.
"I have not been in a relationship nor dated anyone till I was 28.
"I was so insecure about myself and my body. The fashion industry has made me confident.
"But there was a time when people around me were very negative."
Her relatives would question her eating habits. "They would say, 'You're so big!' That too in front of a crowd of people.
"At every family function I would want to hide behind my mother.
"I hated my body because nobody liked it.
But things have changed. "Now you can say anything you feel like, I don't care."
Janette's popularity on social media and modelling circles has coincided with the increase in size representation in the fashion industry.
All of the modelling work she has done has been amazing, but she feels she deserves more.
"There is very little work for plus-size models compared to the other models.
"If all the brands could be more inclusive, I could get more work."
"Also sometimes there are brands who want to be inclusive but they don't have clothes for plus-size models.
"So we have to get our own clothes for their shoots. Even after giving measurements, they insist on us getting our clothes.
"These brands are getting all the attention of being inclusive, but aren't. That needs to change.
"I am happy that they are including us, but they need to work towards being fully inclusive."
Janette feels that all the talk about plus-size is exhausting and it's time for the fashion industry to become gender neutral.
"It is stressful at times. When I walked for LFW there were few models who gained a little weight post the pandemic. They are more thicker now.
"I have heard people at the fashion week tell these models, 'You have become more big.' They ignore the fact that I am standing right in front of them.
"Curvy should be a thing now. It is nicer that way."
With social media, the subjects Janette needs to tackle have changed, and so has her approach.
"The love I receive overpowers the trolls, so now I don't pay much heed to them.
"When I see a hate comment I block the person.
"There will be a lot of people who won't like you for what you are doing. But that is okay.
"Look at the actors and the amount of hate comments they get.
"If you go to their comments section, you'll notice that people really roast them. Sometimes people can be really offensive.
"I am doing my best and the people who support me are my pillars. I feel great to have them because they like the real me."
Janette has some tips for young plus-size models who'd like to follow her footsteps.
"Just be confident," she says. "Fashion keeps changing so have fun with it.
"With fashion being so inclusive, everyone is a model now days.
"Understand your body and play to its strengths."