'Many enter the civil services with the desire to do good work but get beaten by the system, step back or become part of it.'
'Ten fantastic officers out of 100 can completely change the game.'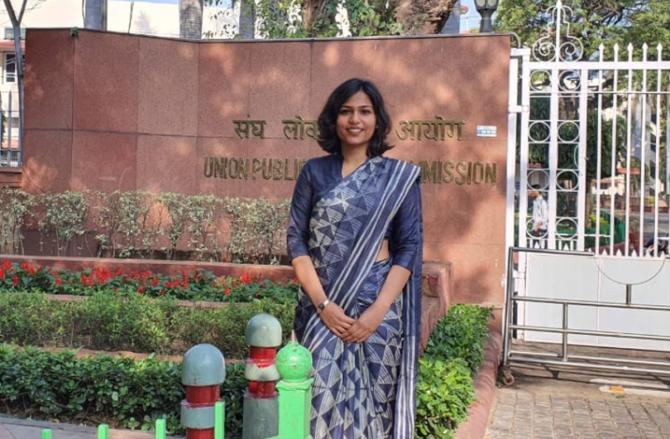 Isha Singh is the daughter of former Indian Police Service officer Y P Singh who stood up against corruption and quit the IPS.
She fulfilled her childhood dream and qualified for the IPS in the recent Union Public Service Commission exam.
"I want her to be humane, uphold the law and be true to the Constitution," says mother Abha Singh, a former civil servant who quit the Indian Postal Service to become an activist lawyer.
Archana Masih spoke to the mother-daughter about the officer Isha Singh wants to be as she prepares to join the Lal Bahadur Shastri National Academy of Administration in Mussoorie next week.
One of the people to congratulate Isha Singh after she passed the UPSC exam and was selected for the Indian Police Service was a cobbler who sat outside her building in Mumbai for years.
He came to her door with a bouquet of flowers and said 'You used to be a little girl in front of my eyes. Now you will be a big officer.'
"I told him, 'From today I am your servant. As a public servant, my job is to serve you'," recounts Isha, 26, the daughter of former IPS officer Yogesh Pratap Singh who quit the IPS to become an activist lawyer.
Her mother Abha Singh, a former Indian Postal Service officer, is a practicing lawyer in the Bombay high court.
Isha herself graduated from the National Law School of India University in Bengaluru in 2018 and worked as a lawyer focusing on public interest cases.
She recently won a case where the state had to pay Rs 10 lakh in compensation to the widows of sewage workers who died cleaning a septic tank in a private housing society.
"There are so many vulnerable people who are forgotten if no one speaks for them. Young people need to pick up those fights," says Isha as she prepares to join the training academy in Mussoorie next week.
"We can make things happen. It is important to ignore the narrative that disempowers you."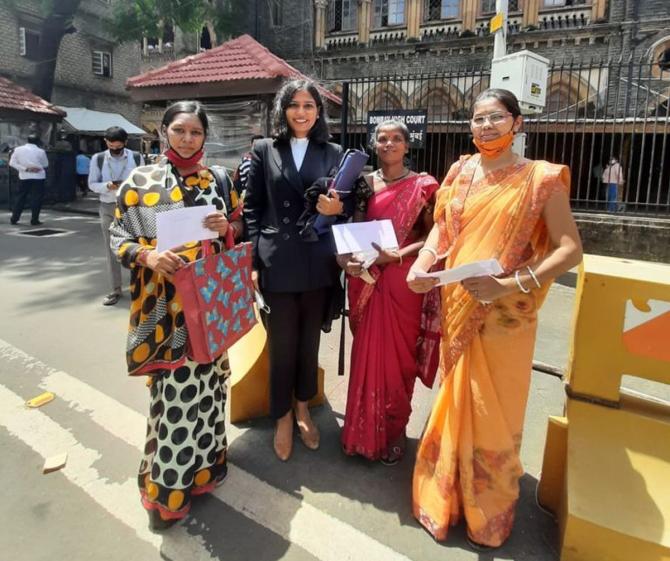 Another legal achievement she talks with pride is securing bail for a woman who was jailed on aggravated charges of forgery by a powerful bureaucrat.
"It made me realise how powerful and incredible the tool of law is. Despite all the odds, it opened my eyes that justice is possible."
"This whole narrative that nothing can happen and there is a rot in our system is not true. The system does work -- like an old Ambassador car, it works when pushed."
"We must always believe in justice."
"It is a beautiful beginning into the government service where ever so often I have been told it will be a disillusioning experience," she says.
As a student at the National Law School she passed by a phrase written at the entrance to the academic block every day.
It said: Be ye never so high, the law is always above you.
She read that each day and internalised it.
"I am a strong believer in the Constitution. I sat in the court room during the manual scavenging verdict feeling such reverence for our Constitution," she says. "It is only because of our beautifully crafted Constitution that people can think of being equal."
"I will never turn my back on it."
Isha studied at Mumbai's Cathedral and John Connon School and Mayo College, Ajmer. She ranked 35 in the Common Law Entrance Test and was selected to study at country's top law college. Several of her batchmates went for degrees or careers abroad and joined top law firms.
She turned down an internship in corporate law to work on human rights cases instead and prepared for the UPSC simultaneously.
She succeeded in the second attempt, using the lockdown to concentrate on her preparation.
What drew her to government was the passion for development, social justice and human rights.
"The government is the best NGO. Every citizen must be an activist," she says.
"We are at a point in India's history where the youth wants to break away from the status quo-ism and focus on talent, merit, development, scientific inquiry, rational thought."
Internally troubled by the phenomenon of young people wanting to emigrate abroad, she says, "They feel India is not able to offer the quality of life they desire. There is some truth in it because the system makes it hard for people to be good when it doesn't reward honesty, ethics and activism."
"We need to retain our brightest minds by assuring them of a meaningful and purposeful life."
"There is so much that needs to change in our society. Ethical and responsible behaviour needs to be rewarded. India will become a more equal and just society if we encourage people to speak up."
My father, my inspiration
Isha remembers being 8 or 9 when her father came back home one day and told her he had resigned from the IPS.
"I was enraged because it was simply not fair," she says.
A 1985 batch IPS officer, Y P Singh stood up against corruption and was shunted to what is regarded as 'punishment' postings for uncovering uncomfortable truths.
Isha was born when her father was repatriated from the CBI and says she and her brother bore the brunt of what her father had to endure.
"My father was a principled officer and stood up for all that was right, but was penalised for it."
She says her father never travelled with a red light on his car. He felt it was unnecessary and remembers how he would have to call his juniors 'sir' because he was sent to a department considered less important.
"You need people to do the right thing, whether they win or lose -- and my father did that," says Isha who wants to follow her father in the IPS's Maharashtra cadre.
Citing the example of how he transformed the State Reserve Police Force after he was superseded and sent there as a punishment posting, she says irrespective of where you are in government service, you can always have social utility.
"Government servants put an enormous amount of work to run a country of 1.3 billon diverse people -- it was commendable how we dealt with the second wave of Covid," she says.
"There is a lot to learn and admire about our government. Government servants have so much power. It only has to be implemented truthfully."
"There are many good officers in government, but they are faceless and we don't get to hear of the positive work that they do," says Isha.
"Many enter the service with the desire to do good work but get beaten by the system, step back or become part of it."
"Ten fantastic officers out of 100 can completely change the game."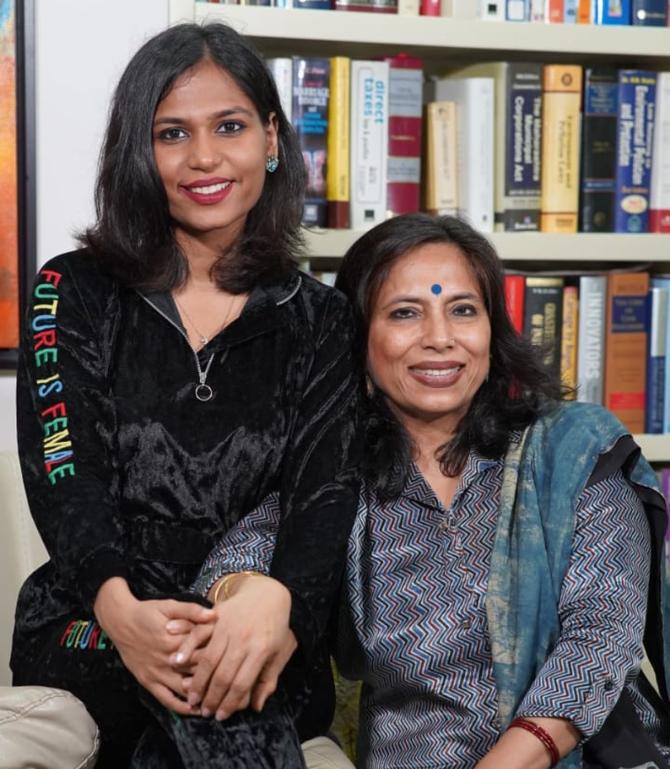 My mother, the rock of Gibraltar
The foremost advice that advocate-activist and former director of postal services, Abha Singh has given her daughter as she prepares for government service is to be humane, uphold the law and be true to the Constitution.
Her other advice is to never be afraid of being posted to far-off places.
"The civil service gives a lot of power. I want Isha to have her feet firmly on the ground and not be swayed by the glamour or aura of the services," says Abha Singh, daughter of a decorated police officer whose siblings are bureaucrats.
She runs an NGO Rann-Samar in her father's name to provide legal assistance to the financially weak.
Abha Singh is happy that Isha will fulfill her father's unfinished tasks -- something she had promised she would.
"My mother has spoken out through her work," says Isha, pointing out that it was her mother's salary that got them by when her father was on unpaid leave and quit without waiting for his pension and provident fund.
"She works pro bono for people who don't have quality legal aid," she continues and narrates two incidents in two separate post offices in UP to give an insight into her tenure as public servant.
Two post office staff lost their lives in two districts as they prevented armed goons from looting public money deposited in post office savings schemes.
"Post office money is truly public money because it belongs to the poorest people. My mother recommended them for the Kirti Chakra and it was the first time that two postal staff were awarded with the gallantry medal."
"It is recognition of valour where we conventionally do not expect it."
When many of Isha's classmates were going abroad to study, Abha Singh told her to work in the system and for the country.
"The government gives you such a big canvas to do good work. If government servants did their jobs well, we would not need NGOs," says Abha Singh.
Mantras for success in UPSC
Isha prepared for the UPSC alongside her career as a lawyer.
Based on her experience, she says UPSC aspirants should take note of the following tips:
1. Get out of the herd mentality. Have your own strategy.
"The exam is geared towards making you strong, decisive and independent thinking. Assess your ability as opposed to what fellow aspirants are saying or doing."
2. Short syllabus, multiple revisions.
3. Take care of mental health. Persevere.
4. Don't spend years on only studying for the UPSC, take a job, grow and improve. Don't put your eggs in one basket.
Feature Presentation: Aslam Hunani/Rediff.com