The number of management colleges in India has dropped to 3,264 in 2017-18, discover Sahil Makkar and Abhishek Waghmare.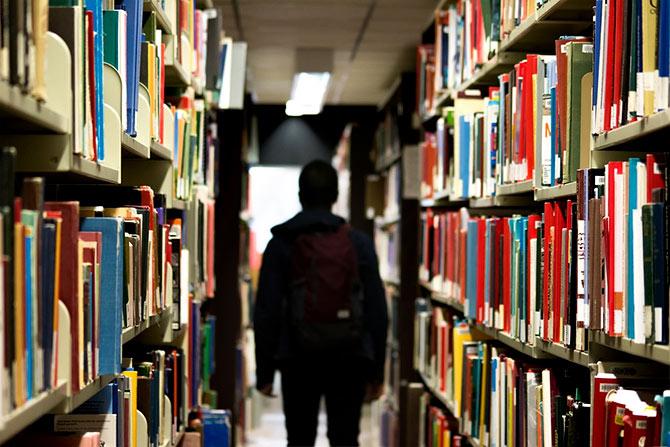 Photograph: Kind courtesy StockSnap.com
About a year ago, the Apollo Institute of Management in Durg, Chhattisgarh, was about to release newspaper advertisements announcing its management programme. But it had to shelve the plan.
The mandatory cap on annual fees made it financially unviable for the management to run the college.

"We needed to charge a fee of Rs 80,000 per student per annum at least, but the state government capped it at Rs 35,000," says Manish Jain, director at the institute.
It was impossible to have quality faculty and infrastructure under this regulation, he says. "We decided to shut it down."
This is not the only college to be shut down.
A recent trend suggests that, like engineering colleges, a number of management institutes (other than the top-rated schools such as the Indian Institutes of Management) are in the midst of closure for various reasons including lack of students, unavailability of quality faculty, increasing use of artificial intelligence by companies and the current economic situation.

Data from the All India Council for Technical Education, which regulates courses such as engineering, management, architecture, town planning and pharmacy, reveals that the number of management colleges has dropped from 3,609 in 2014-15 to 3,264 in 2017-18.
This year alone, around 101 institutes have requested the regulator to let them close their management courses.

Such closures have resulted in a reduction in the number of management seats in the country.
The total student intake fell from 4,56,419 in 2014-15 to 3,94,835 in 2017-18.
The teaching faculty also declined from 60,360 to 55,876 in the corresponding period.

"AICTE thoughtlessly approved a large number of requests for opening management institutions in the country between 2007 and 2012. This included permission to those who had no prior experience of running a college or an educational institute,'' says Harivansh Chaturvedi, director, Birla Institute of Management and Technology.
These institutions could not scale up and are now on the verge of closure or have already shut shop, points out Chaturvedi, while citing the example of a B-school in Ghaziabad which got 20 students against the approved intake of 120 seats during the last admission season.

In fact, Chaturvedi says he has been receiving offers from some of the struggling institutes to either take over their management courses or purchase the land allotted to them for setting up colleges.
Changes such as demonetisation and GST have also played their part in hastening such closures as many mid-size companies have cut down on recruitment, people in the know say.
Larger companies are relying more on artificial intelligence and less on engineers and management graduates, they add.

A recent study by business chamber Assocham suggests that other than premium B-schools such as the IIMs, most others were producing 'sub-par graduates' who were either unemployable or earned less than Rs 10,000 a month.
A management student on an average spends around Rs 3,00,000 to Rs 5,00,000 for a two-year MBA programme.

'Only seven per cent of the pass-outs, except graduates from the IIMs, are actually employable in India,' the study says.
Due to the low quality of education coupled with the economic slowdown, campus recruitments have gone down by as much as 45 per cent, it says.

Unavailability of quality faculty in tier-II and tier-III institutes due to low salaries has also contributed to the bleak scenario.
"Around 95 per cent universities in developed countries use digital infrastructure for knowledge management, sharing and assessment, whereas we barely have 1 to 1.5 per cent institutions using the same in India," says Bhupesh Daheria, CEO, Aegis School of Data Science, Business, Cyber Security & Telecommunications.

The institutes that have closed down include those who merged their management courses into their parent university, or some who shut down redundant management institutes in the same city due to a decline in number of applicant students, say trustees of some of the closed management institutes Business Standard contacted.
Lead image used for representational purposes only.