'It is no longer practical to expect parents to pay anywhere between $40,000 and $55,000 for the year or even half for the term if there is no clarity.'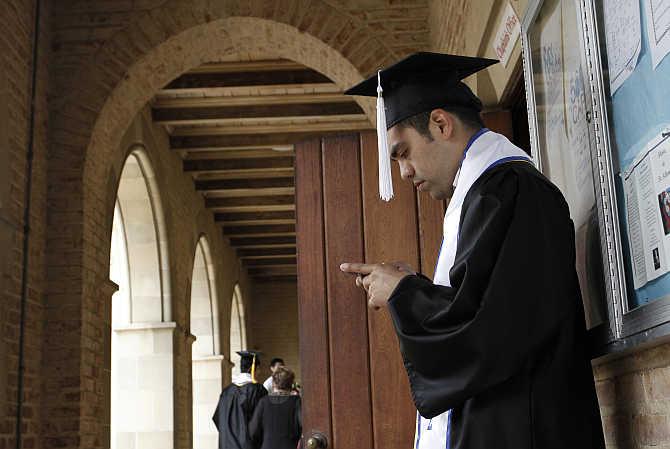 Mumbai's best-known education consultant Viral Doshi typically works with around 150 students in a given year to help them apply for admission overseas.
Of his 2020 batch, 72 have got into Ivy League schools.
This makes him the go-to person for Indian parents and students aspiring to study in America's Ivy League universities.
Doshi tells Anjuli Bhargava what he is advising his present students and to the class passing out in 2021.
Many of your students put in three to four years of effort before they make it to the institutions and subjects of their choice. What are you advising them?
There are no words to express the kind of blow the pandemic has dealt to their plans and aspirations.
I'd say my work has doubled after the students received confirmation and acceptance letters.
More than 30 per cent of my students have decided to defer their admissions for a year.
This means, the time gap before their studies commence is almost a year-and-a-quarter.
This raises another important question: How does one fill time?
If the new normal is a mix of blended learning -- part physical and part online -- what about the fees?
It is no longer practical to expect parents to pay anywhere between $40,000 and $55,000 for the year or even half for the term if there is no clarity.
Is it worth paying $52,000 for an online product?
A large part of a graduate study is the experience.
Yet colleges maintain that delivering long-distance online learning is a costly investment in itself.
The salaries of professors will still have to be paid.
Another clear trend is emerging now.
Many Indian colleges have now come of age and a few students who could easily have opted to study overseas are deciding to do what we did in our time: you did an undergraduate from India and headed overseas for a postgraduate degree.
This has reflected in a surge in applications to the better colleges in India.
I am also advising my students to look at Canada for an undergraduate degree and head to the US for a postgraduate one.
How will American colleges deal with this? Who are likely to be the biggest sufferers?
To some extent, I think people are underestimating the extent of disruption we are likely to see at the university level in America, which remains the primary destination for a large number of foreign students.
Further, many students are deferring admission to the next Fall and the numbers enrolled for the current year are likely to decline, leading to a steep drop in universities' total fees for the year and a wide gap in their budgets.
This has raised a question mark on the survival of the less endowed or funded colleges.
Small liberal arts colleges dependent on hefty fees for their survival will feel the twinge.
Most US states will cut funding for state universities.
This will imply a cut in their budgets, including research.
That makes them less attractive to international students.
Since many universities may have to move to online or hybrid teaching, many parents are unwilling to cough up the fees.
Colleges will have to tread a thin line.
How do you pare down costs without hurting the quality of learning on offer?
As I see it, many smaller institutions and B- and C-grade colleges are going to struggle to survive, state universities are going to have to reinvent to continue to reel in international students who cross-subsidise their own state students.
It is only the rich, private institutions -- the Ivy Leagues and a few other elite colleges -- already well funded and endowed or are relatively 'atmanirbhar' which will breeze through with little pain.
What about students who hope to work in the field of science?
Students of mine in the US have got back to say both their internships and job offers are being revoked.
There are two things at play here.
One, companies are uncertain of their own needs in the present scenario as businesses are restructuring and relooking at their own models.
Two, with the upcoming US elections, the uncertainty about optional practical training and the present ban on H1B visas for students has compounded the chaos.
This has serious implications for students who have taken education loans and are hoping to pay them back by earning there.
It also makes US colleges less attractive for Indian students.
The Great American Dream is likely to take a further pasting.
What about students who apply next year?
There will be fewer seats available in the top American universities for international students if this year's deferrals are many.
Competition could get tougher. Those in need of financial aid may find it virtually impossible.
The feedback I am getting from American colleges is that admissions in 2021 will focus more on academic performance.
Many colleges will make SAT and ACT scores optional.
Extra-curriculars, usually a big variable, will not be as relevant.
Feature Production: Aslam Hunani/Rediff.com
*Image posted for representational purposes only.