Study smart. Personalise your essays. Connect with alumni and apply well before the deadline, says Jatin Bhandari.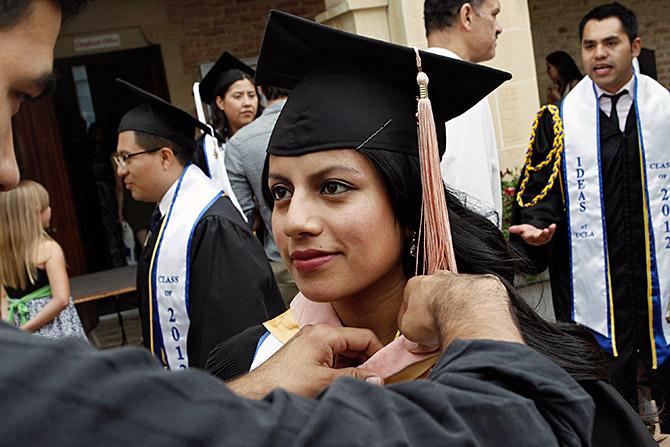 Photograph: Jonathan Alcorn/Reuters
The Ivy League Universities are consistently ranked among the top institutions in the world.
So, it's not surprising that they also receive a huge volume of applications every year.
However, the top schools in the US have a very limited acceptance rate, usually 5 to 15 per cent of applicants.
In 2016-17, US universities accepted over a million international students which accounts for just 5 to 7 per cent of the total international applications!
The good news for Indian SAT (Scholastic Aptitude Test) applicants to the US is that Indians are second only to Chinese students in getting admissions.
Indian students are known for their high calibre and academic brilliance.
Especially in the STEM (Science, Technology, Engineering, Mathematics) subjects, Indian students traditionally have an edge. This has been extending to liberal arts as well.
Earlier, the US was more popular for graduate study, but today about 44 per cent of Indian students in the US are studying at the undergraduate level.
Students and parents are much more focused and aware, which makes all the difference.
But there are still certain factors that can hamper admissions abroad.
Hurdle 1: Confusion about which school board to follow
In Gurgaon, schools offer a number of state boards, as well as pan-India boards like CBSE and ISC. These are well aligned to the Indian university system, and focus heavily on academics.
There are also some international boards like CIE (Cambridge International Examinations) and IB (International Baccalaureate).
Parents must remember that it is not easy even for brilliant students to shift between boards. Therefore, they must make a decision about which board to follow well before middle school is over
In recent years, the IB has steadily gained acceptance in top Gurgaon schools.
A student's IB scores (usually in the range of 38 to 40) can be converted to credits in most US universities, which can cut down the time it takes to graduate by as much as a semester!
SAT aspirants have also said that though it is a demanding course, IB's emphasis on developing a multi-disciplinary analytical outlook, with stress on writing reports and developing research skills is very useful during college in the US.
Hurdle 2: Skewed focus on academics and test scores
For top US schools, grades aren't everything -- the Stanford Alumni Journal, in 2013 noted that 69 per cent applicants with perfect SAT scores were rejected.
Applicants must be well-rounded, and have the drive and ability to grow through the course, as well as the awareness of how to contribute to the community.
Hurdle 3: The right sources of information
Explore all avenues of information. Contact alumni and current students at the colleges. Discuss your goals, ask for their advice, and learn from their experience.
Look into institutions that offer scholarships, other than those offered by the university. For instance, the Tata Scholarships for Cornell and the TOEFL Scholarship Program offer undergraduate scholarships.
Attend university events nearby, and if possible, visit the campus before applying.
Hurdle 4: Rushed applications
By cutting it too close to the deadline, a student will have to rush around getting transcripts and references, making sure SAT test scores are in, and completing the required essays, without giving any of these facets sufficient time or attention.
An ill-thought out or superficial essay will result in sure rejection, even with excellent academic scores.
Now that you know what not to do, here are some pointers to maximise your chances of admission to a top school:
1. Stay organised
Be very systematic about the SAT application process.
Keep track of important dates -- find out when application questions are released, what the deadlines are.
Identify scholarships and track their requirements and deadlines. Maintain a checklist and stay on track.
2. Prepare throughout high school
Manage your time intelligently throughout class 10, 11 and 12 grades.
This is also the right time to reach out to universities and SAT coaching institutes.
Identify the right courses, and create links with faculty and students, especially with local alumni.
3. Connect with mentors
Teachers can give the best references, but not if you ask at the last minute.
Build a strong connection with them, seek their insight and share achievements and aspirations with them.
This will help them to write a reference that will add real value and depth to the SAT application.
4. Plan the SATs
Schedules tests like the SATs well in time.
Remember, SAT test centres nearby may not have slots available closer to deadlines.
Besides, the class 12 curriculum in school is very demanding, so don't try to study for your SATs at the same time!
Applicants to top colleges like Cornell, Yale and Stanford often have perfect SAT (Scholastic Assessment Test) scores.
So to be considered in these universities, you need to prepare very well.
You can take the online PSAT (Preliminary Scholastic Assessment Test) immediately after class 10 to understand what areas you need to work on.
It may help if you start studying right after class 10.
Some students find it more effective to study for an hour every other day for 6 months, while others study for 2 to 3 hours per day for 1 to 2 months just before taking the exam.
In either case, be regular and dedicated. It will make all the difference.
Try to plan your first SAT in September or October of class 11.
If you want to retake the test, you can plan it for April or May. This way, you will be free to focus on your 12th studies and college applications.
5. Reach out
There are many networking resources available to students today.
Reach out and connect with other students of your city like Gurgaon who are also applying abroad.
From knowledge sharing about SAT scholarships to forming study groups and brainstorming for essays, this can help you tremendously!
6. Personalise essays
The essay is the best place to highlight an applicant's unique personality and voice. To get it right, start reflecting on it as early as possible.
The more personalized the essay, the better. The simpler and more direct the essay, the better.
7. Study smart, play smarter
Extra-curriculars could include a variety of activities, like sports, community service, part time jobs, or even contribution to the family.
According to the Dean of Admissions (Brown University) it's not the activity that matters, so much as why they chose it, and what they learnt from the experience.
It should represent the student's potential for future development, his/her drive and personality.
8. Apply early
It is a statistical fact that Ivy League schools are up to three times more likely to offer admission to early applicants.
Of course, the real preparation begins much earlier.
Parents must start instilling values like discipline, hard work, and giving back to the community in a child at an early age.
With these factors in place, you will be in the best possible position to succeed, not only in the applications race, but in life!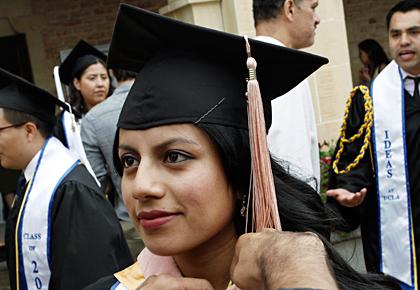 Jatin Bhandari, founder of PythaGurus Education, an education consultancy.