'I have taken a loan of Rs 35 lakhs.'
'Even if my university allows me to stay, I feel cheated.'
Thousands of Indian students in the US will be forced to return to India if their college/university courses go fully online.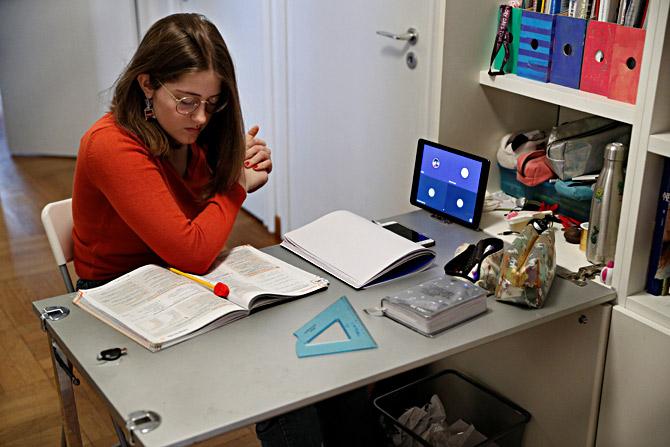 The US immigration and customs enforcement department announced on Monday that foreign students, enrolled for the fall 2020 semester at American universities and colleges, who were planning to attend classes online because of the COVID-19 pandemic, would not be allowed to stay on in the US.
The ICE also made it clear that the US state department would not issue visas to these students or students planning to arrive in the US for the fall 2020 semester. US customs would not permit these students to enter the US to attend the September to December semester online.
Over 202,000* Indian students studying in the US have been stunned by the ICE announcement.
Indian students make up about 18.5* per cent of the over one million international students enrolled at US educational institutions.
"This news is really depressing, " Vikas**, a graduate from a leading public university in the US, tells Rediff.com's Divya Nair.
"I came to the US in January last year hoping I'd work for a year, get OPT (optional practical training) before taking up a full-time job. In March, the course went online and since then I've been hoping the university will at least refund part of my semester fee," says Vikas.
"I didn't pay $62,000 to sit in front of a computer!" he exclaims.
"I chose not to go home so I could find an internship here. But companies, including start-ups, are not willing to hire international students," adds Vikas.
"The sudden announcement will affect lakhs of students who have signed up for a course in the spring and fall of 2020," says Neelima Surve, a Mumbai-based education counsellor and founder of Storm Ahead Consulting.
The announcement primarily affects individuals on F-1 (those pursuing undergraduate, post-graduate or doctoral studies) and M-1 visas (vocational courses).
It was suggested that students currently enrolled in US colleges should consider transferring to schools with in-person instruction.
"It doesn't make sense to pay between $50,000 and $80,000 for an online course at an international university if there is going to be zero personal interaction," says Veera**, a 23-year-old post-graduate student who will graduate in December and is currently based in New Jersey.
While most students are not in favour of online classes, but are doing so only due to lack of alternatives, students like Deepak**, who is in a hybrid model course, are not complaining, because he wil be able to attend from the US.
"I am glad I am in a hybrid programme (a mix of virtual and in-class sessions) and the new announcement doesn't really affect me as much. I can still go back," says Deepak, a second year mechanical engineering student at the University of Michigan who returned to India in June on a Vande Bharat Mission Air-India flight.
"But it all depends on when the flights resume. I am not sure when that will happen," he adds.
"I prefer recorded sessions to live ones because the time difference is massive. For live sessions, I have to be online through midnight which affects my sleep and schedule for the rest of the day. With recorded sessions, I can watch and study at my convenience," Deepak points out, discussing the challenges of pursuing virtual classes from India.
Nitasha**, a graduate student at an Ivy League university who travelled back to Bengaluru in March, and was one of the thousands of Indian students who made the difficult journey home, when the lockdown was announced in India, says: "There are bandwidth issues when you are taking a course from India. So you don't really get the same experience you'd get from a classroom."
"Some of our faculty members live in different time zones across the world. They upload lectures online. If we have any doubts, we write e-mails. The whole process of learning is cumbersome," Nitasha adds.
But she clarifies, "The live sessions are interesting when the professors encourage us to interact and give us something to research which we can deliberate on in the next session. But typing in a chat room and asking it in front of a classroom are two different experiences. Sometimes it's frustrating."
Rahul**, who entered the third semester of his graduate course at a leading US public university, is disappointed that he is not going to get his money's worth. Rahul, a native of Mumbai, is pursuing an MS in information systems in New Jersey and is currently in the US. His college plans to follow the hybrid model with one in-person lecture in a week.
"I am spending close to $60,000 for a one-and-a-half year course. I have taken a loan of Rs 35 lakhs. Even if the course is hybrid and my university allows me to stay, I feel cheated already," says Rahul.
"An online course ruins the whole experience for me. Every international student who takes an education loan is paying an interest rate of 10% to 13% back home while the residents here (in the US) get it at 4% to 5%. Definitely, this decision is going to pinch us financially and academically."
Chennai-based Meera**, 28, who travelled to New Jersey in 2019, also opted for a three-semester programme with the view to exploring her options after graduation.
After six months of searching, she found a paid internship in June 2020. Meera points out that most of her friends, who graduated earlier this year, haven't been as lucky or found an appropriate internship to match their course. Others, she says, are planning to take unpaid internships to get some experience.
Meanwhile, a lot of students, caught on the wrong side of the situation, fear being deported, which would ruin their hopes of making a career in the US.
Says Neelima Surve, the education counsellor, "Since last evening, some of my students and their parents have been calling me to check about the implications of the new announcement. One of them, who travelled to Texas in January, feared that if his two-year course goes 100 per cent online, he may have to come back and finish the rest of the course in India because the university is not in favour of in-person classes."
"So students need to check with their university if they can opt for a hybrid model, with at least one in-person/practical session a week," advises Surve.
"If that is not possible, they can request to be transferred to another programme or university, that will allow them to do so. But right now there is uncertainty," says Surve. "Students are in a state of turmoil because they don't know how long they can stay and how they will travel back home.
"If there is any confusion regarding visa norms," she recommends, "it would be best to consult the student body or international help desk or write to the embassy for help."
Mumbai-based counsellor Anju Saxena, who works for Education Abroad Consultants, emphasises that international students need to tread carefully.
"Don't panic and take the wrong decision. Consider all your options before you sign on any paper or document. Understand what you can do with your visa. Read about your rights. Seek help from a student council or the embassy to know more about the visa norms and how it affects you," advises Saxena.
"Meanwhile, explore alternative universities that may be willing to transfer your credits and admit you into their programme."
American universities, fearing a drop in student numbers, and anticipating that foreign students might in future opt to study instead in Canada, Australia or Europe, are also taking action against this order.
Harvard and MIT have filed a suit requesting that federal courts oppose this new edict of the Trump administration. A temporary restraining order is being sought. That could put the new ICE ruling on hold for at least 14 days.
A White House petition (external link) has been launched, protesting the ICE announcement and declaring it will affect $41 billion in US revenues, apart from disturbing research programmes and forcing colleges in COVID-19 high-case areas (like Texas, Florida and Arizona) to risk having a few non-online classes. The petition has already accumulated over 230,000 signatures.
*According to a statement issued in November 2019 by the United States embassy in India, 202,014 Indian students traveled to the US to study.
**All names have been changed to protect privacy.
***Kindly note that the image has only been posted for representational purposes.