These recipes will tickle your tastebuds and ensure good health, says Sahana Shivprasad Shetty.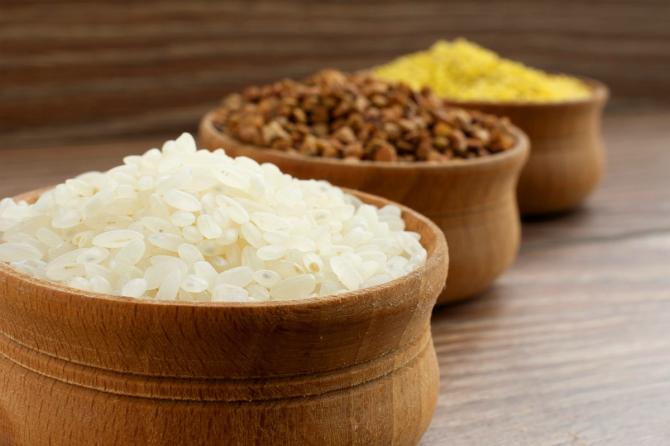 There's a reason why millets have a magical place in my life.
A new-found passion found a permanent place in my life four year ago when I discovered the joys of food blogging.
I began experimenting with different regional cuisines so that I would have something new to feature on my blog.
I also went all out when it came to socialising and indulging all kinds of food, including desserts. Naturally, my weight began to shoot up and I reached a point when the weighing scale showed 125 kilos.
I'm a B Pharma graduate, so I should have known better. But my passion for blogging took precedence.
During the lockdown, I had a rude wake-up call when I met my diabetologist.
I was determined to become healthy again. That's when millets became my best friends. Introducing millets in my daily diet helped me reduce weight (I've lost 40 kilos).
My blood sugar and cholesterol are in control. The fatty liver problem I had been diagnosed with was cured as well.
Millets are fashionable now, but they are one of the most ancient grains. They even find a place in the Yajurveda.
Every millet has its own health benefits and properties. So introduce them to your diet; after all, they are so versatile and have so many vital nutrients.
They can replace rice in your daily diet. You can use them to make dosas, adai, roti, bhakri and even cakes.
Bajra, jowar and ragi are popular millets in India. Now, even chama millet, proso millet, foxtail millet, barnyard millet and kodo millet are gaining popularity.
Today, I am sharing some of my favourite millet recipes. They have helped me tackle obesity, diabetes and high cholesterol in just four months.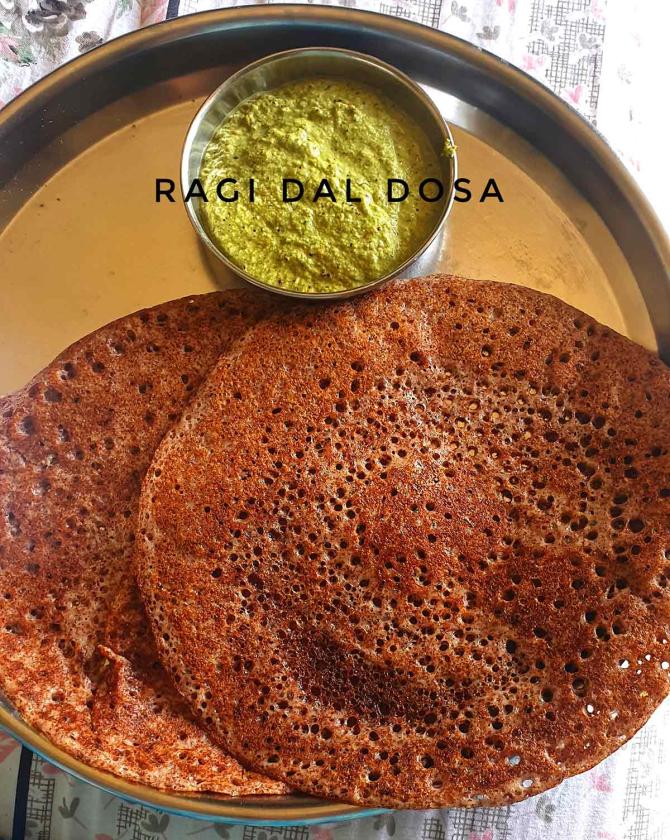 Ragi Dal Dosa
Ingredients
1 cup whole ragi (finger millet)
½ cup toovar dal (pigeon lentil)
2 tsp methi (fenugreek) seeds
2 tbsp soaked poha or cooked rice
Himalayan pink salt as needed
Desi ghee as needed
Method
Wash the ragi and dal thoroughly. Rinse a couple of times to remove impurities.
Add enough water to soak both together. Add the methi seeds and soak for 4-5 hours.
After draining the water, put the soaked millet and dal in the mixer jar. Add the soaked poha or cooked rice and blend.
Add enough water to ensure you have finely-ground batter.
Rest the batter overnight or for eight hours so that it has enough time to ferment.
Add salt to the batter and mix gently.
Grease your pan with ghee and let it heat. (PS: I use a cast iron pan to make dosas.)
Then pour a ladle-full of the batter in the middle of the pan. Use the back of the ladle to spread out the batter in a thin circle to form the dosa.
Serve hot with coriander chutney or the chutney of your choice.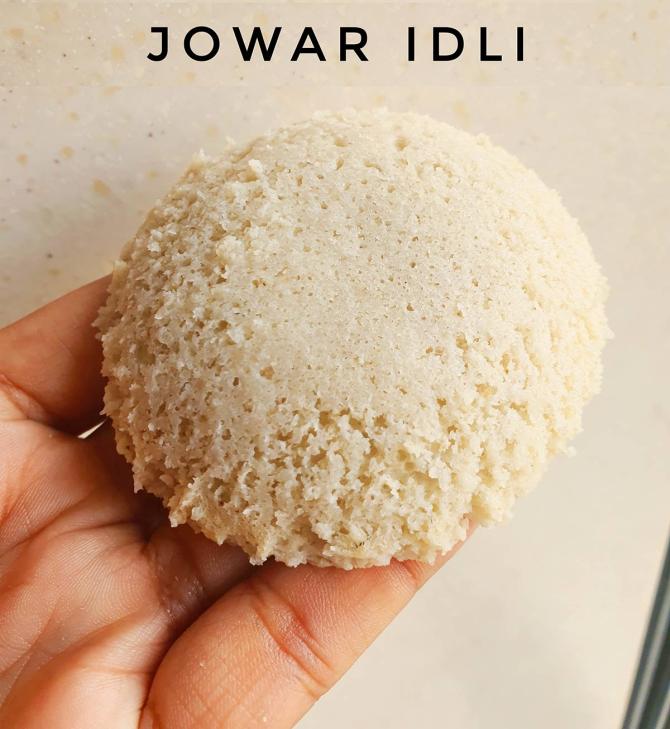 Jowar Idli
Ingredients
1 cup whole jowar (sorghum)
½ cup rice
3/4 cup urad dal (black gram)
½ tbsp methi seeds
2 tbsp soaked poha
Pink Himalayan salt as needed
Oil as needed
Method
Wash the jowar, rice and ural dal a couple of times. Add methi seeds and soak all these ingredients in enough water for five hours.
Drain the water and add the soaked poha.
Grind the soaked mixture of jowar, rice, urad dal, methi seeds and soaked poha to form the batter. Add water as needed. Remember, this batter needs to be slightly thick.
Rest the batter for eight hours or overnight to allow it to ferment.
Before you make the idlis, add salt to the batter.
Grease your idli stand with oil and pour in the batter.
Steam for 15 minutes.
Open the vessel carefully. Take out the idli stand and let the idlis cool a bit before you scoop them out.
Serve hot with sambhar or the chutney of your choice.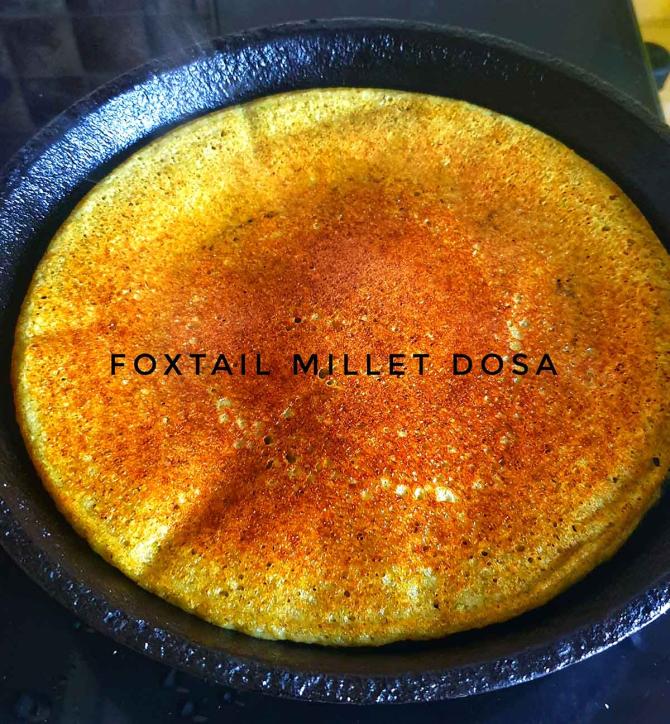 Foxtail Millet Dosa
Ingredients
1 cup foxtail millet (phoksatel bajra)
½ cup chana dal (split chickpeas)
½ cup moong dal (green gram, split, without the skin)
2 tbsp urad dal
½ tsp methi seeds
4-5 whole red chillies (choose chillies as per your spice level. If you don't want too much heat, you can use Kashmiri chillies)
½ tsp cumin seeds
¼ tsp hing (asafoetida)
4 tbsp shredded coconut
Pink Himalayan salt as needed
Desi ghee as needed
Method
Wash millets and dals together. Rinse well.
Add methi seeds and soak these ingredients with enough water for four hours.
Then put the soaked mixture and the remaining ingredients (except the salt) in your mixer jar.
Blend to form a smooth batter and add salt as needed.
Grease your cast iron tawa with desi ghee.
Pour a ladle-full of batter in the middle and spread it out in a thin circle. Once one side is cooked, flip it over if you like your dosa crispy.
Serve with coconut chutney or the chutney of your choice.
Sahana Shetty blogs at Sahana's Food Passion.