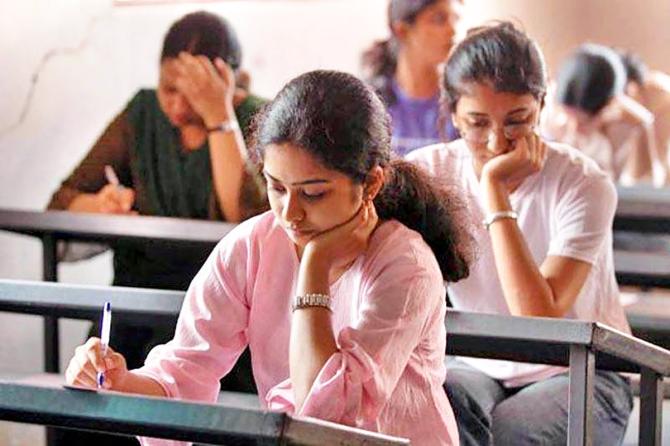 The National Eligibility cum Entrance Test, formerly known as the All India Pre-Medical Test, is one of the largest competitive exams in India.
This year, NEET-UG 2023 is scheduled to take place on Sunday, May 7, 2023.
NEET-UG 2023 will be conducted in pen and paper-based mode.
The duration of the exam is three hours and 20 minutes. Candidates must answer multiple choice questions in physics, chemistry, and biology (including botany and zoology) as per the NEET syllabus.
There is no change in the pattern.
Each question will carry four marks and there will be a negative marking of 1 mark for the wrong answer.
Questions that are unanswered or 'marked for review' will be given no mark (zero).
If more than one option is found to be correct, four marks will be awarded to only those who have marked any of the correct options.
If all options are found to be correct, then four marks will be awarded to all those who have attempted the question.
The exam will be conducted for a total of 720 marks.
NEET UG will be held in a single shift between 2 pm and 5.20 pm in 13 languages -- English, Hindi, Assamese, Bengali, Gujarati, Kannada, Malayalam, Marathi, Odia, Punjabi, Tamil, Telugu and Urdu.
Meanwhile, the Maharashtra Health and Technical Common Entrance Test begins on May 9. While the MHT-CET (PCM) exam will be held between May 9-13, the MHT-CET (PCB) will take place between May 15-20.
Are you anxious about NEET-UG 2023 or the MHT-CET?
Nervous about certain chapters and concepts?
Need advice on how to improve your revision strategy?
Do you want to know how to reduce negative marking and optimise your score to get admission into one of the top medical colleges in the country?
rediffGurus can help.
You can ask your questions to Mayank Chandel from CareerStreets; he has over 18 years of experience coaching and training students for NEET-UG.
Mr Chandel also guides Class 10 and Class 12 students about their career options in engineering, medicine and the vocational sciences.
Professor Preetam Patil, founder and principal, Laksha 24, can guide you on cracking important chapters for NEET-UG and MHT-CET.