This is your chance, says Ranjita Ganesan.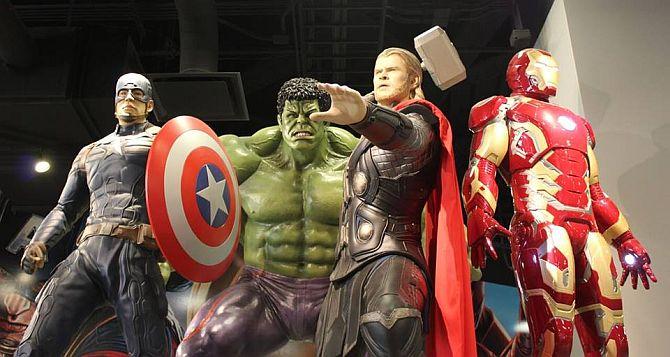 On a holiday celebrating Gandhi, that legendary champion of peaceful resistance, hundreds of people in Mumbai sign up to train in scientific violence and tactical intelligence.
But theirs would be a fight of the righteous kind, they are assured -- and of the heavily simulated kind, it turns out.
Paying Rs 600-700 each, they become the 'new recruits' in a band of superheroes that are 'part of something great' -- saving a world threatened by a secret organisation bent on world domination.
This may sound like a microcosm for political mass movements but is in fact an hour in the immersive Marvel Avengers S.T.A.T.I.O.N exhibit in Mumbai.
Many parents queue up outside the 20,000 sq ft hangar, located in a Lower Parel (central Mumbai) mall, with eager children in tow.
The show that opened in September includes costume displays and games.
It is a partnership between Singapore-headquartered Victory Hill Exhibitions and ticketing company BookMyShow, which has recently been boosting its live experiences business.
The ample fandom the franchise enjoys in India means tickets are sold quickly.
The same fervour that makes Comic Con tick in various Indian cities is seen here but rather than the original Avengers comics, this exhibit focuses more on movie adaptations.
The interiors resemble a laboratory, where the origin stories of the various fictional superheroes are told in a number of rooms equipped with props and screens bearing swathes of text.
SHIELD agent Maria Hill, played by Cobie Smulders, conveys instructions and good luck in even tones.
Top billing and much real estate, by far, belongs to the wealthy American scientist-businessman Tony Stark who turns into Iron Man by wearing a weapons-enabled suit.
The room dedicated to him features several iterations of his red and gold costume seen in the movies, including the silver-coloured 'Mark II' which had problems clearing high altitudes without freezing, and the grey 'Mark I', the crude first suit that Stark himself built.
This is also where visitors get to be a superhero for a few minutes -- a computer outfits them in armour so they can point and take on Stark's super-villainous nemesis, Ultron.
A similar chance awaits in the next lab, where they can channel Hulk's rage into different destructive moves with the help of a console.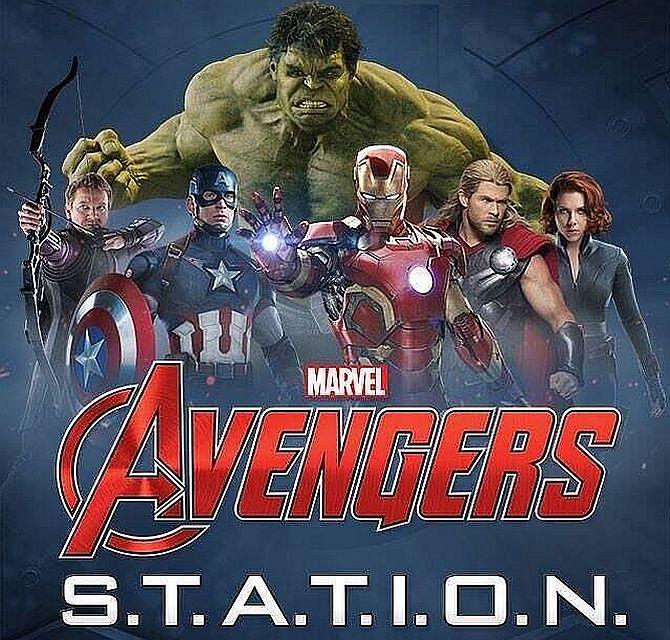 Across the space, photo opportunities are sprinkled strategically.
Among them are life-size replicas of Hulk's arm, with which visitors are encouraged to compare their own.
Elsewhere, wiry teens climb onto Captain America's Harley Davidson Street 750.
Toddlers, only slightly taller than Thor's hammer, attempt to lift it off the ground.
The most animated participants are easily the children, asking the guides questions, and conversely, answering in unison when they are quizzed.
"The King of Wakanda is?"
"T'Challa!"
"The diameter of Captain America's shield is?"
"2.5 feet!"
About the other superheroes of this universe, however, one comes away knowing little.
They are lumped ingloriously into two rooms at the back, where the super-villains also live.
No quizzing happens in these areas and no one reads the paragraphs of gobbledygook science flashing on the screens.
The tour lasts for 30 to 40 minutes, capped off with a final war against a slew of Marvel bad guys for which visitors are handed a gaming remote and assigned a role.
The unlucky have to play someone like the much-disliked Hawkeye and shoot dozens of arrows none of which appear on the screen.
Fun as it is for the little ones, the exhibit struggles to mimic the adrenaline of the movies.
Marvel Avengers S.T.A.T.I.O.N is on till November 17 at High Street Phoenix, Mumbai. It then moves to Bengaluru.