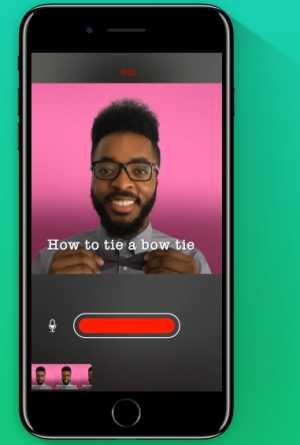 Clips, a new app available on iTunes for making fun videos, is a wonderful addition to the social media scene and a handy tool for iPhone owners, says Abhik Sen.
It is no secret that the iPhone has become the default camera for a lot of people.
It's also a known fact that short videos dominate social media.
And a dip-stick survey among friends, colleagues and relatives led me to the conclusion that a lot of them were using their iPhones to post videos on social media.
And with Clips, Apple has added the missing secret sauce.
The interface doesn't look daunting; in fact it's too simple for my liking, and one needs to dig deep for all its features.
I hit the record button, switched on Live Titles, started speaking and presto, had a video with subtitles, in real time.
A caveat: One needs a cellular or Wi-Fi connection for this to work, and don't try it on our noisy streets!
Next, I went to the filters tab and had a lot of fun trying on different ones, especially the comic book and ink ones.
I added some 'campy' effects with the emojis and bubbles.
Next, I clicked on the 'T' for the opening title and the closing 'credits'.
Once I was done 'shooting', I got into post-production.
I dragged and dropped clips, got rid of footage and added a few photos from my iPhone.
And yes, I had to pause the video and tap on the subtitles to correct a few transcription errors.
But something was missing -- a background score.
Apple provides a vast repertoire of free scores.
And I was done with my magnum opus, which I viewed on my iPad (Clips only supports square videos, so don't try viewing them on your TV).
Clips is a wonderful addition to the social media scene and a handy tool for iPhone owners.
Yes, its audio editing capabilities are somewhat limited, the learning curve could be steep and it won't replace dedicated video-editing software.
But Clips has all one needs to become a social media video star.