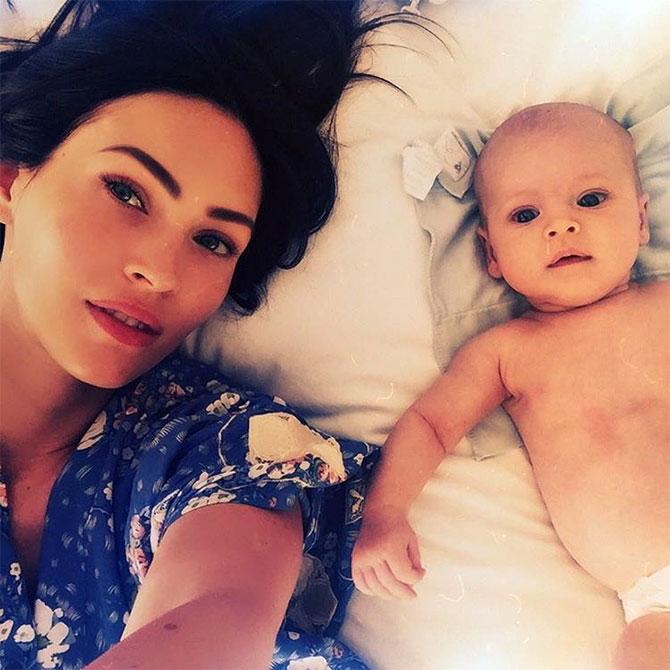 Boomer, River Rocket, Ode Mountain -- what were these celeb parents thinking?
It's not rare for celebrities to surprise us with their unusual baby names.
Saif Ali Khan and Kareena Kapoor Khan, who welcomed their baby boy on December 20, were quick enough to announce his name -- Taimur Ali Khan Pataudi.
Taimur in Turkish means 'made of iron'.
Nawazuddin Siddiqui's character in the film Talaash, which starred Kareena, was named Taimur.
The unique name obviously inspired us to look at other celebs who gave equally unusual names for their kids this year -- some bizarre, some just funny.
Take a look.
Boomer Phelps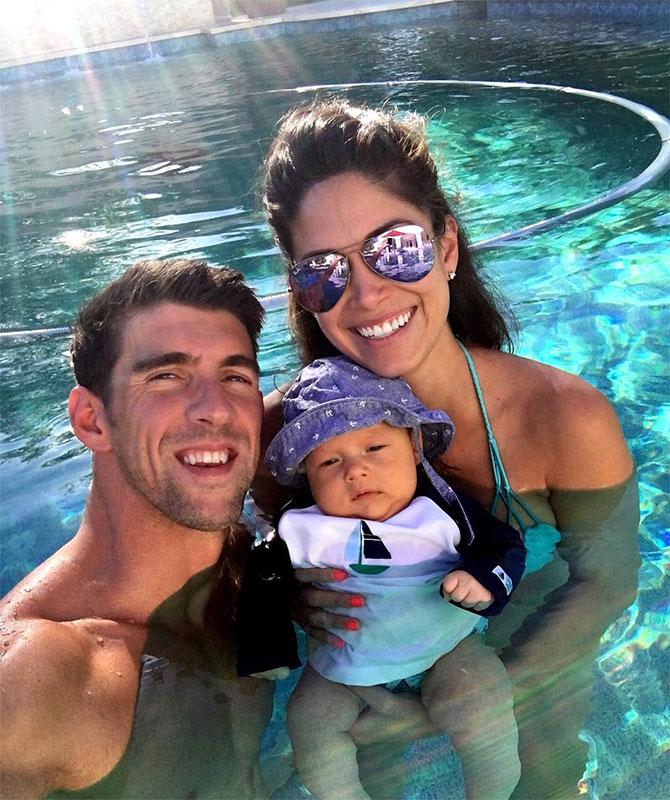 IMAGE: Olympian Michael Phelps' son Boomer takes a dip in the pool with his parents. Photograph: Kind courtesy Instagram
Birth date: May 5, 2016
No, it wasn't the bubble gum from India that inspired the greatest Olympian ever to name his son Boomer.
During an appearance on The Tonight Show with Jimmy Fallon, Michael Phelps revealed the origin story of Boomer's name.
Hear it in his own words: 'We heard the name, and we didn't want, like, a normal name, he told Fallon. 'And I brought it up to (then girlfriend, now wife) Nicole and she was like, "Oh, that sounds kinda cool".'
'Boomer, like boom boom -- we didn't know either,' he laughed. 'We had no second option -- once we picked that, we were like, "Yeah." I mean, he's definitely gonna be the cool kid.'
Izzy Oona Murphy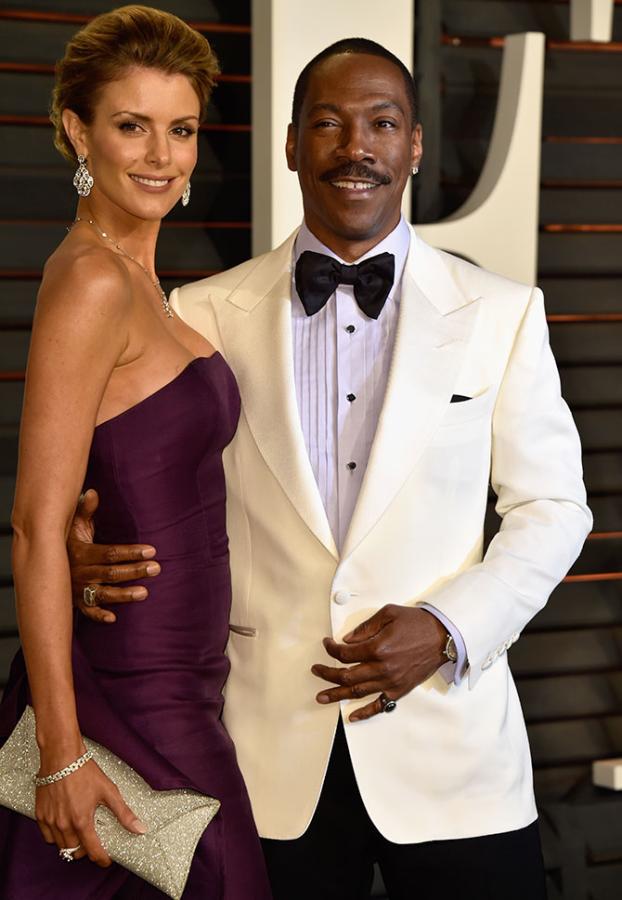 IMAGE: Paige Butcher and Eddie Murphy recently became proud parents. Photograph: Pascal Le Segretain/Getty Images
Birth date: May 3, 2016
Comedian Eddy Murphy welcomed his ninth kid -- with girlfriend Paige Butcher -- in the most unique way. He named her Izzy Oona.
Eddie's other kids had regular names -- Eric, Christian, Bria, Myles, Shayne, Zola and Bella. He shares two kids with ex-wife Nicole Mitchell -- Angel and Melanie Brown.
Maybe he got creative this time.
Ode Mountain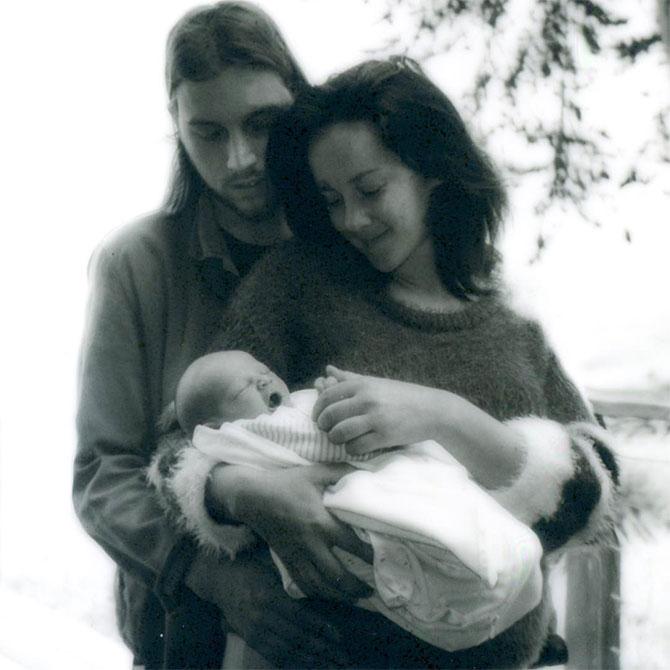 IMAGE: Ode Mountain's first pic revealed by parents. Photograph: Kind courtesy Instagram
Birth date: May 31, 2016
Musicians Jena Malone and Ethan DeLorenzo welcomed their first child this year.
The couple chose to name their child Ode Mountain.
Like seriously? Was the duo tripping on names for their next album when they picked their baby's name?
Journey River Green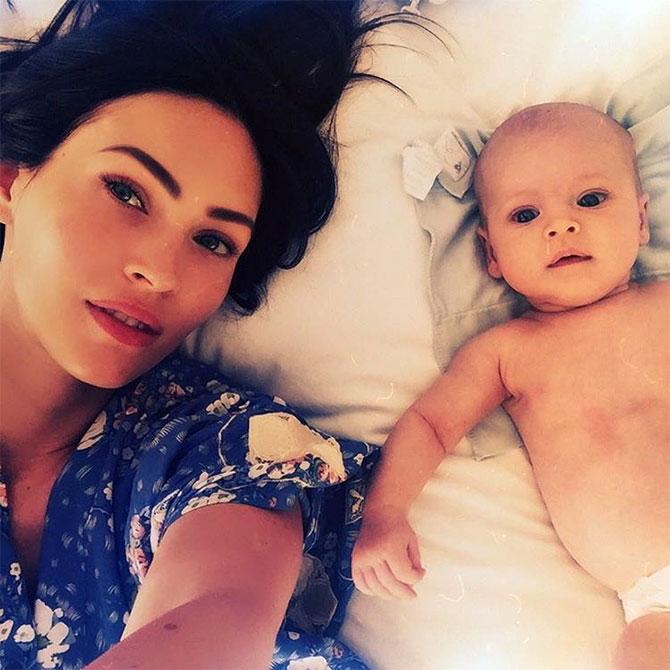 IMAGE: Megan Fox with her newborn Journey River Green. Photograph: Kind courtesy Megan Fox/Instagram
Birth date: August 4, 2016
Megan Fox must be a green panther in real life.
Why else would name their child three different nouns inspired by nature? Was husband Brian Austin Green involved too?
Fox has two other kids, Noah Shannon and Bodhi Ransom and is stepmother to son Kassius.
River Rocket
IMAGE: Chef Jamie Oliver and wife Juliette with River Rocket. Photograph: Kind courtesy Jamie Oliver/Instagram
Birth date: August 8, 2016
Kudos to your creative imagination, Jamie and Juliette!
Trust a chef who can create magic with ingredients to play with words too.
The couple have four more kids -- Poppy Honey Rosie, Daisy Boo Pamela, Petal Blossom Rainbow and Buddy Bear Maurice.
River Rocket has too much action in one name, don't you think?
Dusty Rose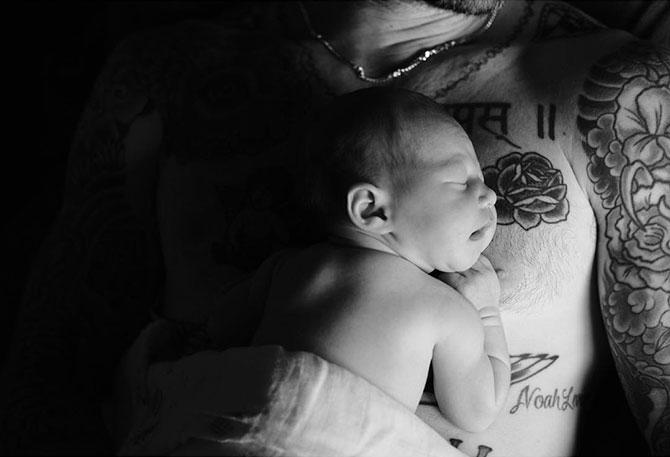 IMAGE: Dusty enjoys a cosy nap in her father's arms. Photograph: Kind courtesy Adam Levine/Instagram
Birth date: September 21, 2016
American singer and songwriter Adam Levine and model Behati Prinsloo named their baby Dusty Rose.
According to some reports, the duo could have drawn inspiration from 1960s music icon Dusty Springfield.
Anaca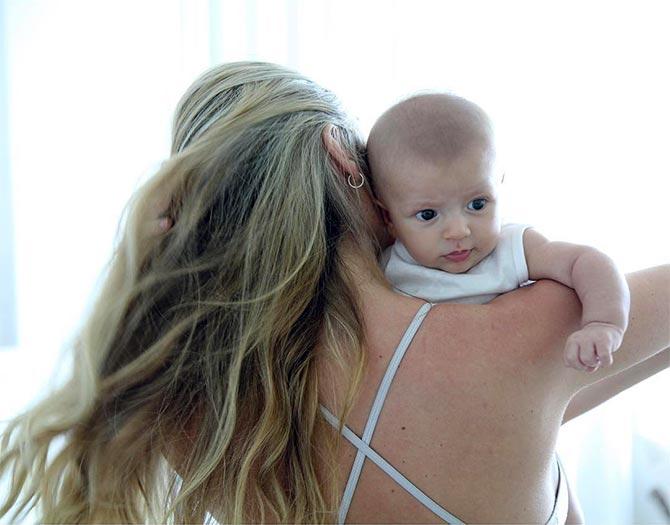 IMAGE: Isn't Anaca adorable like his mom? Photograph: Kind courtesy Candice Swanepoel/Instagram
Birth date: October 5, 2016
It was expected of model Candice Swanepoel who had a safari-themed baby shower to name her baby after a wild animal.
Anaca is derived from a parrot -- Canto Da Ave Anaca (the Red fan parrot).
Dream Renée Kardashian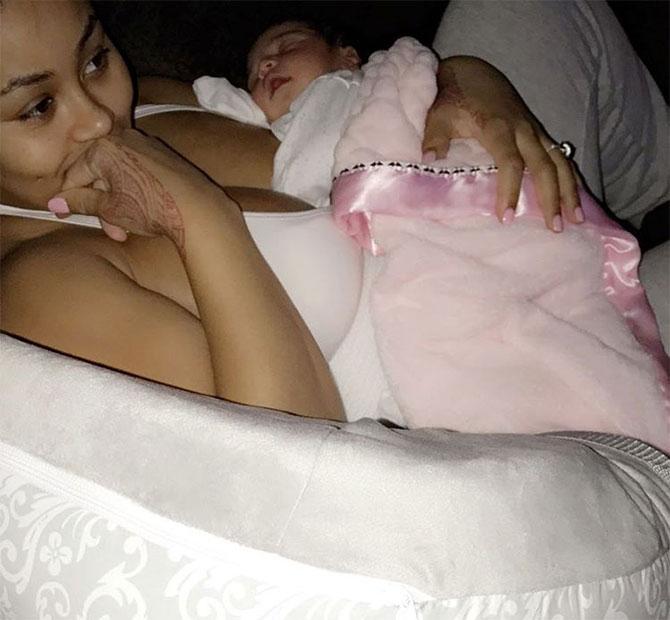 IMAGE: Blac Chyna poses with daughter Dream. Photograph: Kind courtesy Blac Chyna/Instagram
Birth date: November 10, 2016
The Kardashian-Jenner family take the cake when it comes to baby names.
And Rob Kardashian and Blac Chyna were just trying to fit in when they named their baby Dream in November 2016.
As for the reason behind the name, both parents have confessed that their daughter was a dream the two cherished for long.
Arrow Ackles
IMAGE: Jensen and Danneel became parents to twins; their elder daughter is named Justin Ray. Photograph: Kind courtesy Jensen Ackles/Instagram
Birth date: December 2, 2016
Actors Jensen and Danneel Ackles were probably switching between watching a mythological film and a music concert when they named their twins.
Jensen announced the news of his twins on Instagram on December 2.
'Danneel, JJ and I are excited to announce the birth of our twins Zeppelin Bram and Arrow Rhodes,' Ackles wrote on his account.
Between Arrow and Zeppelin, which one you think is more unusual?
By the way, the twins have an older sister, Justice Jay.
Deveraux Octavian Basil Jagger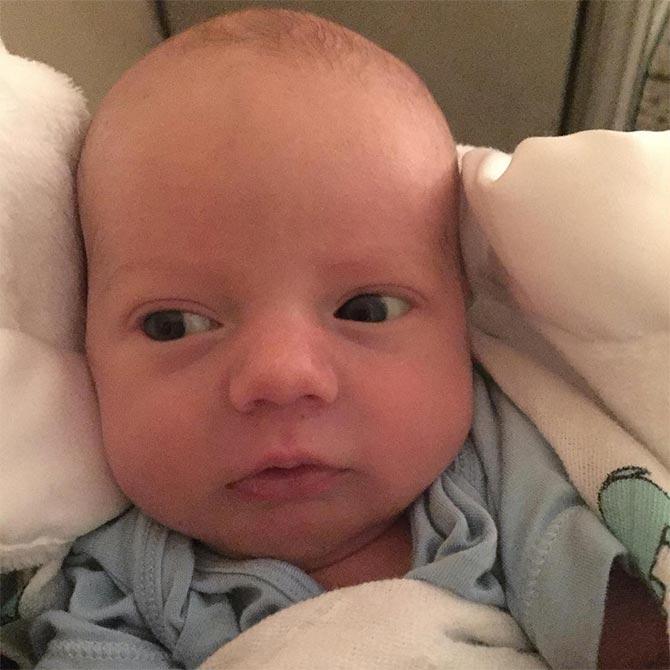 IMAGE: Jagger's girlfriend Melanie Hamrick revealed this cute picture of the new addition to the Jagger family. Photograph: Kind courtesy Melanie Hamrick/Instagram
Birth date: December 8, 2016
Mick Jagger became a father for the eighth time this year.
The 70-year-old rock star, who is old enough to be a great grandfather, named his newborn Deveraux Octavian Basil Jagger.
While Basil is Jagger's father's name, Octavian means eighth in Latin. But what's with Deveraux? It seems to have a French connection.