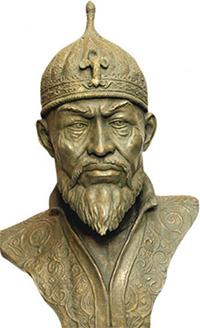 When Saif Ali Khan and Kareena Kapoor-Khan decided to name their first-born Taimur, Syed Firdaus Ashraf delved into history to bring into focus the fierce warrior king who bore that name many centuries ago.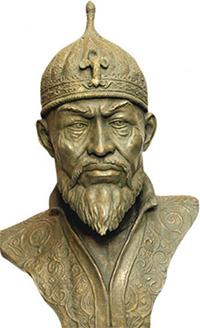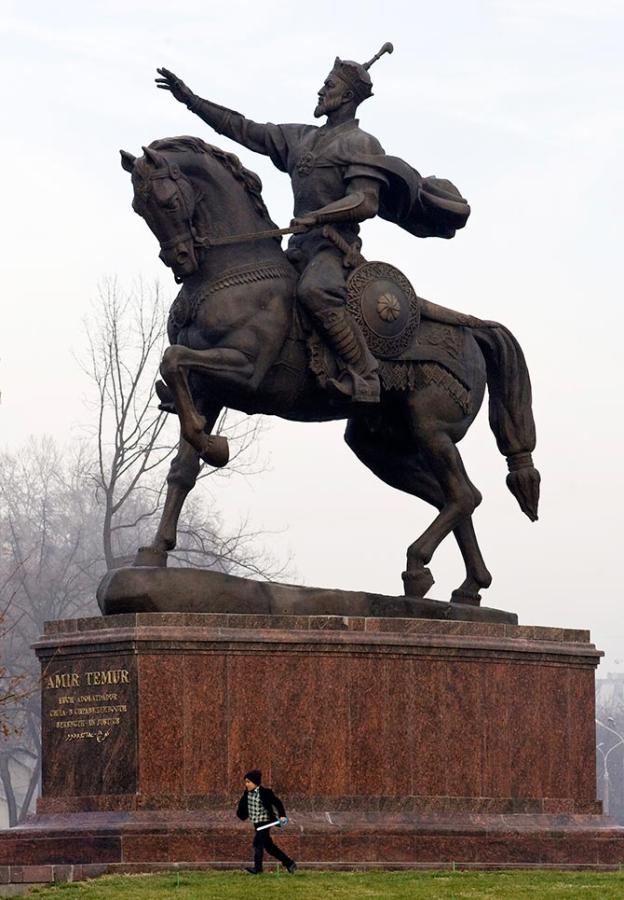 IMAGE: The monument to Amir Timur, the 14th century conqueror and founder of the Timurid Empire, in Tashkent, Uzbekistan. Photograph: Shamil Zhumatov/Reuters
Remember all those history classes in school? That's where you probably heard about Timur, or Taimur Lang as I remember it, for the first time.
After the exams, we never really thought about Timur, the warrior who wrested Delhi from the Tughlaq dynasty.
Until the Kapoor-Khan couple, Kareena and Saif, named their newborn son, Taimur Ali Khan Pataudi.
Though this little boy, who is not even a day old, is the focus of everyone's attention, there was another Timur, centuries ago, who rewrote history with his sword.
The origin of that name is even older.
When the Tatars (the Turko-Mongols) first came across iron, even the strongest among them could not -- as they were able to do with other metals -- bend it. So they assumed that it must contain, hidden within, some strong unknown substance.
They gave it the name 'Timur,' which meant something filled or stuffed.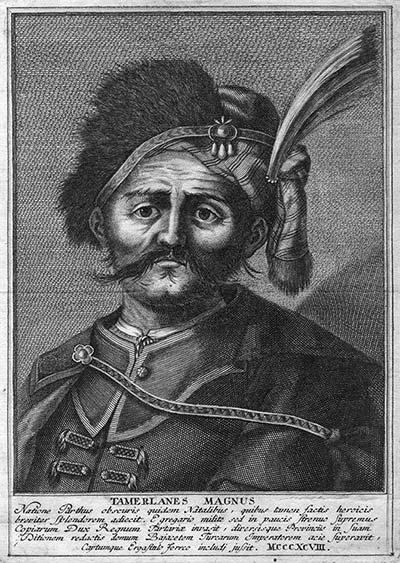 IMAGE: Timur the Lame. Photograph: Hulton Archive/Getty Images
Lord Kinross, in his book The Ottoman Centuries (The Rise and Fall of the Turkish Empire), writes that it became a custom with the Tatars to bestow the name on their great leaders, thus acknowledging in them something beyond ordinary physical strength.
Among these, Timur the Tatar ranked as the greatest of all such 'Men of Iron,' for he aspired to nothing less than the conquest of the world, contending that 'as there was only one God in Heaven, so there should be only one ruler on Earth.'
Napoleon Bonaparte may have famously said 'Impossible is a word found in the dictionary of fools,' but he had to eat his words as he stared defeat at Leipzig and Waterloo.
But Timur, who was born four centuries before Bonaparte, in 1336, proved that there was no such word as 'impossible' in his dictionary as he went to win battle after battle.
Only two other historical figures qualify for the epithet of 'world conqueror' -- the first name on that very limited list is Alexander The Great; the second is Chengiz Khan, followed by Timur.
Timur's achievements were considered superhuman by his contemporaries.
As a child, he was believed to have been told by his father, Taraghai, 'The world is no better than a golden vase filled with scorpions and serpents.'
This, perhaps, is the reason Timur chose to rule without ministers; his personal domination was absolute.
'Timur walked with a limp,' Lord Kinross writes, 'whether due to an inborn paralysis, to an accident, or to a wound in battle, so it was said, from an arrow in the foot.'
As a result, he was also called Timur the Lame or Timur Lang.
His disability did not come in the way of his ambition. Soon after his invasion of India, the Tughlaq dynasty, that had established its reign in Delhi in 1320, collapsed in 1413.
From his capital, Samarkand (now in modern day Uzbekistan), Timur established his firm rule over an empire that extended eastward to the Great Wall of China, northward into the steppes of Russia, southward to the Ganges and the Persian Gulf, and westward into Persia, Armenia and the upper waters of the Euphrates and Tigris -- and thus to the borders of Asia Minor.
Beyond them spread the only other great Muslim empire, that of the Ottomans, ruled by Bayezid.
The European kings relied on Timur to save them from Bayezid's clutches.
Christian Europe feared it would lose its lands to the Muslims because Bayezid was moving swiftly towards Constantinople and there was no Christian king powerful enough to halt his progress.
Luckily for them, Bayezid made one mistake that turned Timur's attention towards him rather than Europe. He captured the city of Sivas (in modern day Turkey), which angered Timur.
Quoting the historian Edward Gibbon, Lord Kinross writes, 'Timur was impatient of an equal and Bayezid was ignorant of a superior.'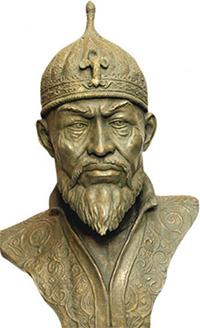 In one of their correspondences, Bayezid enraged Timur further when he wrote, 'If I fly from thy arms, may my wives be thrice divorced from my bed; but if thou has not courage to meet me in the field, may thou again receive thy wives after they have thrice endured the embraces of a stranger.'
Timur, Lord Kinross writes, served Bayezid a humiliating defeat at the Battle of Ankara in 1402.
'Legends of Timur's treatment to Bayezid abound: That he was kept in chains by night; that he was made to serve as Timur's footstool; that in appropriating Bayezid's harem, Timur humiliated his Serbian wife Despina by obliging her to serve naked at the table before her former lord and his conqueror. His suffering broke Bayezid's spirit and finally his mind.'
Within eight months Bayezid was dead and Timur showed no further interest in conquering Europe. Thus, for the time being at least, Europe was saved because of Timur.
Mehmed II, Bayezid's descendant, conquered Constantinople in 1453 and renamed it Istanbul.
A hundred years later Timur's descendant, Babur, conquered Delhi by defeating Ibrahim Lodi -- Saif Ali Khan's older son from his first marriage to Amrita Singh is called Ibrahim -- at the battle of Panipat in 1526.
Six powerful dynasties established their imprint on the world during Timur's lifetime --- the powerful Mongol Khan of Serbia, the mighty Ottoman Turks, the formidable Mamlukes of Egypt, the Emperor of China and the Muslim rulers of Baghdad and Delhi.
Timur defeated five of them and was on his way to China to wage a war against the sixth when Death, finally, defeated him.