Christmas is still a month away but Chef Sandeep Rana wants you to test your pastry skills with his homemade Chocolate Lava Kulfi Cupcake served, interestingly, with malai kulfi.
And turns out, it's a match made in heaven: The gooey cupcake goes rather well with the creamy kulfi.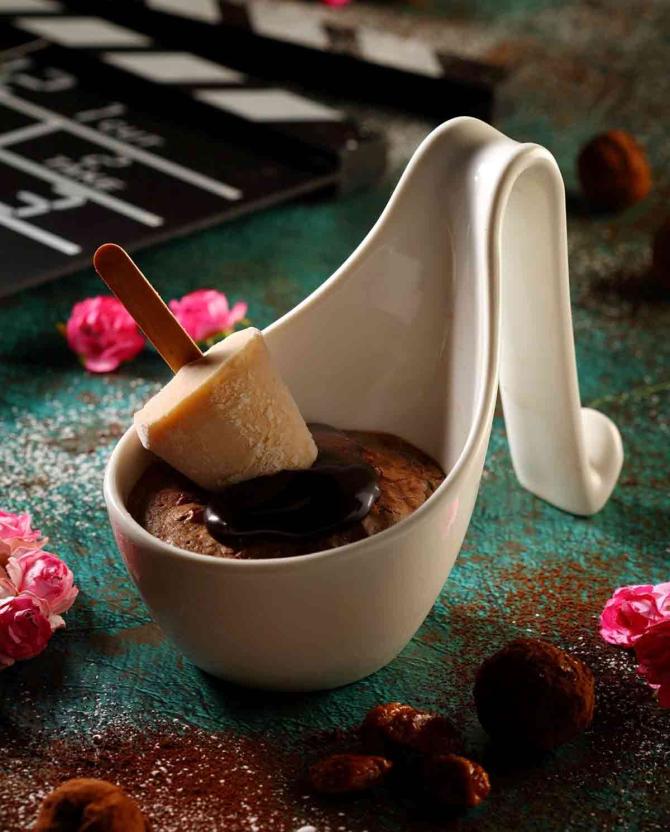 Chocolate Lava Kulfi Cupcake
Servings: 12 portions
Ingredients
270 gm chocolate, chopped, preferably a bitter-sweet variety like an 85 per cent cocoa bar
270 gm unsalted butter, at room temperature (unsalted butter is easily available in gourmet food stores)
260 gm castor sugar (a kind of finer sugar manufactured by top baking brands)
10 eggs, at room temperature
145 gm flour
12 cupcake moulds or a 12- or 6-cupcake baking tray
Butter or ghee to grease the moulds
To serve
Method
Microwave the chocolate in a glass bowl for 20 seconds.
If it doesn't melt, heat for a further 20 seconds.
Keep checking the chocolate and don't keep too long in the microwave or it may burn.
Alternately, create a water bath for the chocolate by filling a larger pot halfway with boiling water.
Fill the chopped chocolate in a smaller pot and place it inside the larger one.
Make sure the water doesn't enter the smaller pot.
Ideally the smaller pot should sit in a few inches of water only.
Stir the chocolate gradually as it begins to melt.
Once melted, place in a deep bowl and add the butter.
Mix until smooth.
Keep aside.
Beat the eggs with a rotary egg beater or with an electric hand-held mixer/beater on medium speed until frothy and the eggs appear to double in volume.
Slowly add in the castor sugar, while the beater is running.
Fold the melted chocolate into the egg-sugar mixture with a spatula, until well combined.
Gently fold in the flour until no lumps are visible.
Butter the baking cups or cupcake tray and then lightly dust with flour.
Pour the chocolate lava batter into the cups and bake for 10-11 minutes at 180°C in a preheated oven.
If the cupcakes have developed a springy, firm but soft crust and remain molten inside, take out of the oven.
Transfer each into a dessert dish and serve warm, each with a malai kulfi popsicle.
Chef Sandeep Rane is the corporate chef for the bakery and confectionery division at Hitchki, Powai, Mumbai.