Say cheers to a fun-filled week with these healthy and yummy recipes for thirst quenchers by food blogger Taruna Bakshi.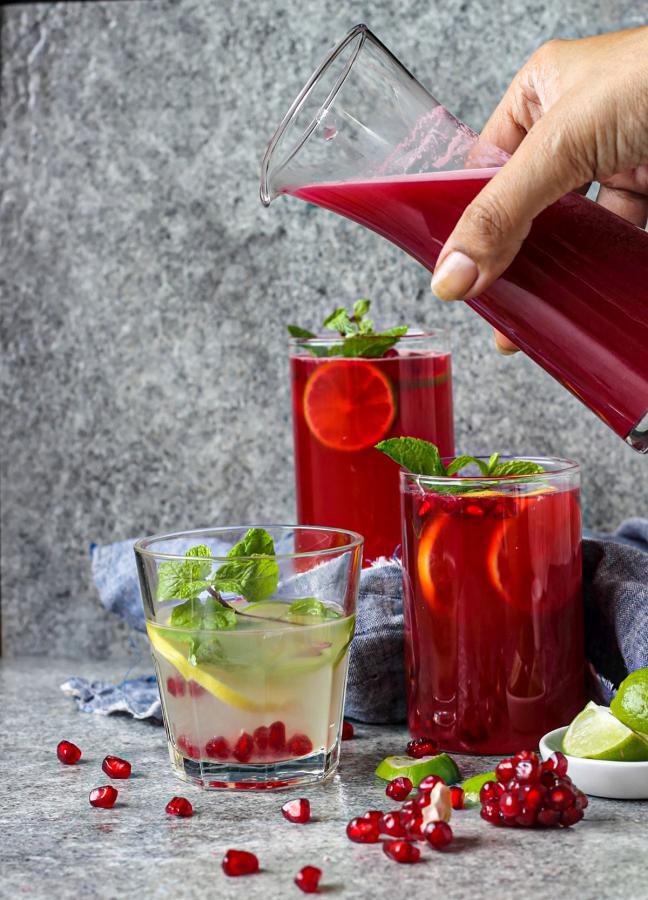 Pom Limeade
Serves: 4-5
Ingredients
250 ml pomegranate juice, strain it if you are using freshly squeezed juice
½ cup concentrated lime juice
3 cups water
6-7 tbsp sugar
Plenty of ice cubes
Lime slices, for garnish
Pudina or mint leaves, for garnish
Method
Pour water and sugar into a pot.
Heat and stir.
Let the water boil for a minute or two.
Turn off the heat and let it cool.
Strain and add the lime juice.
In individual glasses add ice, about 1/3 of the glass or more.
Then pour the lime juice over it, till the glass is 2/3rds full.
Pour pomegranate juice over the lime juice.
Garnish with lime slices and mint leaves. Serve immediately.
---
Strawberry Limeade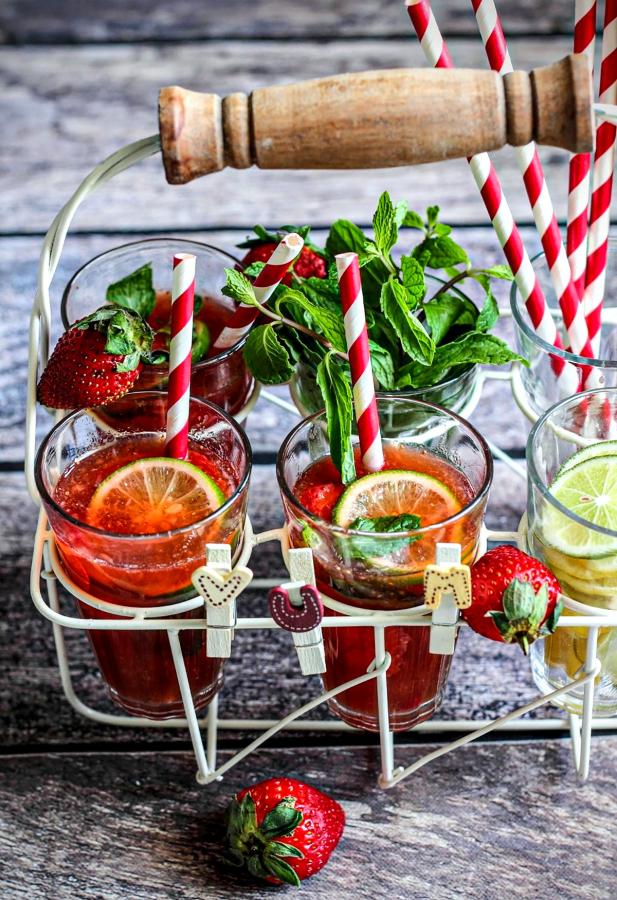 Serves: 4
Ingredients
700 ml tender coconut water
130 gm strawberries
4 to 5 strawberries, sliced
4 tbsp lime juice, from two medium-sized limes
4-6 tbsp sugar, or as per taste, or any sweetener of choice
Plenty of ice
2 tbsp pudina or mint leaves
2 lemons, thinly sliced
A pinch red chilly powder or as per taste
¼ to ½ tsp kala namak or black salt
Method
Blend the 130 gm strawberries in a blender, along with 1 tbsp of sugar till the mixture is reduced to pulp.
Strain the blended strawberries, if seeds not wanted. I do not strain because I like the rustic look it adds to the limeade.
In a pitcher or mixing bowl, stir together the coconut water and the remaining sugar till it is completely dissolved.
Add the lemon juice and pulped strawberries and stir well. Adjust sweetness.
Add a pinch of chilly powder and ¼ tsp black salt -- adjust both as per taste -- and stir again.
Pour the strawberry limeade in glasses.
Add ice as per requirement.
Garnish with mint leaves, lemon slices and sliced strawberries.
Serve the limeade topped with ice.
Note: The coconut water can also be substituted for regular water, but tweak the quantity of sugar and lemon juice slightly.
The amount of sugar will depend on how sour or sweet the strawberries are.
Adjust the amount of strawberries or lemons as per taste.
Use a natural sweetener for a healthier strawberry lemonade -- like honey, maple syrup, agave nectar or stevia.
Taruna Bakshi lives in Mumbai and is the author of the blog Easyfoodsmith.