Kalpana Sunder acquaints herself with little-known, but fascinating traditions of the festival in Interlaken, the adventure capital of Switzerland.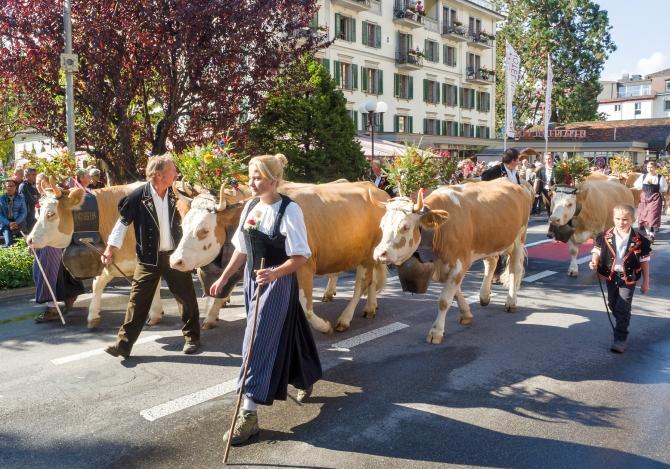 This traditional nine-day Unspunnen Festival brings together people from across rural Switzerland to celebrate their Alpine traditions.
Photograph: @James Petts/Flickr.
It's a sign from the heavens -- a bright, sunny day after two days of rain.
Jets manned by the Swiss air force thunder overhead, swooping over the serrated mountains and plunging deep between valleys.
As we rush to occupy our seats to watch the final parade, a farmer and his family in traditional garb walk with their prized possessions -- stocky cows with humungous bells around their necks, as well as goats and sheep. A small boy leads a frisky Appenzell goat with long white hair and no horns. Men in breeches hold cow bells and jangle them in orchestra. Farming groups sit on carts loaded with bales of hay and wheat brandish pitchforks, followed by a procession of monks in brown habits and cheese-makers with cheese-making contraptions.
I am in Interlaken, adventure capital of Switzerland (and tourism central for Indians), which is watched over by the mighty Eiger, Mönch and Jungfrau mountains.
I am here for the Unspunnen Festival, held once in 12 years.
This traditional nine-day event, in its 10th edition this year, brings together people from across rural Switzerland to celebrate their Alpine traditions. 'The valleys are usually cut off in winter and so the people developed rich cultural traditions of music, games and dance,' Silja Muller, my local guide, tells me.
Cow bells and yodelling may be Swiss stereotypes, but they are also essential parts of the daily lives of these villagers.
The festival gives visitors the opportunity to watch stone throwers, hornussen players, alphorn players, choral singers and flag throwers, and get a glimpse of rural Swiss traditions unknown to many.
'Switzerland has 26 cantons and more than 700 costumes,' Muller reminds me.
Lace and embroidery decorate the costumes and every canton has its variations in shoes, shawls, scarves, head-dresses and jewellery. I see leather garters and breeches, ornamental buckles on shoes, aprons of damask and lace, fan-shaped bonnets -- all ingredients of a grand visual feast besides, of course, crucial signifiers of identity.
How did the Unspunnen start?
Till 1803, Switzerland had a model of government where town and country enjoyed equal rights and the Bernese Oberland was autonomous. But this changed in 1803, when Napoleon wrote up a new constitution.
Unrest and revolt followed and the relationship between cities and rural areas suffered.
A festival that revived Swiss traditions was thought to be a good way to unite the two groups.
The centrepiece of the 200-year-old festival used to be the Unspunnen Stone. Not just any stone, it was a glacial boulder that weighed 83.5 kg. Naturally, throwing it was a considerable feat of athleticism.
I watch the modern version as men hold smaller rocks above their shoulders and fling it on sawdust, where markers measure the distances.
Yodelling started off as a means of communication between Alpine herdsmen from different slopes and to bring in the cows. The word yodel is derived from an old German word meaning to 'cry out with joy'. The songs sung by yodellers showcase life in the mountains, nature and home.
'Human voices have at least two distinct vocal registers, called 'head' and 'chest',' explains my guide. 'Yodelling leaps between these two ranges without using actual words.'
A stall at the festival showcases the game of hornussen, which originated in the 16th century in the Swiss region of Emmental.
This golf-meets-baseball game was originally played with a piece of wood and defended with a wooden paddle. The modern version features a carbon-reinforced fibreglass fishing rod-like contraption.
In the afternoon, I watch alphorn players line up in front of the casino house. It's drizzling, and many wear rain ponchos over their beautiful costumes and music notes clipped on to their alphorns. But as the first sonorous notes ring out, I am caught in the beauty of the moment. One filled with the magic of mountain scenes and edelweiss, valleys and shepherds.
Fascinatingly, the young and old seem equally interested in nurturing their ancient customs.
They take yodelling classes twice or thrice a week, or learn folk dancing.
I talk to Fanny from the Jura region, who is only 15 years old, and plays the alpenhorn expertly. I also meet Marcos, 64, who took up the alphorn after he retired and today plays with a group from his canton.
Perhaps, it's this enthusiasm that makes the Unspunnen a true showcase of Swiss traditions rather than a gimmicky tourist festival.