Experience Co. designs journeys and interventions for artists, musicians, designers, filmmakers and entrepreneurs through its projects -- the Roadtrip Experience and the Beach House Project.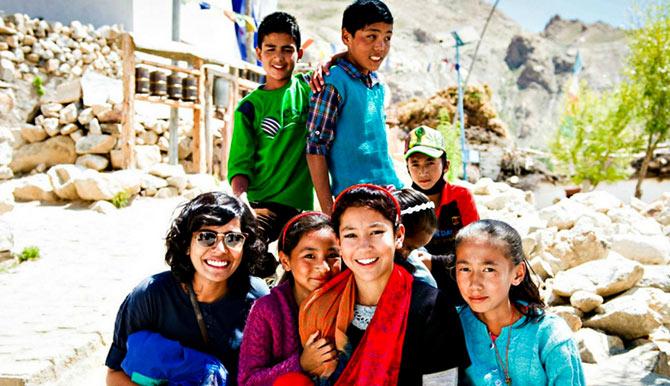 All photographs: Kind courtesy Yourstory.com
Most artists and creative minds dream of jamming it with like-minded doers and go-getters, but creating such an opportunity and experience doesn't always come easy.
If you are someone who's looking for one such experience, then Experience Co. may be the place for you.
The creators of Experience Co. reassessed how travel and network is perceived in the country.
In attempt to redefine travel they came up with the Beach House Project and the Roadtrip Experience Project -- two initiatives that are new-age conversation and collaboration spaces that bring influencers and movement creators together to connect, collaborate and create while traveling.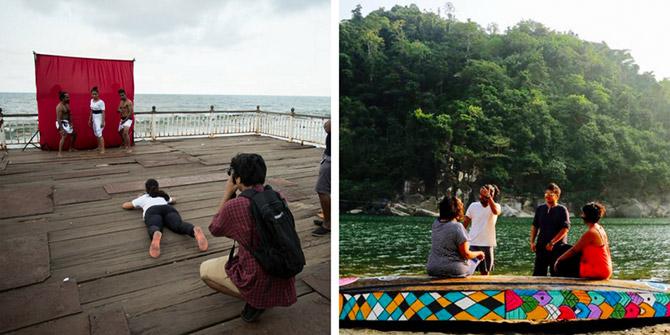 Shooting a 500-year-old martial art form.
Gathering doers, creators and influencers
Jaytirth Ahya is the founder and the brains behind The ExCo.
With an aim to bring influencers, culture-shifters and movement creators together to associate, collaborate and create while voyaging, Jaytirth set up The ExCo in 2014.
He dreamed of a community of ever-growing eclectic storytellers, musicians, entrepreneurs, influencers, go-getters and the trendsetters in an effort to be sustainable and generate impact.
"When we launched the first Road Trip Experience Project, it started with a question.
"But after the first project, it became very evident to us that there are more spaces that are required to bring people together -- people who will never meet otherwise because they do not belong to the same skillset or geography," Jaytirth says.
"But it is essential for these individuals to meet each other and talk about things that will help them grow, see new perspectives and make them better at what they do," the 27-year-old adds.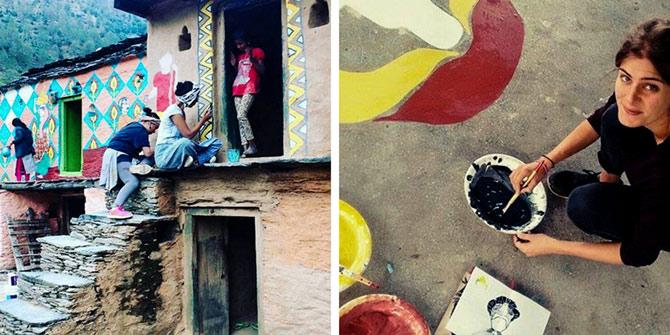 The joy of painting walls of homes!
He is an experience designer by profession and previously travelled with 100+ creators and networkers.
Specialising in creating experiences for artists, planners, producers and entrepreneurs, the idea remains the same -- bringing them together and enabling independent conversations.
Jay remarks that figuring out ways to enable conversations and collaborations in a creative ecosystem was not an easy task.
In the conversation, Jay reveals how intricate and lengthy the logistics and the planning get.
At the same time, the process of inducting people on every experience is a sensitive task.
The location, projects and potential collaborations all follow up, all being equally demanding in their own merit.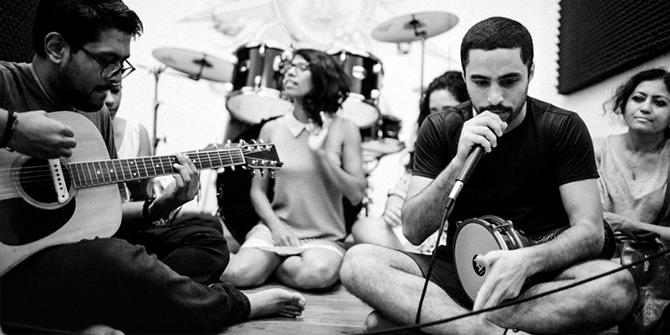 A jam session in progress.

Jay adds, "Conversations can happen for sure. I believe in that.
"Seeing potential in the creator's perspective and finding inspiration to make it a reality is what Experience Co. strives to achieve."
People who envision new, great ideas or cultivate passions that are old, people looking for new direction or overcoming a creative block -- our experiences are cut out for the new-gen hustler.
Jay credits a great deal of his understanding to the invaluable efforts put in by his team and the team is a magnetic one.
With analytical thinkers, chroniclers, revolutionary designers and muralists -- Charan GP, Kritika Hora, Tanya Gupta, Poornima Sukumar, Priyanka Nagarajan, Adrita Das and Drishti Sharma, along with Jay himself are devoted to build conversations and document journeys, to make things happen.
The offerings
Walking us through Experience Co. Jay talks about it's primary offerings -- The Beach House Project (BHX) and The Roadtrip Experience Project (RTX).
Roadtrip Experience is better understood as the most worthwhile handshakes across geographies, skill sets, exchanging inspiration, explorations with a knack for giving back to the community.
"BHX, meanwhile, is for the entrepreneur indulging on a brain vacation.
"It creates spaces of entrepreneurs to grow their business and have conversations in a laid back beach house while exchanging perspectives, challenging the known, sharing inspiration and most essentially learning from each others' successes and failures," says Jay.
Over the next two years, Experience Co. aims to create more experiential and collaborative properties, writing residencies, village experience projects, among others.
This is done in an attempt to find new ways to connect various kinds of creators and doers, document and impact the local life positively and enable conversations as they proceed.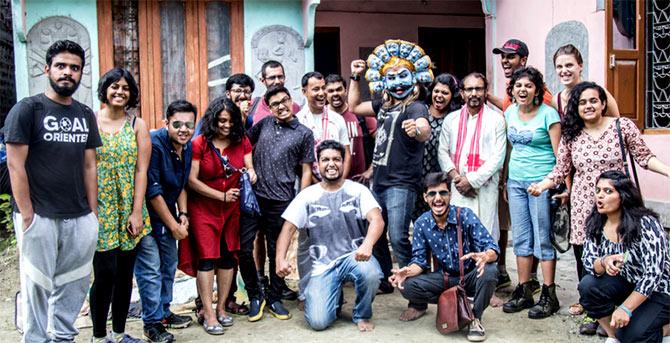 Participants gather for a photo during one of the trips.

A look at the projects
ExCo. did their first RoadTrip Experience project in August 2014, in Spiti and Lahaul, and their first Beach House Project in September, 2016 at Goa.
Till date, the ExCo, has done three RoadTrip Experience Projects and four Beach House Projects, with the last one in Goa in September, 2017.
The next Beach House Project is slated to begin on December 17, 2017, at a 19th century British bungalow in the hill station Kumaon, Uttar Pradesh.
The cost to attend will be ₹ 38,999, which includes stay for a week, food, workshops and activities throughout the week, including apple picking, orchard walks, jam making sessions, stargazing sessions with telescopes.
Over the past three years, they have had over 130 attendees and done seven projects to date.
The ExCo has 100+ collaborators currently as part of its community.
"We are proud to be part of over 50 collaborations over the years.
"To give you a sense of the kind of collaborations we have created in the past within our community: we have created four soundtracks, two giant murals, revived an old beach house affected by tsunami, shot three documentaries, created photo projects of over 500+ pictures and worked with over five different brands including The Roadster Project," says Priyanka Nagarajan, one of the curators at ExCo.