What makes Jaipur special is its ability to capture the imagination of a tourist in a short span of time.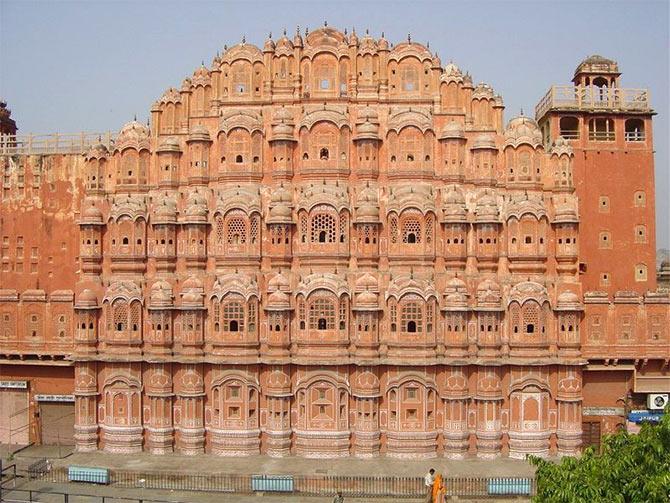 Photograph: Joanjoc/Creative Commons
Resonating centuries of folklore and reflecting diverse colours and designs, the city of Jaipur is home to a number of heritage sites and striking monuments.
A popular getaway from Delhi and also a vortex of the Golden Triangle of tourism, a visit to the 'Pink City' is a must in every explorer's itinerary.
Apart from its sight-seeing grandeurs, the city boasts a unique shopping and gastronomical experience.
What makes Jaipur special is its ability to capture the imagination of a tourist in a short span of time.
If you have just one day at your disposal, a quick visit to some of these hot-spots is enough for Jaipur to leave its impact on your mind.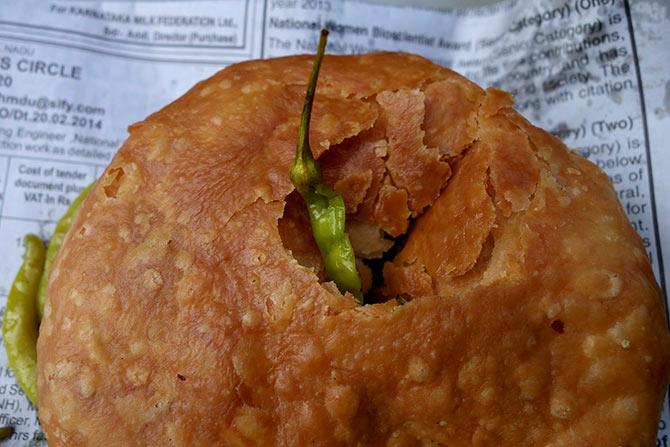 Photograph: Rajesh_India/ Creative Commons
8 to 9 am
If you want to make the most of the city, the best way to start your day is with a power-packed breakfast at Chaura Rastas' Samrat Sweets.
One serving of their delicious crispy kachoris along with some hot piping jalebis is good enough to take you through the day.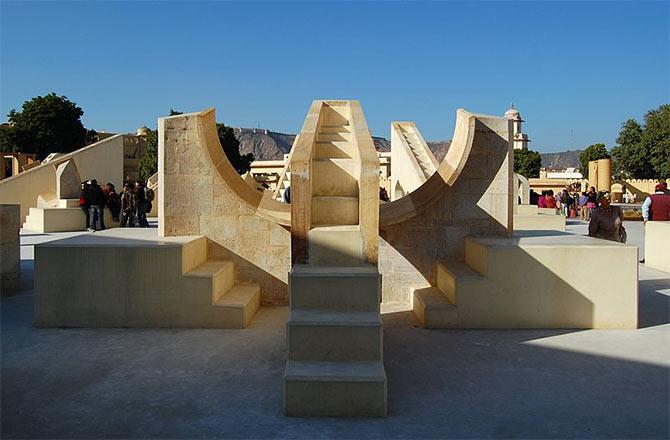 Photograph: Marcin Bialek/Creative Commons
9 to 1 pm
After a delightful breakfast, it's time to visit some of the most popular places around the city.
Jaipur boasts about a number of royal palaces and novel forts.
Since it is next to impossible to visit every single heritage site, the must-visits include the famous Hawa Mahal, the observatory Jantar Mantar, Albert Hall museum and City Palace.
If planned well, you can cover these places in a span of 4 hours since most of these monuments are located within close proximity.
A single ticket to visit all these places is available. So, do inquire about the same.
Photograph: Rajesh_India/ Creative Commons
1 to 2 pm
It's time for a delicious Rajasthani thali, which includes the traditional dal batti churma.
Keep your lunch light, but do include some of the popular mithais.
Do not forget to try out the delicious Ghewar and the sinful Mawa Kachori at one of Jaipur's popular sweet mart, Rawat Misthan Bhandar, which is located close to the railway station and bus stand.
Photograph: Sindhu M.V./Folomojo
2 to 4 pm
Straight after lunch, head towards the city's Amer Palace, also known as Amber Fort.
One of Jaipur's principal tourist attractions, you can trek up to the fort from the road on an elephant.
Hiring a guide will be of help at this heritage site, as the fort is known for its blind alleys.
The main attraction in the fort is the Jai Mandir (Hall of Victory), which is noted for its multi-mirrored ceiling.
The fort showcases a light and sound show in the evening, but you won't miss much in case you cannot squeeze time for the same.
Though there are other forts like the Nahagarh and Jaigarh Fort, in a day's visit, it won't pinch you much if you give these two places a pass.
However, do ensure that you make the most of your time at the Amer Fort.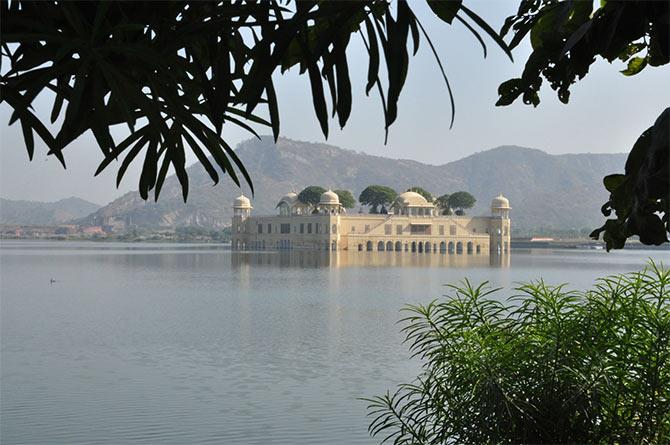 Photograph: Dipankar Paul/Folomojo
4 to 5 pm
The beautiful Jal Mahal in the light of the setting sun is a must-see.
Enjoy a stroll in the evening and relish the stunning architecture of the palace.
This is also your time to take a break and relax before you head towards exploring the city's bazaars.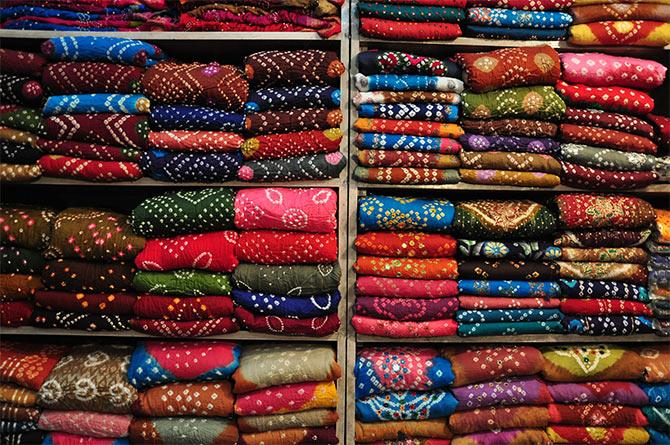 Photograph: Dipankar Paul/Folomojo
5 to 7 pm
In a colourful city like Jaipur, one cannot resist the temptation to shop.
A visit to the famous Bapu Bazaar, Tripolia Bazaar and Johri Bazaar is every shopaholic's dream come true.
Right from the traditional lac bangles and a variety of exceptional gemstone work, to the typical Jaipuri bedsheets and jutis, to the colourful jholas and the innumerable artefacts, the city's shopping spread will fascinate one and all.
You may want to carry an extra bag along with you when you travel, only to fill it up with all the goodies you pick up.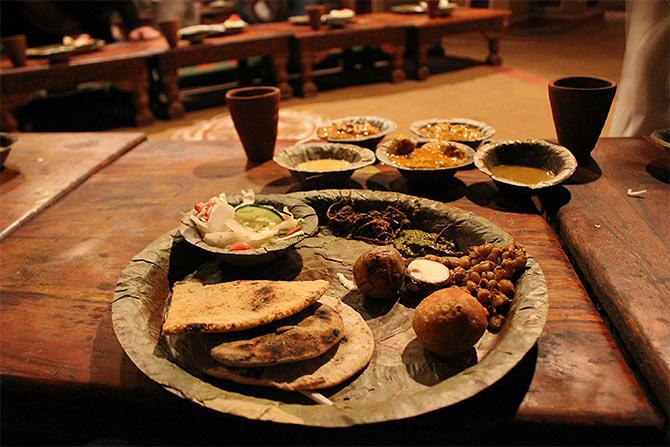 Photograph: Sindhu M.V./Folomojo
7 to 10 pm
The best way to bring your visit to Jaipur to a grand end is by spending the evening at the famous Choki Dhani.
Encapsulating the spirit of Rajasthan, the Chokhi Dhani village brings you closer to the roots and essence of an Indian village life.
Located amidst a natural scenic view, you will experience the earthy and rustic flavours of Rajasthan through the various dance, music and puppet shows.
You can also enjoy camel and elephant rides along with other skilled games.
The highlight of the place is the traditional Rajasthani food offered at different dining halls.
You can either choose to enjoy the authentic cuisine on a leaf platter like a commoner or relish a royal treatment with food served in silverware.
Irrespective of which dining hall you choose, the food that is cooked in pure desi ghee and served along with a huge assortment of savouries and sweet will leave you licking your fingers.
Top Tips
The best way to travel around the city is to hire a cab, which will take you around all the places. The charges would range between Rs 1500 to Rs 2000.
The best time to visit Jaipur is between December and February. Do carry woollen clothing around this time because the temperatures will dip in the evening.
If you are on a constrained budget, Jaipur has several hotels and lodges in different parts of the city that offer you decent rooms and services.
In case you visit the city during the months of summer, it is advised to carry enough supply of drinking water while travelling.
Don't hire a guide who does not have an authorization from the tourism department. They might offer cheaper services, but may end up mugging you.
Also Read:
6 unbelievable places on Earth