Hard to believe that some of these surreal places do exist.
The vast dusty reddish stretches in Ridley Scott's The Martian looked so forlorn and out-of-the-world that for a while we thought we actually landed on the red hot planet with a heavy thud just like Mark Watney.
But as we came to senses, we realised it was very much our own soil.
The landscape of Wadi Rum in South Jordan looked so much like a patch of land from another world that we almost felt we were in the outer space.
The 278-square mile protected area called Valley of the Moon looks like a piece borrowed from our neighbour Mars.
Well, Wadi Rum is not the only alien-esque place on earth.
There are a panoply of places that will make you feel like you are on another planet. Here are six such stand-ins:
Socotra Island, Indian Ocean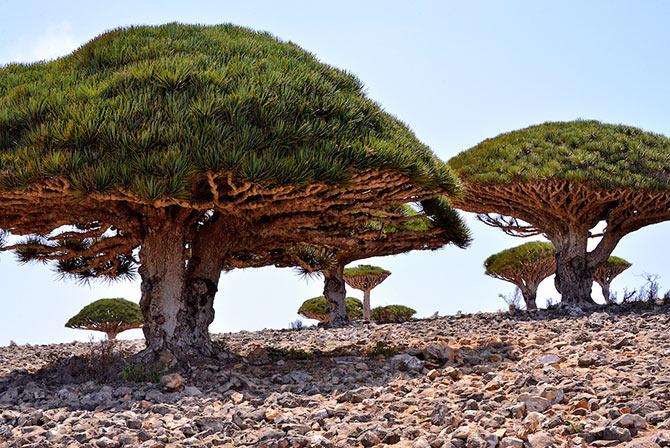 Located in the Indian Ocean, it is part of a group of four islands.
What makes it look alien-esque is its flora that is unique to this place.
It houses about 250 species of plants that are not seen anywhere else on earth.
Canopy-topped dragon's blood tree and think-trunked desert rose are the botanical icons of the island.
The dragon's blood tree oozes out blood-red resin if you pierce the trunk.
Desert rose grows to 10 ft and blooms too.
Photograph: Rod Waddington/Creative Commons
Rio Tinto, Spain
It literally translates to 'red river'.
The lunar-like landscape with a conspicuous red colour is due to a mix of rare bacteria with a low oxygen count and pollution from mining.
Mining has been going on here since 3000 BC. And these giant opencast mines give it the surreal look.
The outlandish landscape has even prodded the NASA to study its composition.
It looks so bloody that it will creep you out in no time.
Photograph: Riotinto2006/Wikimedia Commons
Spotted Lake, Canada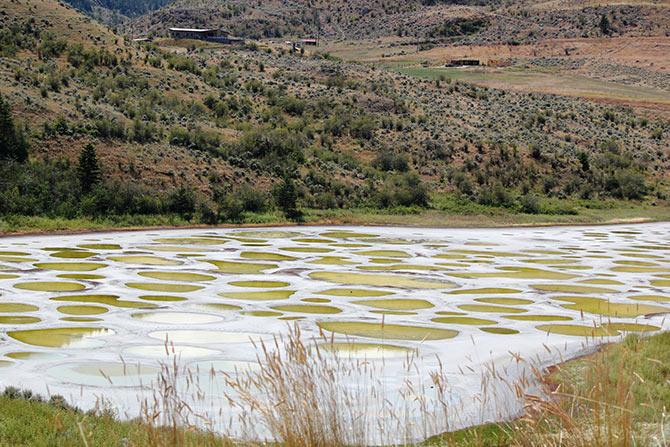 The water in this 61-acre lake contains one of the world's highest concentrations of minerals.
Such high levels of minerals like magnesium, calcium, silver and titanium are the reason behind the water reflecting colours like blue, green and yellow.
When the water evaporates and minerals get crystallised.
This forms several white-rimmed circles.
Water in these shallow pools reflects shades of blue and green.
Photograph: Marcia O'Connor/Creative Commons
Salt Flats, Bolivia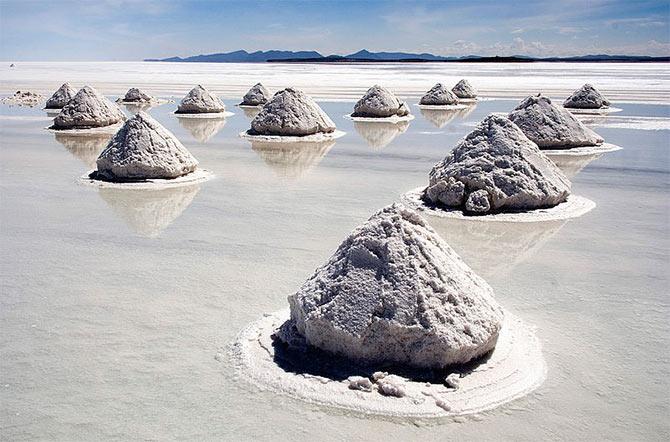 They are believed to be 30,000 years old and were created when Lake Minchin dried up.
Called as Salar de Uyuni, today, 10 billion tons of the salt spread across 4000 square miles look no less than a natural wonder when they create stunning mirages.
That looks so out-of-the-planet!
Photograph: Luca Galuzzi/Wikimedia Commons
Stone Forest, China
Known as the First Wonder of the World since the Ming Dyansty, the towering rock structures seem to emanate from the ground creating the illusion of stone-stiff trees.
It is actually a process carried out due to water erosion.
Photograph: shi zhao/Creative Commons
The Richat Structure
Also called the Eye of the Sahara, it reminds us of the Eye in Lord of the Rings.
Earlier believed to be formed by a meteorite impact, now geologists state that it is caused by uplift and erosion.
Made from sand and bare rock, the 40-km wide geological anomaly is visible from space too. However, it's circular shape is still a mystery.
Photograph: Atamari/Creative Commons
ALSO SEE: India in 10 stunning photographs