A hamper of fresh Darjeeling tea takes the author back to warm days and cold nights in this colonial town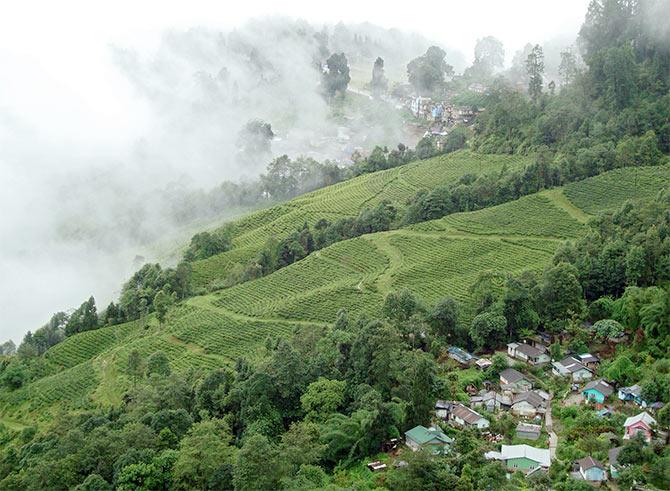 Photograph: Joydeep/ Creative Commons
The other day, I received a Diwali hamper of fresh tea from Darjeeling.
I prepared myself a pot of the delicate golden brew that so many liken to fine champagne.
One whiff of its fragrance and I was transported back to my time in Darjeeling last winter.
Darjeeling is a quiet little town with precipitous slopes, narrow roads and diesel-fume-spewing traffic.
The best way to get around is on foot, so that one may eschew the main roads in favour of its tea bush-speckled hillsides.
Naturally, my first instinct upon reaching there was to go for a walk inside a tea garden.
While all the gardens were privately owned, most of them were quite hospitable to walkers, as long as they stay on the paths.
A shrub by the path was abloom with fragrant white blossoms. From the girth of its stubbly trunk, I surmised it must be very old.
A gardener working nearby told me this was a Camellia bush.
Did I know, he asked, that this was a relative of the tea bush, aka Camellia sinensis?
He told me that Scottish planters introduced tea to India, carrying seeds and tea plants in terrariums, bottle gardens in the 19th century.
"Can you imagine? Before then, there was no tea in India…" he said.
I wondered aloud what people drank to pass time, banish sleepiness and pleasure their taste buds before tea came along. Of course he hadn't a clue, but he showed me his version of it -- an old plastic bottle filled with a cold, salted brew of milk tea.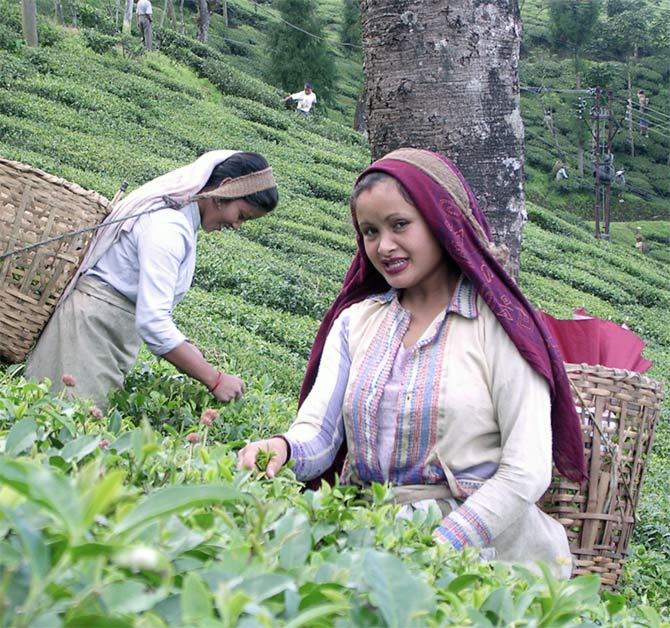 Photograph: Benoy/ Creative Commons
"It is so refreshing," he said, "that locals drink this all the time!"
I watched a distant group of woman tea pickers, singing as they plucked. "Each of them will have their own bottle of tea to sustain them through the day," he said.
My wonderment at their peculiar choice of beverage must have shown on my face, for he laughed: "To us, it seems equally strange that you all like your tea hot and sweet!"
Having been to other tea-growing regions like Munnar and Kangra, I was struck by the steepness of Darjeeling's slopes.
It is said that this nature of its slopes impart a special aroma to the tea grown here, which is why Darjeeling tea has acquired the status of a Geographical Indicator.
In parts, the slopes seemed too precipitous for the bushes to be comfortably reached. Just then, some tea pickers passed by with conical baskets of tea strapped to their bowed heads.
I stood for a while, watching them pluck two leaves and a bud (the ideal combination for good tea), as they navigated those very slopes I'd been looking at, with natural agility.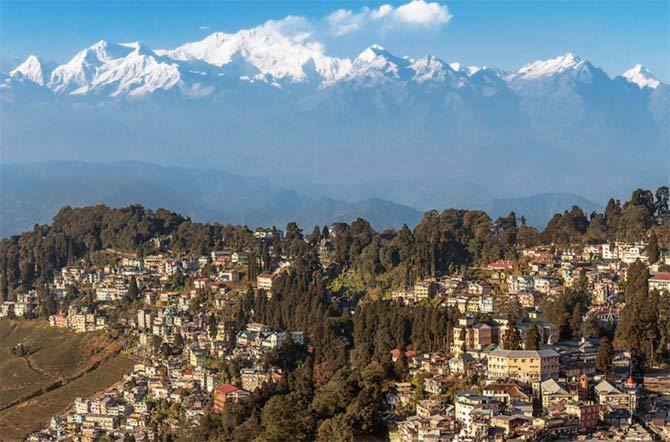 Photograph: roman korzh/ Creative Commons
Over the next few days, I realised that Darjeeling in winter is infinitely preferable to the madhouse it becomes during the summer tourist season.
To begin with, there is nary a cloud in the skies, which means that vistas of Kanchenjunga and other lofty Himalayan peaks follow you wherever you go.
The foliage changes in winter and the hillsides are enlivened by shrubs of Poinsettia, their scarlet leaves fluttering in the breeze.
It is also the time of the orange harvest. For all lovers of citrus fruit, the oranges grown in the Darjeeling region are a rare treat.
They're tiny, packed with juice and super sweet. I found I could go through a dozen a day with ease.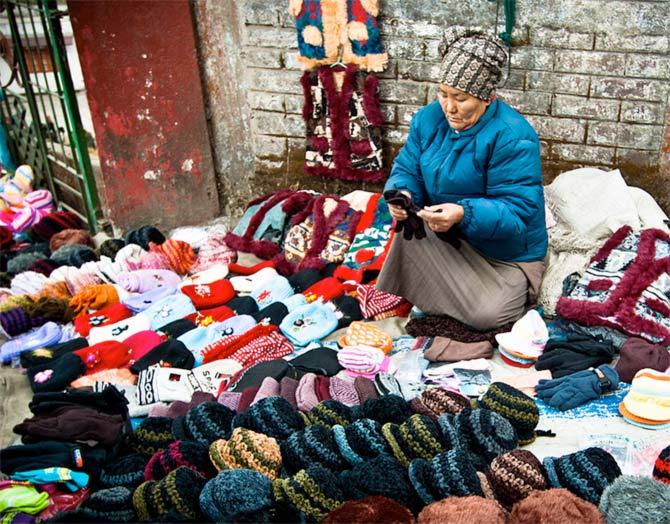 Photograph: Pranav Bhasin/ Creative Commons
But there was a downside to Darjeeling in winter, which was that it became too cold to be comfortably outdoors after sunset, which in these parts happens as early as 5 pm.
I've always thought that the Northeast should be a couple of hours ahead of the time zone the rest of the country lives by -- and never more so when sundowners began in the bar at Planters Club at a time most of India had their evening tea.
Talking of which, no trip to Darjeeling is complete without a visit to Planters' Club, one of the oldest clubs this side of the world, even if it is only to pay homage to what it used to be.
Once a sparkling, black-tie club where planters across a 100-mile radius drove for a game of billiards and an elegant night about town, it's now a ramshackle building with creaky wooden floors and a widespread odour of dampness.
The sense of history there is still palpable -- mountaineers Andrew Irvine and George Mallory began the ill-fated ascent of the Everest right here in 1924, an expedition that cost them their lives.
It also has an old cannon that noted explorer Francis Younghusband gifted the club before he led the first British expedition to Tibet.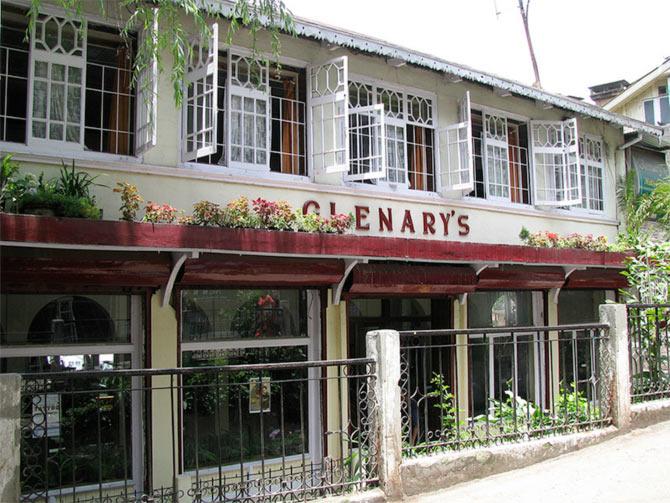 Photograph: shankar s/ Creative Commons
An hour at the dingy club was enough for me, however, and as soon as I could, I made good my escape to Glenary's Bakery next door for my share of good food and bright lights.
Tea tasting sessions are de rigeur in Darjeeling, and of course, I had to try one.
I learnt that tea plucked at different times from the same plantation could have a completely different range of flavours.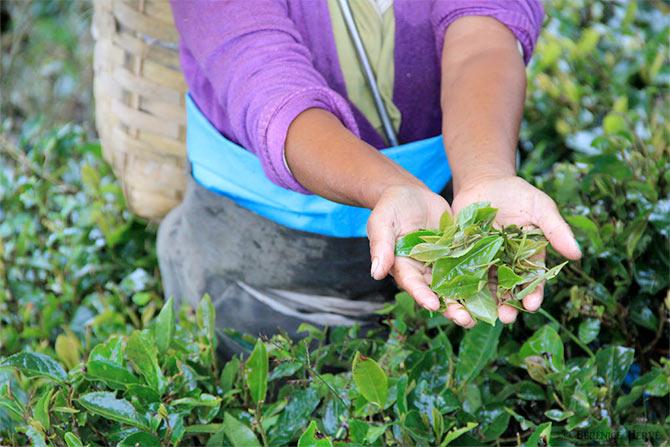 Photograph: will- on-board/ Creative Commons
The highly prized first flush (first harvest) is of the most tender young leaves, and has a smooth finish with grassy notes.
The second flush is more mature, with robust flavours. I swirled sips of brew in my mouth, feeling a little like that ignorant customer art dealers love to hate -- who simply knows what he likes and likes what he sees.
Eventually, when I returned, bags of fresh tea in hand and all I learned was that whether I drank a Spring or Autumn Flush, a White Tea or Green -- the sight and flavour of perfectly-brewed tea in a porcelain cup immediately conjured up for me, the sunny slopes and snowy vistas of one of the prettiest hill stations I've been to.