Neeta Lal visits the stunning lava formations of Chamarel and the Hindu gods of Ganga Talao.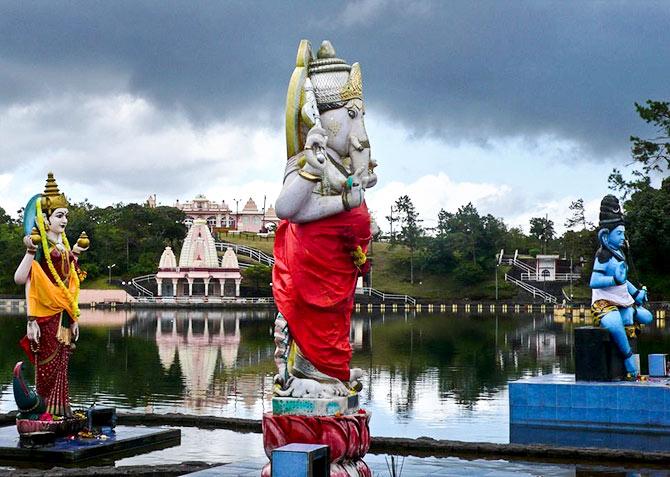 Hindu gods at Grand Bassin.
Photograph: Kind courtesy Katchooo/Creative Commons
Mauritius is a honeymoon island.
Everywhere I look, bashful brides and grooms are serenading each other on velvety white sands fringing lapis lazuli waters.
Fiery sunsets bleed into the Indian Ocean.
The 65-km-long, 45-km-wide archipelago with coral reefs boasts of 300 km of the whitest beaches.
But Salubrious sandy stretches aren't the only highlight of this island located 2,000 km off Africa's south-eastern coast.
Mauritius' volcanic interiors teem with geological goodies -- multi-hued vertical cliffs, crumbling rims of extinct volcanoes, gurgling waterfalls, the Grand Bassin crater lake sprinkled with colourful Hindu temples, and massive statues of gods and goddesses. Rains have hewed beautiful patterns into the Mauritian hillside, creating the effect of earthen meringue.
However, the question that keeps getting lobbed at me on this slice of paradise is: 'Have you been to Chamarel?'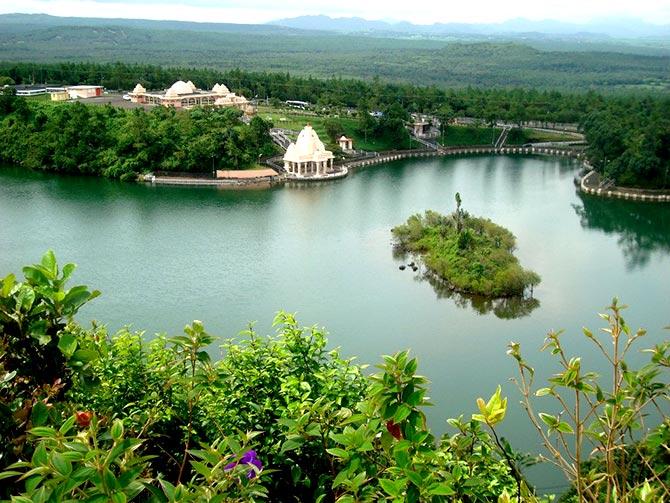 The Grand Bassin, Mauritius.
Photograph: Kind courtesy Adamina/Creative Commons
This is a volcanic gorge located in the Rivière Noire District of south-western Mauritius whose lava formations go back about 7 million years. Also known as Terres des Sept Couleurs in French, the island's official language, the site packs in seven different colours of earth in one compact area.
So early one morning, I set off with my affable driver, Anoop (a second-generation. Indian migrant from Gujarat), to Chamarel.
Whizzing past jagged mountains, red flamed trees and swathes of sugarcane savannah, we soon cross the Black River Gorges National Park, Mauritius' largest rainforest and home to endangered species such as the Mauritius kestrel, the pink pigeon, macaques, red deer, roe deer, wild boar and flying foxes.
About half an hour later, we're at the twin waterfalls -- Cascades Chamarel -- where the St Denis River plunges over a cliff, creating rainbows over thundering waters.
Right next to it nestles the famed Chamarel, its Mars-like red-earthed landscape specked with tiny hillocks and seven distinct coloured sand dunes.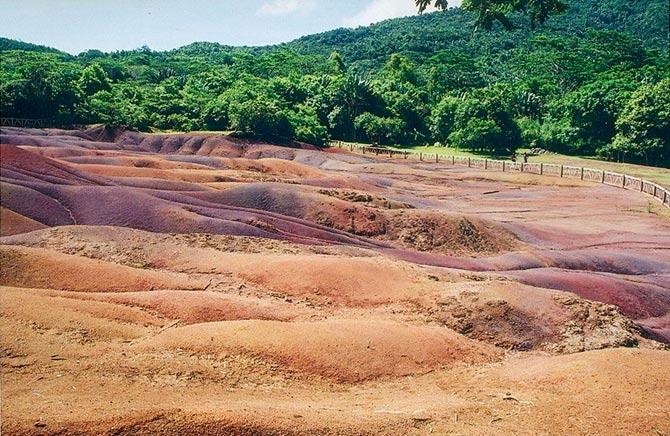 The coloured sand dunes of Chamarel.
Photograph: Kind courtesy Shankar S/Creative Commons
Visitors were once allowed to climb the dunes, but the attraction's receding sands (thanks to tourists who carried away bottles of it as souvenirs) have led to the area being cordoned off. Now there are only outposts for observation along a fence.
To view the amazing spectrum of colours -- red, brown, violet, blue and purple -- I nip up to a rocky ledge. A cool breeze skitters through the foliage. Sunlight filters through the branches and forms lace-like patterns on the landscape.
As I look across the stony amphitheatre, the colours start playing tricks on me. They appear to be shadows one moment and rocks the next.
Chamarel's marvels are apparently the result of high chemical content in its soil, which decomposed the basalt gullies within. 'Over millennia,' the guide explains, 'the rocks were pulverised into sand, making it settle in distinct layers. The cooling of molten volcanic rock at different external temperatures converted basalt rock into mineral-rich clay, creating these surreal colours.'
There's a fascinating order to Chamarel's beauty. If one takes a handful of each of its different sands and mixes them together, they eventually separate into a colourful spectrum, each dot of sand rejoining its colour caste. Mysteriously, the colours never mix or erode, despite Mauritius' torrential and frequent rains.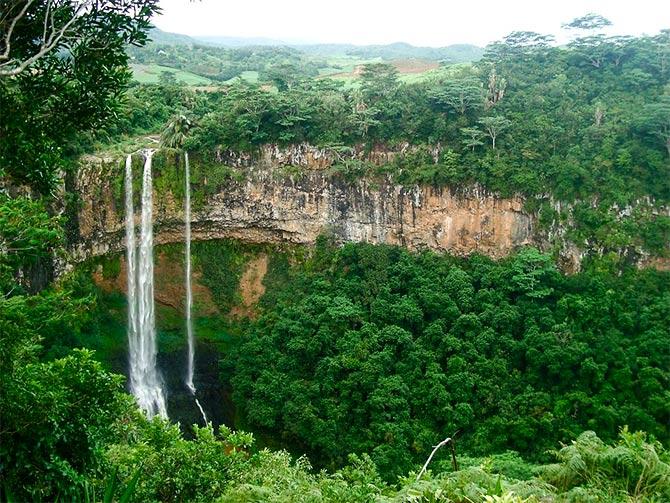 The Chamarel Waterfall.
Photograph: Kind courtesy Adamina/Creative Commons
There's also a nature park next to Chamarel that is home to the giant Aldabra tortoises.
Brought in from the islands of the Aldabra Atoll in the Seychelles, these creatures are among the world's largest, weighing up to 100 kg and often living up to 255 years.
When I pop over to say hello to the fat fellows, they're waddling out of their enclosures for feeding time, their gargantuan dome-shaped shells glinting under the effervescent tropical sun. The shells apparently protect their soft, vulnerable bodies from damage, while their incredibly long necks help their outreach to leaves from the higher branches of trees.
The animals' lazy demeanour belies their agility. They snap vigorously at boughs and leaves offered to them from buckets by their keepers. As I extend a branch to one turtle, he eyes me suspiciously at first. But then, in a trice, he has wrenched the proffered snack from my hand and is merrily gobbling up its leaves.
After my immersive Chamarel experience, I visit the souvenir shop for its famous memorabilia -- a small test-tube layered with seven colours of the earth.
Fact file
Mauritius, the former British colony east of Madagascar, is thought to be about 9 million years old. However, its oceanic crust goes back over 200 million years.
Officially discovered in 1505 by the Portuguese, the island was known to Arab traders as long back as the 10th century. It was then successively occupied by the Dutch, the French and the British, before finally becoming independent in 1968.
How to get there
The scenic drive to Chamarel takes about an hour by car from the capital city of Port Louis. Comfortable bus trips are also available. The buses leave town from early morning to late night at regular intervals.
What to do
Apart from visiting the seven-coloured earth, check out the Grand Bassin crater lake peppered with colourful Hindu temples. Also known as Ganga Talao, the site also features massive statues of Hindu gods and goddesses. The Black River Gorges National Park, Mauritius' largest rainforest and home to several endangered species, also makes for an engaging add-on excursion.