Geetanjali Krishna embarks on a journey that can teach us all a thing or two about resilience.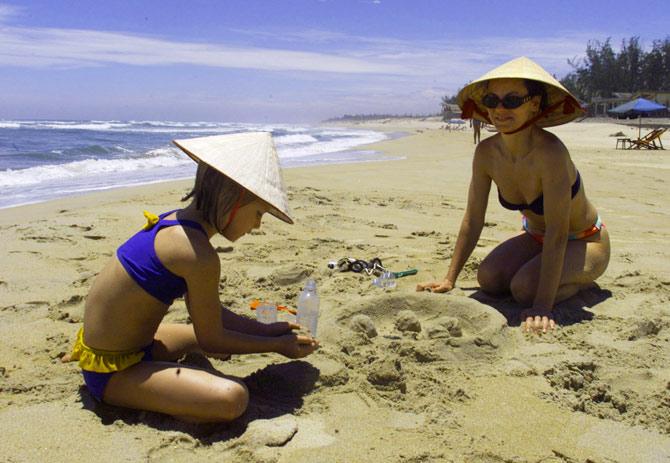 Waves crash on Nam O Beach, lashed with rain and stretching as far as eye can see. A couple of holiday makers brave the weather to walk along the sea shore.
It's a peaceful scene.
But as I close my eyes, I see not the present, but a tumultuous history of which this beach was an intrinsic part. For this is the exact place where, in 1965, 3,500 marines waded on to Vietnam's shores, the first American combat troops to enter the country.
Historical accounts suggest that the landing marines were welcomed by legions of smiling children holding garlands and a sign that read: 'Welcome to the Gallant Marines.' But by the end of that decade, when Saigon finally fell, Da Nang, or Tourane, as the French called it, had become the most important and certainly the busiest airbase in the region -- and an estimated 3 million Vietnamese had lost their lives.
The weather is thundery and drizzly.
As we walk around Da Nang, holding umbrellas that are threatening to take off with us still attached to them, the sense I get is of a city that seems determined to move away from the memories of war.
It can't be easy, though.
A sudden downpour forces us inside Han market, a maze of tiny shops selling clothes, shoes, food, handicraft and much more. As we enter, a fruit seller shares a tender moment with her teenage son who has a spinal deformity. She adjusts his plastic raincoat so that his bent back is protected from the rain, and he smiles gratefully.
Could he be the victim of the infamous Agent Orange?
The United States military stockpiled reserves of this toxic chemical defoliant in Da Nang to lay bare Vietnam's lush forests and make military operations easier for themselves. This also ended up causing cancer, birth defects and more in generations of Vietnamese and Americans.
She doesn't speak English, but smilingly sells us some coconuts.
Upstairs, there are rows of tailors who promise to custom tailor clothes in a couple of hours.
The shops selling export seconds and footwear do brisk business and bear testimony to Vietnam's present positioning as a global sourcing hub. I buy a pair of inexpensive waterproof sandals as my weather app, rather gloomily, forecasts rain throughout our time in Da Nang.
Umbrellas still in hand, we take an evening stroll along the Han River.
Cafes, restaurants and boutiques line the waterfront but we're headed to The Rachel Restaurant. This overlooks Dragon Bridge -- the strange, monstrous bridge, which is not only entirely in the shape of a dragon, but is also lit up rather dramatically in evil shades of blue, pink and green.
On weekends, and today happens to be one, the dragon even spouts fire and water, a show we're told we must see.
So after the dragon has spouted fire in Disney-like fashion, we order classic Vietnamese rolls to have with our beers.
What makes Vietnamese cuisine so great is that much of it is actually either raw or steamed. Fresh sauces, superb seafood and aromatic greens provide most of the flavour.
Consequently, the local cuisine is fresh, flavourful and (hopefully) low in calories.
A post-meal amble takes us to a local temple, in front of which are some gorgeous bonsai landscapes -- miniature trees set amid mountains, villages and water.
For the Vietnamese, these landscapes, called hòn non bo, are magical; bringers of good fortune, long life and more.
Many, we learn, are several decades old; the older they are, the more valuable.
I linger in front of a lovely ficus on a mountain at least half-a-century old. I think of all it has survived -- time, multiple prunings, Agent Orange and the Vietnam War -- and it becomes even more magical in my eyes.
The next morning, as our plane taxies out from Da Nang Airport, I strain for a last look at the city.
The South China Sea is turbid in the rain.
As the plane turns, the city is telescoped in my little plane window -- a hòn non bo landscape of a beautiful culture that can teach us all a thing or two about resilience.