To say that the entire stretch is ripe for a stampede is putting it mildly.
Anjuli Bhargava's first-person account.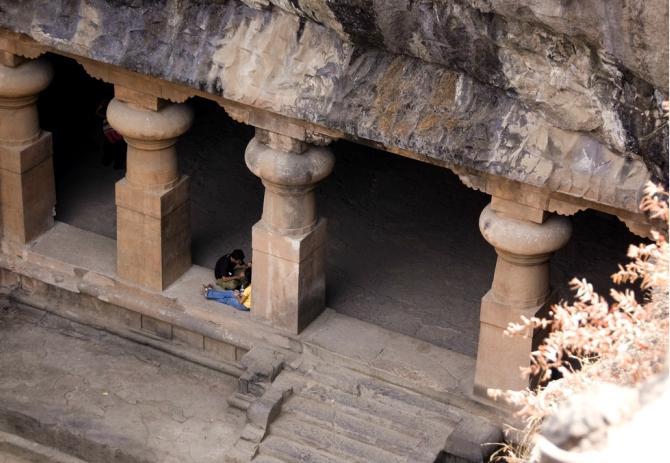 At Elephanta Caves.
Representational photograph: Craig Moe/Flickr.
I spent two weeks in Mumbai recently doing what I usually or almost never do.
I visited the Bhau Daji Lad Mumbai City Museum, watched a musical at the National Center for Performing Arts, went to Jehangir Art Gallery and the modern art museum next to it, visited the absolutely charming Mukesh Mills and Sassoon Docks (with its art projects), went for long walks on Marine Drive, stopping at Gaylord for a pastry, spent an afternoon sailing courtesy the Yacht club, explored the lanes, new cafes, street vendors and shops behind the Taj, went to Leopold Cafe & Bar, Theobroma and Café Mondegar, ambled in the streets and cafes of Kala Ghoda, ate a Gujrati thali, among other usual Mumbai delights.
I found the city -- with its artsy yet modern feel and delightful nooks and crannies -- continues to thrill me in a way Delhi -- the city of my birth -- has never managed to do.
But one afternoon, a mad idea gripped me.
In a moment of insanity -- in retrospect -- I insisted that we -- my husband and children in tow --board one of those ferries and head to Elephanta Caves, a UNESCO World heritage site.
I remembered Elephanta as these stunning, gigantic, silent caves, a site that astounded me as a child of eight or nine by its sheer magnificence.
Phew! Have I ever had a worse idea? Let me say quite categorically, no.
But it was one that the rest of the country had also had on the same day. It was December 26 and high tourist season, but even then the numbers were jaw dropping.
From the jetty, there's a train that takes those who find the over 1 kilometer walk a trifle long but boarding it was a challenge. I saw many older people shoved out of the way as the young and brash climbed aboard.
All along the walk, there are vendors selling food items and knick-knacks. You are pushed and jostled along till where the train track ends and you enter with a crush of humanity on either side.
But what's worse is that as you start climbing uphill to reach the caves, both sides of the walk are filled with vendors selling all kinds of trinkets, stones, statues, clothes, food, fake jewellery, brass items -- anything and everything. Like a Delhi's Chawri Bazar.
Along with all the vendors, there's what you have come to expect almost anywhere in this country: trash. Plastic and pet bottles abound. I see many people eating from packets and just throwing the empty packet without even looking around for a dustbin. After all, the whole country is one large dustbin!
I didn't think it was possible, but things get worse once you actually reach the caves.
The dark caves themselves are packed to the gills. There is no lighting of any kind and it's hard to assimilate anything going on around you.
Silence is a far cry -- in fact, there's a din around you. People are shouting out to each other to come here or there to be present in photographs. The selfie craze that has gripped this nation is at its peak here.
Grown men and young children -- almost like monkeys -- are jumping all around the statutes with phones, cameras and selfie sticks. If they don't see anyone in authority around, they try and climb on them for a better shot.
But it is when you descend from the caves that the real nightmare strikes.
One is just herded down along with a unruly throng of people as the two sides close in on you and the space to walk appears narrower and narrower. The crowd behind you pushes down on you and you don't really need to take steps. People stop to buy stuff and that reduces space available for those climbing or coming down.
More than once, I felt I couldn't breathe and I would be crushed. To say that the entire stretch is ripe for a stampede is putting it mildly.
I closed my eyes for a moment and said a silent prayer. I tried holding the hand of one of my children but to no avail. In any case, there's nothing anyone could do to save anyone in that situation.
I share my experience the next day with art curator and historian Tasneem Zakaria Mehta who I am meeting for lunch. She's worked on transforming Elephanta some years ago. She describes how she had found it and left it, and I describe how I had seen it the day before. I tell her it ought to be delisted.
A bad idea if ever there was one: rather be crushed by an elephant than go to UNESCO heritage site Elephanta Caves.