You don't need to be a fan of Jurassic Park or Jungle Book to head out on these holidays!
National Geographic Traveler magazine has released a list of must-see travel destinations for 2017, which they have further broken into three categories namely nature, cities and culture.
Presenting the destinations that featured in the first category: Nature.
Take a look.
1. Tiger national parks across central India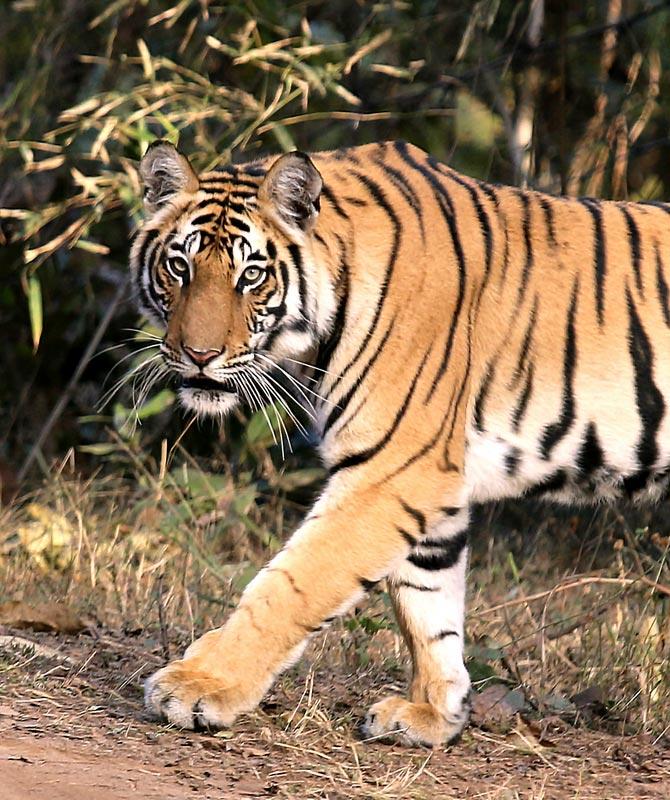 IMAGE: If you're lucky, you might catch a tiger strolling into your camera frame at Bandhavgarh National Park.

Photograph: Sonil Dedhia/Rediff archives
Which are the tiger national parks in Central India? Kanha Tiger Reserve and Bandhavgarh National Park in Madhya Pradesh are undoubtedly the best places in India to spot a tiger.
Spread across 105 sq km, Bandhavgarh National Park is also home to the largest breeding population of leopards and several species of deer.
The Kanha National Park, the inspiration for Rudyard Kipling's Jungle Book, is also known to be the home of the rare swamp deer (or Barasingha).
Best time to visit: October to June. Most parks are closed during monsoon.
2. Kauai, USA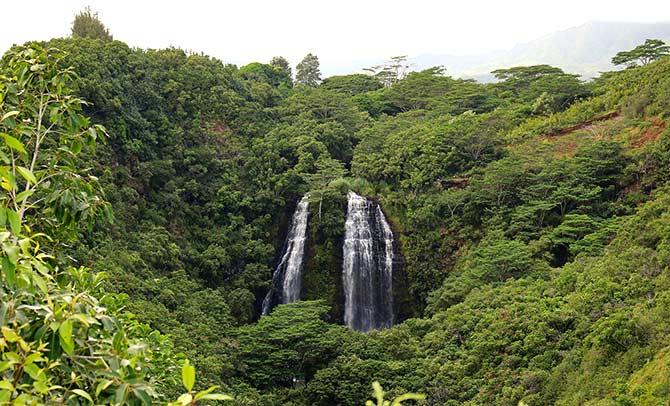 IMAGE: The

Opaeka'a Falls, at Kapaa, Kauai, is breathtaking.

Photograph: Robert Linsdell/Creative Commons
Trust us when we say that you won't need a filter when clicking pictures at this island in Hawaii.
Its gorgeous landscapes, secluded beaches, lush green forests, rivers and valleys have featured in around 60 movies including Jurassic Park.
Take an aerial tour of the island for some breath-taking views of the towering Na Pali coast, tempting waterfalls and towering sea cliffs.
Nature lovers can also take a hike or trek into the Garden Island's wild side or the five-mile Wai Koa Loop trail.
Best time to visit Kauai: April to December
3. Finland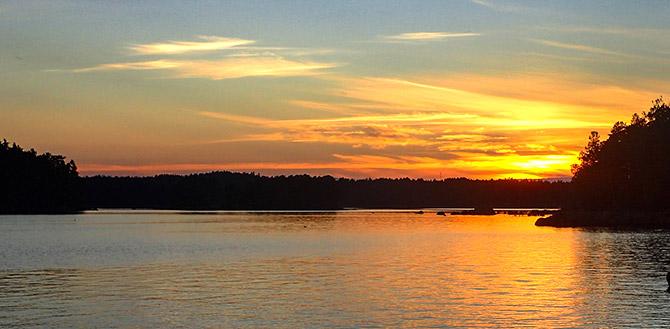 IMAGE: A sunset anywhere in Finland is a sight to behold. Photograph: Steven Penton/Creative Commons

With its 40 national parks, 12 wilderness areas and six national hiking areas, Finland is ideal for nature seekers.
Next year, the country celebrates 100 years of independence and there's probably no better time to visit Finland.
The snow-clad mountains, stunning aurora displays, fresh air and saunas make it a wonderland.
Best time to visit Finland: Throughout the year. If you go there from June to August you'll get sunlight 24 hours a day!
4. Baja California, Mexico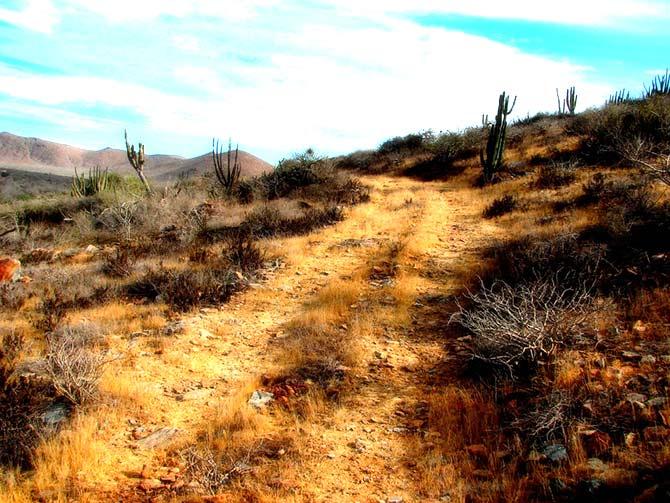 IMAGE: The rocky terrain of Baja California is a treat for trekkers. Photograph: Ana Rodríguez Carrington/Creative Commons
Apart from its mountain peaks and valleys, Baja California is known for its blue lakes.
It's bordered by the Pacific Ocean to the west and the Sea of Cortez to the east.
A scuba-diving trip in the Sea of Cortez will bring you up close and personal with its marine life including white sharks, whales manta rays, etc.
Best time to visit Baja California: November to July
5. Banff, Canada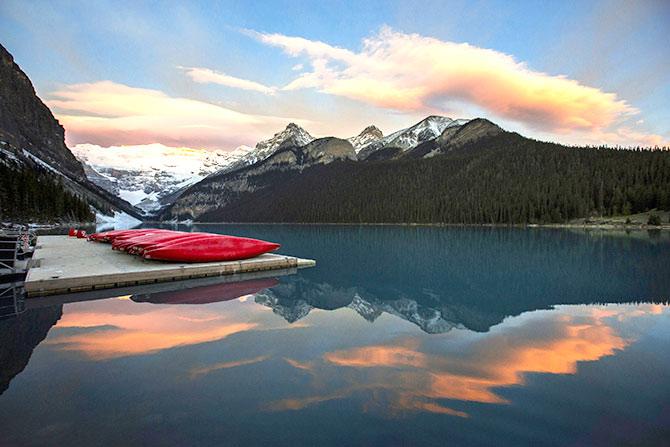 IMAGE: Who wouldn't want to try a canoe on the picturesque Lake Louise at Banff National Park? Photograph: Mark Blinch/Reuters
You can easily get lost in this maze of wonderful wilderness -- lovely rugged peaks, valleys and crystal-clear lakes are part of its landscape.
Here, you can set out on mountain hikes, horseback excursions, spring baths and national park trails. There are 310 miles of endless biking paths in the Banff National Park.
The peaks of Mt Rundle and Mt Cascade, part of the Rocky Mountains, dominate its horizon. You can visit some of the château-style hotels and souvenir shops there.
Best time to visit Banff: Throughout the year
6. Cloud Forests, Ecuador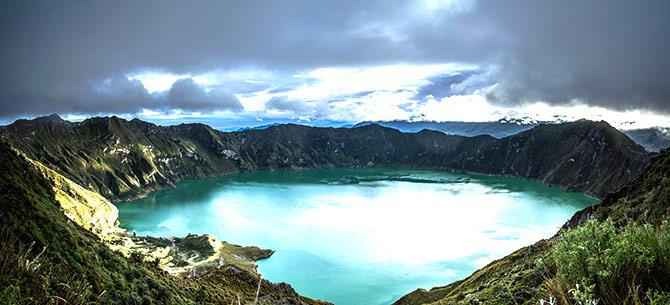 IMAGE:

Quilotoa, a water-filled caldera, in Ecuador is a place on every traveller's list.

Photograph: Daran Kandasamy/Creative Commons
It's known for its cloud forests which are abundant in wildlife and plants like rare orchids.
You can cut through the mist on a zipline sky bike at Mashpi, stay in a National Geographic Unique Lodge or capture the green views of the forest canopy through your lens in an open-air gondola.
Best time to visit Ecuador: Throughout the year
7. Via Dinarica, Western Balkans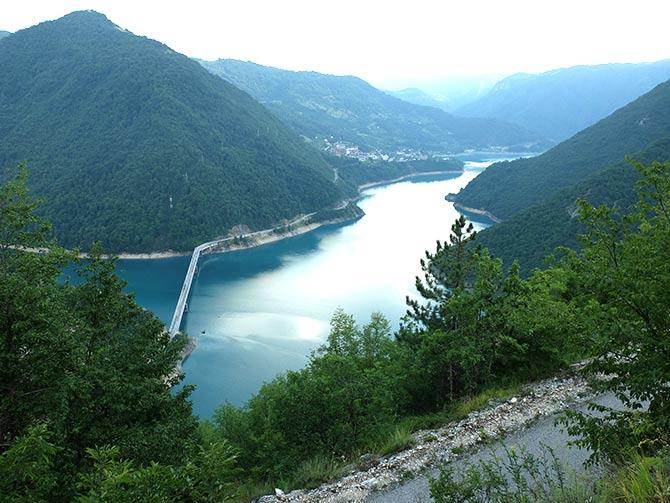 IMAGE: The l

akes and woodland in Montenegro, the Western Balkans, are the stuff romantic songs are made of.

Photograph: Franco Pecchio/Creative Commons
If you are a fan of nature trails, you must try the Via Dinarica hiking trail, a 193 km mega trail connecting the countries of the Western Balkans.
Taking the trek means covering (in geographical order) the countries of Slovenia, Croatia, Bosnia and Herzegovina, Montenegro, Albania and Kosovo.
Depending on your stamina and inclination, it could take you three months, a week or just a few hours to finish the trek -- completely based on the route you take.
Best time to visit Via Dinarica: January to mid-March and May to September
Next week: Top 7 cities to visit in 2017