Forget beaches, these spots will make your trip to Goa worth its while, says Anjali Tolani.
After the scorching summer heat, monsoon has finally arrived in most parts of India.
If you haven't had the chance to holiday in the summer months, this might just be the right time to head out of your homes.
So what if you missed the sun kissed beaches of Goa, you can still plan a trip to the vacation city.
There are some breathtakingly beautiful waterfalls that are nothing short of visual treats.
Plan your day trekking, camping, swimming, bird-watching around these spots and make the most of these spectacular beauties.
1. Dudhsagar waterfalls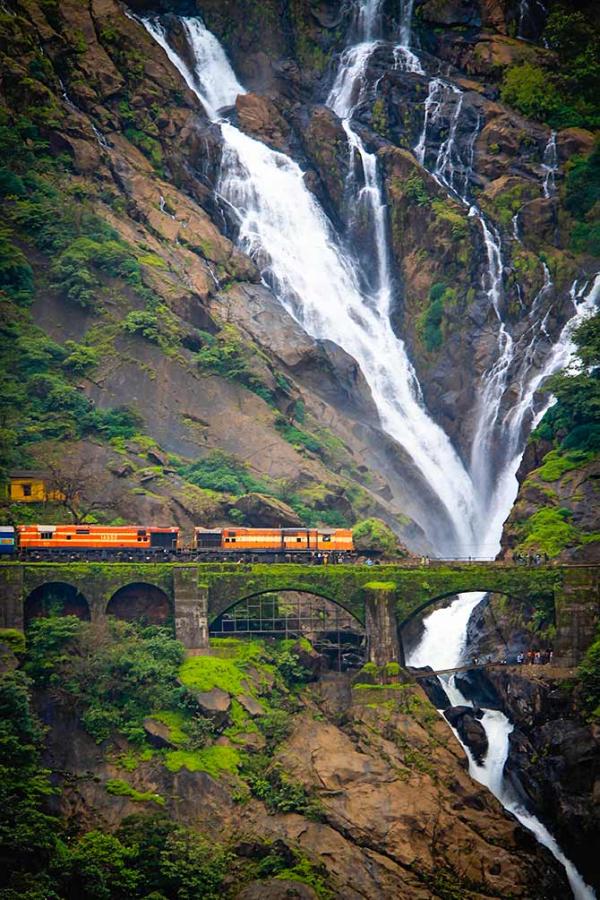 The name says it all -- this 'sea of milk' tops the list of waterfalls in Goa.
This milky white waterfall gushes down from a magnificent 1017 feet and hence it is among one of India's tallest waterfalls.
Located on the river Mandovi along the Goa-Karnataka border, it makes for a visual delight for anyone who is visiting the city the first time.
Goa airport is an hour and a half away by road. Or you can reach by first getting to Kulem railway station by road or rail.
Next, you trek to the waterfall or hire a bike or a jeep.
You can camp overnight in the surrounding forest area and visit Shayadri Spice Farm and Bhagwan Mahavir Wildlife Sanctuary during the rest of your stay.
Best time to visit: November-February and June-September
2. Arvalem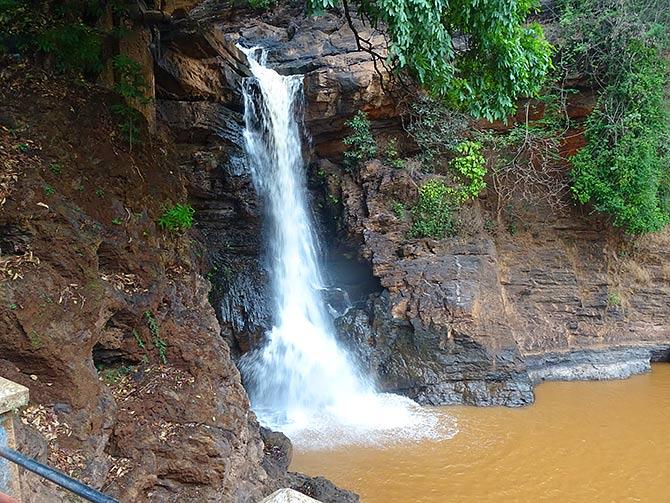 Located in North Goa, the picturesque Arvalem or Harvalem waterfall gushes down from a dense and overgrown hillock near Sanquelim village.
It has an altitude of 70 feet and forms a beautiful lake at its base, a major attraction for swimming enthusiasts.
The road trip from Goa Dabolim airport to Arvalem is exotic and about 43 km.
By rail, get off at Sanquelim railway station which is 2 km away and trek or hire a bike to reach the falls.
A day picnic would be a great idea to enjoy these falls. Other nearby attractions are Arvelam rock cut caves having a mythological significance and the Rudreshwar temple.
Best time to visit: July-September
3. Netravali
Netravali waterfall makes a pretty picture spanning over a 211 sq km area.
It comprises two waterfalls -- Savari waterfalls located in Sanguem in East Goa and Mainapi waterfalls which is 2 hours away by trek.
The waterfalls are lush any time of the year. As it is in the vicinity of Netravali Wildlife sanctuary, do not be surprised to hear animal sounds as they frolic in the water.
The varied flora and fauna here deserves appreciation and respect.
Accommodation is available at forest rest houses provided the Goa Tourism Development Corporation and Angan Village Stay by Verlem Eco Tourism Cooperative Society.
Goa Dabolim airport is 65 km away.
Best time to visit: October-February
4. Kesarval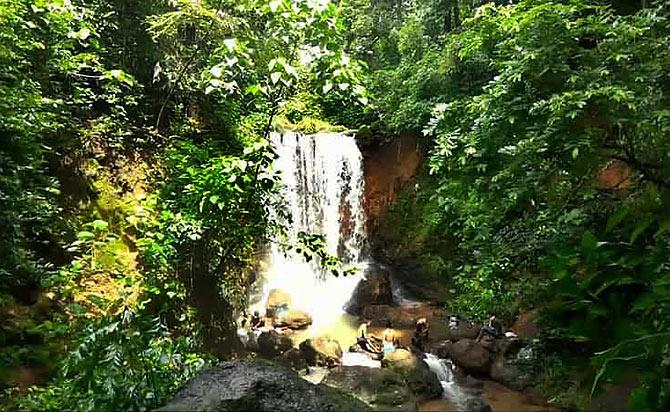 Kesarval waterfall is also known as Kesarval spring and it is well renowned for its properties of rejuvenation.
As the water pounds on the rocks, it absorbs their minerals and these are believed to have therapeutic qualities.
The Kesarval waterfall is located near Cortalim village off the Verna plateau.
Located 22 km from Panaji, this waterfall attracts tourists from July through March.
The government of Goa has declared it to be an important tourist attraction and has provided a fillip to amenities being provided there.
Dabolim airport is quite near, about 10 km away.
Best time to visit: June-September
5. Bamanbudo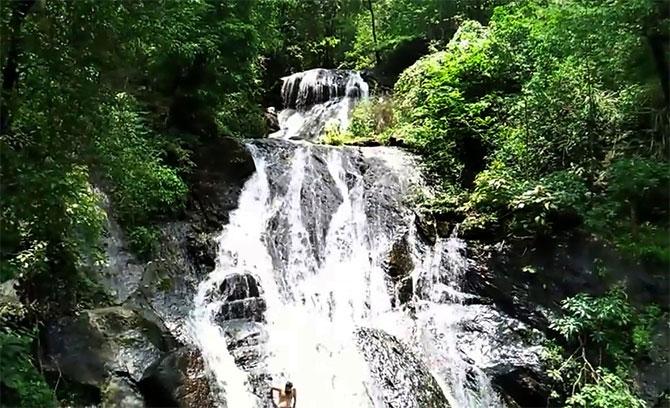 This waterfall is located in Goadongrem, Canacona.
It is one of the more easily accessible waterfalls as it is right by the roadside.
It is located amidst lush greenery and the waterfall feels more like fun slide. Other than swimming, you can also indulge in bird-watching at this spot.
Tourists can stay in Canacona which is 16 km away and has an array of options from luxury to budget hotels.
Other attractions nearby are Cabo de Rama fort and Cola beach. Bamanbudo is about 80 km from Dabolim airport.
Best time to visit: July-September
6. Sada
Sada falls are a trekker's paradise. Nestled between two hills with the charming Chorla ghats in the background, they appear quite dramatic and majestic.
These falls have a dual charm -- you can bask in the serene ambience or be a thrill seeker in the exciting trek upwards.
The first stop to reach these falls is Sada village located on the Goa-Karnataka border.
From there it is a short trek of 8 km to reach the falls.
On your way in the trek, you can crawl through volcanic underground caves and Kadambas fort.
The nearest accommodation is available at Margao. Sada is about 80 km from Dabolim airport.
Best time to visit: Year round
7. Charavne
Charavne waterfall is located in Valpoi village which 12 km from the city.
This waterfall is surprisingly undisturbed and serene with lush greenery around to boot.
It is a wonderful experience to hike up here crossing plenty of small streams on the way.
Another attraction in the nearby area is Mhadei Wildlife Sanctuary. Charavne is about 70 km from Dabolim airport.
Best time to visit: Year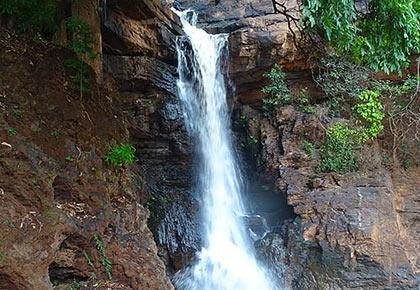 Anjali Tolani is general manager-contracting and product, Tamarind Global, an event management company based in Mumbai.
---
Invite
Dear readers, where are you holidaying this monsoon?
Do you know any interesting spots near your city for a monsoon picnic?
Share your most fascinating monsoon travel pics and stories with us.
Simply write to getahead@rediff.co.in (Monsoon Travel) along with your NAME, AGE, LOCATION along with a few photographs and a brief writeup about the place you visited. We'll feature the best and original responses right here on Rediff.com.