We'd asked you, dear readers, to share your travel experiences and tell us if you have a message for Indian tourists.
Rediff reader Sameer Karkhanis, 41 from Thane shares his experience. You can share yours too!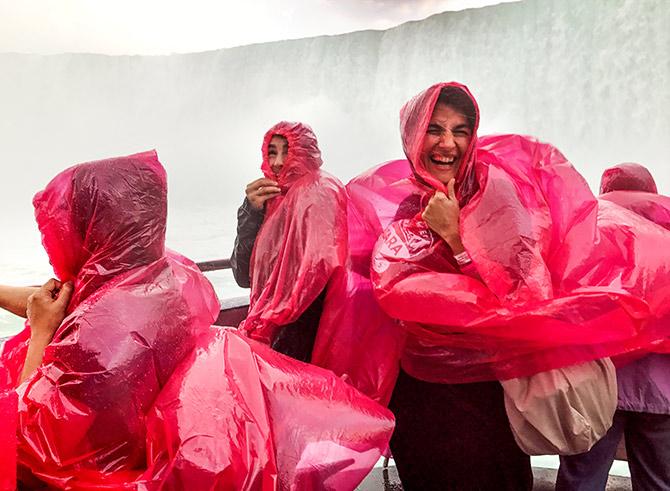 It was the summer of 2006. My wife and I were staying in Chicago at the time.
We decided to visit the Niagara Falls.
I had earlier visited the place and wanted my wife to experience the same.
Niagara Falls has multiple spots for different experiences all spread over a wide area.
Although we could have walked down, we decided to invest in a bus that ferries people to the different spots within the Niagara Falls area.
It was late evening. We had completed our visit to an attraction which was far off from the main parking area.
As we were waiting in the queue along with many international tourists, including Americans we saw a large group of Indians standing outside the queue.
As soon as the buses came, they all jumped the queue and rushed into the bus.
The people in the queue felt stranded and bewildered at their lack of discipline.
Thanks to my Mumbai suburban upbringing, I could secure a seat on the bus for us, so my wife and I were at least comfortable.
By now, the bus resembled a crowded Mumbai local with people chatting away in their mother tongues.
Some time later, when the people who had stood in the queue came inside, they were taken aback by what they saw.
They complained about the lack of discipline.
Some of them wondered if this was India or America.
Someone even remarked if America had been invaded and completely run over.
It was funny, but I can only imagine the indignation felt by the Americans at the utter lack of civic obedience in the Indian masses.
It was shameful behaviour and lowered the esteem of India (and Indians) in a foreign land.
---
Dear readers, do you feel as Indian tourists, we often misbehave and disrespect the culture of a place we visit?
Did you have a similar experience? Did you do something about it?
Do share your experience. Also, tell us what advice you'd like to share with Indian travellers planning to visit a new place or country.
Please send details of your experience and travel tips to getahead@rediff.co.in (subject: Tips for Indian tourists) along with your NAME, AGE, LOCATION and a photograph, if possible.
We'll feature the best responses right on Rediff.com.