'Over the years, I have come to realise that middle class Indians are amongst the most racist people I have come across, says Geetanjali Krishna.'
Illustration: Uttam Ghosh/Rediff.com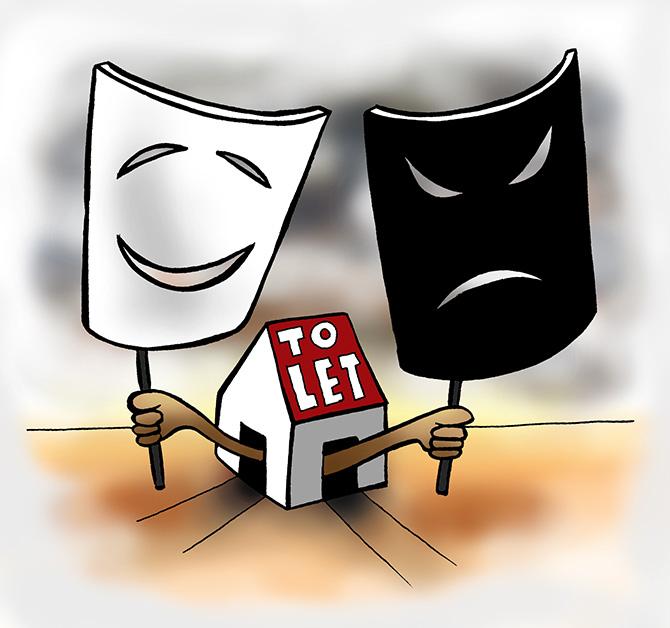 Like many others, I have also watched with horror, the recent spate of violence against Africans in Delhi-NCR. It has not surprised me in the least.
Over the years, I have come to realise that middle class Indians are amongst the most racist people I have come across.
Often, when they are by themselves, they are embarrassed to air their prejudices. But put them in a group of people with similar opinions, and you'll see them give free rein to their bigotry.
I remember when last year, I ran into a woman not unlike myself, buying bread and eggs at the neighbourhood store in Safdarjung Enclave. She was sticking up 'to let' posters near it, and when I passed by, she asked me if I knew of any reliable people, who wanted to rent her barsaati.
So far the only people who have shown interest, she said, had been Nigerian.
"As you can imagine, I'd rather leave my rooms vacant than give it to people like them," she sniffed.
I didn't know what she meant, I said. "Oh, come on," she said. "We all know what they are like!"
By then, a couple of neighbours had stopped to join our discussion.
One of them said the Africans had spoiled the atmosphere of this peaceful middle class Punjabi neighbourhood.
"We all know they sell cocaine in Deer Park," said one.
Had any of them seen this first-hand, I asked.
As expected, none of them had.
"It's better to be safe than sorry," said one. "I have told my son not to play football with them in the park."
Another one came up with yet another story. "My son once went to a cyber cafe in Humayunpur and found it was full of Nigerians running scams on the Internet," she said.
What sort of scams, I asked? "Well, they were typing all those fake letters to unwary users, extorting money in return for fictitious oilfields and gold mines," she said.
Again, it turned out that the boy had not witnessed the Nigerians sending scam letters from the cyber café.
"But that's what they do, don't they?" she asked rhetorically.
The whole group congratulated the woman with the 'to let' posters on her tough stance on not renting houses to Nigerians.
"If even one of us does it," one of them said, "before we know it the Nigerians will take over our neighbourhood! They have already taken over Humayunpur -- there are African shops to cater to their special food needs and even special barbers to cut their curly and thick hair."
"I'm actually hoping to get some nice foreigners," said the woman with the poster. "They pay really good money and are no trouble at all."
All of them extolled the virtues of 'foreign' tenants until I mentioned that Nigerians were foreigners too.
"They are -- but the Africans are just too different from us," said one.
They all recalled how sometime ago, a Nigerian had been found dead under suspicious circumstances at a guest house in Safdarjung Enclave.
"Who knows if he was murdered, or if he died of a drug overdose?" the woman with the poster surmised.
"I can't take the chance of renting my barsaati to some of them and then finding out that they are selling or even using drugs in my house."
Incensed by the blatantly racist attitudes of my educated, middle-class neighbours, I suggested she added a line at the bottom of her 'to let' poster: Nigerians needn't apply.
The whole group looked uncomfortable and began to disperse. She pasted the poster on the wall and said before walking away, "Oh, that won't look very nice, would it?"
DON'T MISS features in the RELATED LINKS below...